Was (Not Was)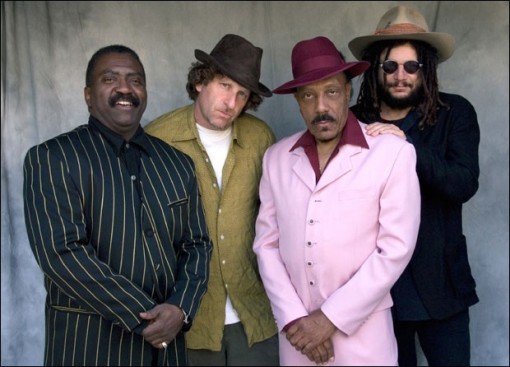 Photo: Ellen Stone
Eccentric 80's pop group Was (Not Was) are returning from a long hiatus with a brand new album called Boo! (Rykodisc) which is set for an April 8, 2008 release in the US (April 7 in the UK and worldwide). They'll also be doing a baker's dozen worth of shows to support the new record in April and May, including one at the Blender Theater (with Todd Snider) on May 1, 2008.
With Boo! David Was (flute, harmonica, keys and vox) Don Was (bass, keyboards, percussion, programming, vox), Sweet Pea Atkinson (lead vocals) and Sir Harry Bowens (lead vocals) have created an album brewing with the unconventional lyrics and funk-driven R&B beats for which the band is known. And, as is the Was (Not Was) way, a host of additional players join in on the party: Donald Ray Mitchell (lead vox), David McMurray (sax and horn arrangements), Randy Jacobs (guitar) Jamie Muhoberac (keyboards) and Luis Resto (keyboards), just to name a few.
Boo! Tracklist
01. Semi Interesting Week
02. It's A Miracle
03. Your Luck Won't Last
04. From The Head To The Heart
05. Big Black Hole
06. Needletooth
07. Forget Everything
08. Crazy Water
09. Mr. Alice Doesn't Live Here Anymore
10. Green Pills In The Dresser
All Was (Not Was) 2008 tour dates after the jump.
Was (Not Was) 2008 Tour Dates
30 Apr 2008 Johnny D's Boston, Massachusetts
01 May 2008 Blender Theater NY, New York (On Sale 03/28 @ noon EST)
02 May 2008 World Cafe Philadelphia, Pennsylvania
03 May 2008 Rams Head Baltimore, Maryland
06 May 2008 Birchmere District of Columbia, Washington DC
07 May 2008 Rex Theatre Pittsburg, Pennsylvania
09 May 2008 Majestic Detroit, Michigan
10 May 2008 Abbey Chicago, Illinois
12 May 2008 Pabst Theatre Milwaukee, Wisconsin
13 May 2008 Cabooze Minneapolis, Minnesota
15 May 2008 Bluebird Denver, Colorado
17 May 2008 Wonder Ballroom Portland, Oregon
18 May 2008 Tractor Seattle, Washington