Bill Gates and Jay-Z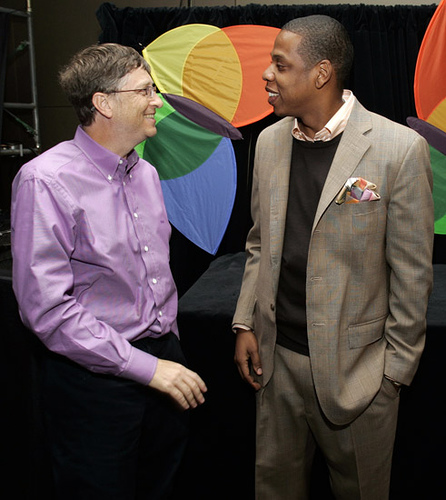 Photo: niallkennedy
Attention, Live Nation, I can be bought for far less than $150 million.
Jay-Z plans to depart his longtime record label, Def Jam, for a roughly $150 million package with the concert giant Live Nation that includes financing for his own entertainment venture, in addition to recordings and tours for the next decade. The pact, expected to be finalized this week, is the most expansive deal yet from Live Nation, which has angled to compete directly with the industry's established music labels in a scrum over the rights to distribute recordings, sell concert tickets, market merchandise and control other aspects of artists' careers.

As CD sales plunge, an array of players "" including record labels, promoters and advertisers "" are racing to secure deals that cut them in on a larger share of an artist's overall revenue. Live Nation has already struck less comprehensive pacts with Madonna and U2. [NYTimes.com]
On a side note, I don't think I can name one song by Jay-Z.