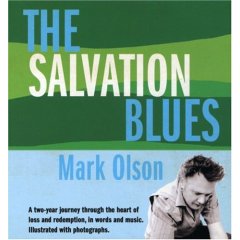 Former Jayhawks frontman Gary Louris was at the Town Hall tonight (April 2) promoting his new solo record, Vagabonds (Rykodisc). Gary only has a couple of tour dates left, so in case you miss him on the road, you can check him out as a co-writer and performer on the new Dixie Chicks record and producer of The Sadies new album.
Mark Olson, the other principal songwriter of the Jayhawks released his first solo album, The Salvation Blues (Hacktone), last year and he's heading out on tour in support of the The Salvation Blues documentary by NYC filmmaker Ray Foley. The Salvation Blues, the film, chronicles Olson and his merrymakers during a residency at Mo Pitkins in NYC last spring. Mark Olson will be performing at the Highline Ballroom on April 30th.
All Mark Olson and Gary Louris dates after the jump.
Gary Louris 2008 Tour Dates
04/04/08 – CHAPEL HILL, NC – Cat's Cradle
04/05/08 – ATLANTA, GA – Variety Playhouse
Mark Olson 2008 Tour Dates
04/21/08 – LOUISVILLE, KY – St. Francis of Assisi
04/22/08 – COVINGTON, KY – Molly Malone's
04/23/08 – INDIANAPOLIS, IN – Radio Radio
04/24/08 – PITTSBURGH, PA – Thunderbird Café
04/27/08 – WOODSTOCK, NY – Colony Café
04/28/08 – PORTLAND, ME – One Longfellow Square
04/29/08 – PROVIDENCE, RI – The Hi Hat
04/30/08 – NEW YORK, NY – Highline Ballroom
05/01/08 – PHILADELPHIA, PA – The Tin Angel
05/02/08 – ANNAPOLIS, MD – Ramshead Tavern
05/03/08 – EASTON, MD – Coffee East
05/04/08 – VIENNA, VA – Jammin Java
05/06/08 – CHARLOTTESVILLE, VA – Gravity Lounge
05/07/08 – CHARLOTTE, NC – The Evening Muse
05/08/08 – CHARLESTON, SC – The Map Room