Elvis Costello, Nick Lowe and Robyn Hitchcock @ The Grand Ballroom (04/09/08)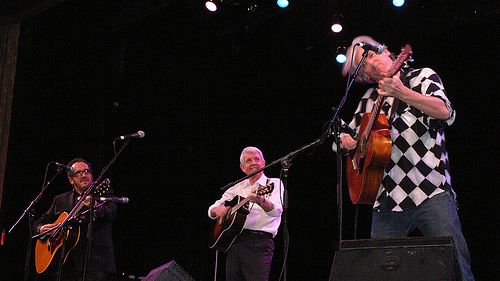 Photo: Sketchguy
Sketchguy reports from last night's Robyn Hitchcock/Nick Lowe show the Grand Ballroom at the Manhattan Center:
Last night, I got to see my top two, all-time favorite singer/songwriters on stage together for the first time. And, Nick Lowe too. 😉

During the encore, Nick introduced a very special guest, Mr. Elvis Costello. The crowd, and myself, went wild. They sang a duet of "Indoor Fireworks", the song Elvis wrote for Nick. I so called this surprise visit earlier during the show when I leaned over to Jonlyn and posited how cool would it be if Elvis came on stage to sing "Peace, Love & Understanding" with Nick?! Little did I know what was in store for the encore.

Robyn then re-joined both Nick and Elvis and sang a beautiful rendition of The Beatles' "If I Fell", and the night ended with a raucous interpretation of Elvis Presley's "Mystery Train" with all three rocking the house. [Sketchbot]
More of Steve's pictures from last night's show over here.