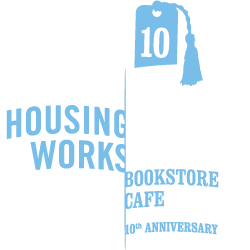 The
Housing Works Bookstore
turns 10 this month and they are celebrating their anniversary with a bunch of interesting events starting tonight. Take a look at the schedule below for all the details.
May Events at the Housing Works Bookstore
05/05 – Art and Activism: Writers on Politics
Stephen Elliott (Sex for America), Nick Flynn (Another Bullshit Night in Suck City) and Janice Erlbaum (Have You Found Her).
05/06 – The Fight against AIDS in Africa
Helen Epstein, Jonny Steinberg, George Packer and moderator Jonathan Cohen.
05/07 – First Words
Bid on signed first editions by authors including George Saunders, Mary Gaitskill, Jonathan Safran Foer, Elizabeth Gilbert, Paul Auster and many more.
05/08 – Anne Carson
A reading of the new play Uncle Harry with Anne Carson, Tacita Dean, Gary Shteyngart, and a Laurie Anderson video.
05/14 – A Freewheelin' Time
Suze Rotolo reads from her new memoir, A Freewheelin' Time about life with Bob Dylan in the Greenwich Village of the Sixties. With musical guest Howard Fishman.
05/16 – Live From Home with:
Griffin House / Jeb Loy Nichols / KaiserCartel
05/17 – John Darnielle
John Darnielle of the Mountain Goats is working in a new genre. Tonight he'll be reading from his brand new book, "his first novel and a stunning piece of rock criticism and appreciation" Black Sabbath's Master of Reality, the newest in the 33 1/3 series of chapbooks about seminal records.
05/24 – The New York City Spelling Bee
A real, adult spelling bee hosted by Jennifer Dziura and bobbyblue.
05/27 – Paula Fox and Lynne Tillman
The authors Paula Fox and Lynne Tillman read from and discuss their work.
05/29 – Literary Death Match
Opium Magazine presents a Literary Death Match with Bob Powers, Cole Kazdin, Garth Risk Hallberg and Aaron Garretson and judges by Ben Greenman, Joel Dovev and Gill and Jill Bumby.