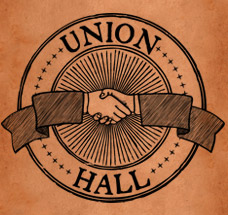 On Thursday of last week, members of Community Board 6 of the City of New York, voted 6 to 2 in favor of a, "motion that denies Union Hall a renewal [of its liquor license] unless the business' owners sign a contract stipulating that they will take measures to ameliorate noise, such as stopping the sale of alcohol after midnight. Although the motion is ultimately only advisory, the committee member who introduced it""Lou Sones, who himself owns a bar, The Brazen Head on Atlantic Avenue""described it as the community board's "nuclear weapon" in terms of being a powerful indication to the State Liquor Authority that Union Hall is disturbing the lives of nearby residents." [Brownstoner]
As a resident of the neighborhood, and a frequent patron of Union Hall I fervently believe that the board's decision couldn't be more wrong headed, short sighted, or reeking with the appearance of conflict of interest. Since its inception, Union Hall has become one of the premier venues for live music not just in Brooklyn, but in all of the five boroughs. In addition to being a great place for music, it's a much loved community gathering place, it plays host to a top notch comedy night (Tearing the Veil of Maya was voted Best Comedy Night by New York Magazine), and it brings in internationally renown scientists for The Secret Science Club (which has presented talks by three Nobel Laureates). In its short existence, Union Hall has vastly enriched the cultural landscape of the Park Slope and any entity that wants or purports to change it, should be met with a healthy degree of opposition by the community and the public at large. In short, if Union Hall loses its liquor license, it will be a travesty of justice.
To write CB6 and voice your opinion, you can go here.
To call CB6 and voice your opinion, you can use this number 718-643-3027.
To take a look at what Union Hall has done to address the concerns of CB6 up to now, (and their associated lack of response), you can go here.
You can view some video of last Thursday's meeting after the jump.