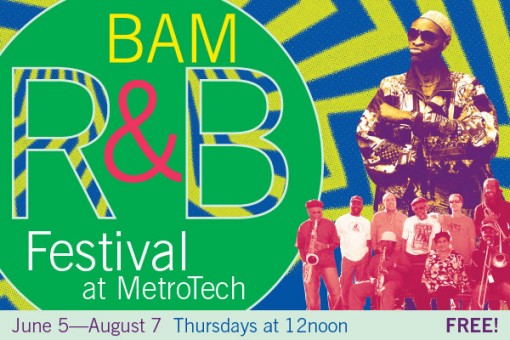 Starting this Thursday (June 7) BAM is presenting a series of free R&B concerts at Metrotech, one of Brooklyn's most outstanding architectural achievements. Check out the full schedule below.
Lionel Loueke Trio with Somi
Thu, Jun 5 at 12noon
Lionel Loueke's distinctive sound blends African rhythms with modern jazz sensitivities while Somi explores her East African musical heritage.
Otis Clay and Ryan Shaw
Thu, Jun 12 at 12noon
R&B king Otis Clay has become the standard-bearer for America's enduring soul tradition, inviting emerging star Ryan Shaw along for the ride.
The Skatalites
Thu, Jun 19 at 12noon
A Jamaican institution, The Skatalites are acknowledged as the creators of "ska," and defined the musical sound of Jamaica during the 60s.
Orchestra Baobab
Thu, Jun 26 at 12noon
Fusing Afro-Cuban rhythms, Congolese rumba, high-life, and more, Senegal's Orchestra Baobab is one of the greatest world music bands.
Oleta Adams
Thu, Jul 3 at 12noon
Debuting with British band Tears for Fears, Oleta Adams has become one of the finest singers in contemporary soul and R&B.
Leela James
Thu, Jul 10 at 12noon
Leela James' dance floor beats boast lyrical relevance and thematic range that challenge her audience to dance hard and think harder.
Phoebe Snow
Thu, Jul 17 at 12noon
Renowned for her multi-range contralto and jazz-scat vocals, singer Phoebe Snow remains one of the most distinctive voices in popular music.
Alice Smith
Thu, Jul 24 at 12noon
Alice Smith's nuance and sensitivity to rhythm has made her one of the most promising singer/songwriters to hit the NYC music scene in years.
Meshell Ndegeocello
Thu, Jul 31 at 12noon
The innovative bassist, composer, and bandleader Meshell Ndegeocello is among the most respected musicians in contemporary R&B.
Richie Havens with special guest Marcus Carl Franklin
Thu, Aug 7 at 12noon
Bed-Stuy native Richie Havens has one of the most recognizable voices in popular music. He's joined by teenage blues guitarist Marcus Carl Franklin