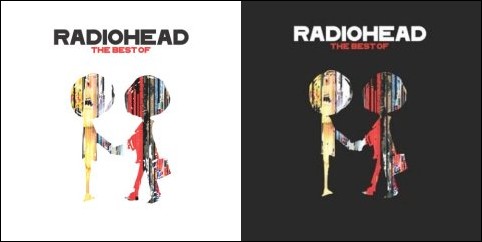 On June 3, 2008, Parlophone Records and Capitol Records released the following "Best of Radiohead" collections:
* A single CD collection featuring 17 tracks
* A "special edition" double CD, with 13 additional tracks
* A quadruple vinyl LP with 29 tracks
* 17-track & 30-track digital downloads
* A single disc DVD featuring 21 videos
On the same day, Radiohead's entire Capitol/EMI music catalog also became available for download on the popular music site iToons, (a move the band had long protested).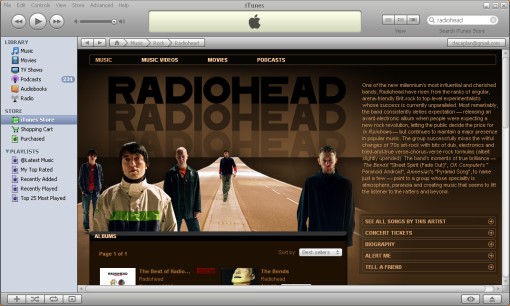 It's a well known fact that these "Best Of" collections were assembled after the band parted ways with the Capitol/EMI label and though some folks, (most notably, the members of the band), have been vocally opposed to these releases, personally I'm kind of excited to replace my VHS copy of 7 Television Commercials with a brand spanking new DVD. The new "Radiohead: The Best Of" DVD, features 21 videos, nine of which appear for the first time on this new disc. It also includes some of the more experimental visuals created for Radiohead songs that were not released as singles.
Because I know you want to replace your dusty old copies of 7 Television Commercials as much as I do, I'm giving away two copies of the new Radiohead: The Best of DVD to two lucky readers who email me at contests@bumpershine.com and tell me which famous choreographer Radiohead played for at BAM in 2003. If you really, really want to win this thing, you can also tell me something else to prove what a superfan you are, (like how you sold your house for a ticket to the $2 dollar bill or something).
"Radiohead: The Best of" DVD track list after the jump.
Radiohead: The Best Of (DVD)
1. Creep (directed by Brett Turnbull)
2. Anyone Can Play Guitar (directed by Dwight Clarke)
3. Pop Is Dead (directed by Dwight Clarke)
4. Stop Whispering (directed by Jeff Plansker)
5. My Iron Lung (directed by Brett Turnbull)
6. High and Dry (UK version) (directed by David Mould)
7. High and Dry (US version) (directed by Paul Cunningham)
8. Fake Plastic Trees (directed by Jake Scott)
9. Just (directed by Jamie Thraves)
10. Street Spirit (Fade Out) (directed by Jonathan Glazer)
11. Paranoid Android (directed by Magnus Carlsson)
12. Karma Police (directed by Jonathan Glazer)
13. No Surprises (directed by Grant Gee)
14. Pyramid Song (directed by Shynola)
15. Knives Out (directed by Michel Gondry)
16. I Might Be Wrong (directed by Sophie Muller)
17. Push Pulk / Spinning Plates (directed by Johnny Hardstaff)
18. There There (directed by Chris Hopewell)
19. Go To Sleep (directed by Alex Rutterford)
20. Sit Down Stand Up (directed by Ed Holdsworth)
21. 2+2=5 (Live at Belfort Festival) (directed by Fabien Raymond)