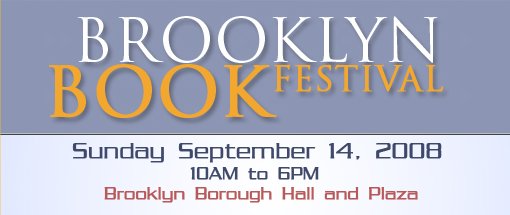 The third annual Brooklyn Book Festival will take place this Sunday (September 14, 2008) at Borough Hall Plaza, Borough Hall Courtroom, St. Francis Auditorium and The Brooklyn Historical Society. This free event includes readings, discussions, and panels with such literary (and musical) luminaries as: Russell Banks, Jimmy Breslin, Geoffery Canada, Joan Didion, Jonathan Franzen, A.M. Homes, Chuck Klosterman, Jonathan Lethem, Phillip Lopate, Ian MacKaye (Fugazi, Minor Threat), Thurston Moore (Sonic Youth), Walter Mosley, Joseph O'Neill, Ed Park, David Rakoff, Naomi Wolf and Mo Willems just to name a few. Check out the full schedule of events here.
I think I could spend the whole day here:
St. Francis Auditorium (180 Remsen Street)

2:00 p.m. Walter Mosley. Brooklyn Book Festival 2008 BoBi Literary Award winner Walter Mosley reads and discusses his work and the social constructs that shape his fiction and non-fiction. Followed by Q&A.

3:00 p.m. Ian MacKaye and Thurston Moore in Conversation. Two of the most influential musicians of the past 20 years""MacKaye (Minor Threat, Fugazi, The Evens) and Moore (Sonic Youth, Mirror/Dash)""discuss the parallel worlds of independent music and book publishing. Followed by Q&A. Introduced by Johnny Temple.

4:00 p.m. Titans Talk. Fiction readings by trailblazers Jonathan Lethem (You Don't Love Me Yet), George Pelecanos (The Turnaround), and Dorothy Allison (Bastard Out of Carolina). Followed by Q&A.

5:00 p.m. The Consequences to Come. Frequent contributors to The New York Review of Books Joan Didion, Mark Danner, Ronald Dworkin, and Darryl Pinckney discuss the challenges and opportunities that will face the next American presidential administration. Robert Silvers, editor of The New York Review, will introduce and moderate the panel.
This also looks pretty amazing:
Borough Hall Courtroom (209 Joralemon St.)

5:00 p.m. Top-Shelf Fiction. Readings and discussion by international bestsellers Russell Banks (Continental Drift) and Jonathan Franzen (The Corrections). Moderated by Brigid Hughes of A Public Space.
PS This lineup kicks the ass of the New Yorker Festival and its all free.