Christmas on Mars: A Fantastical Film Freakout Featuring the Flaming Lips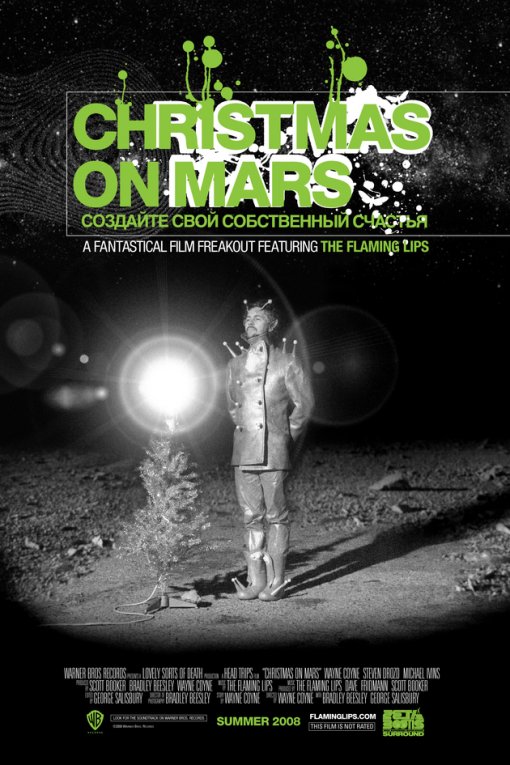 Screenings run through September 30 at the Kraine Theatre
Tickets and showtimes are here
(Many screenings are already sold out)
Psychedelic rock band the Flaming Lips present Christmas on Mars: A Fantastical Film Freakout Featuring the Flaming Lips, a glorious science fiction film that marks the directorial debut of the Lips' visionary frontman Wayne Coyne. Seven years in the making, Christmas on Mars features original music by the Flaming Lips ("The greatest US band today" – The Guardian), with acting performances by all band members, and many others from their Oklahoma City-based team. Comedian Fred Armisen (Saturday Night Live) and actor Adam Goldberg (Dazed and Confused, Two Days in Paris) also appear, as do Isaac Brock of band Modest Mouse, and performer Steve Burns of the band Steve Burns and the Struggle (who had also appeared in children's television show Blue's Clues). Bradley Beesley and George Salisbury co-directed the movie with Mr. Coyne.

It's Christmastime, and the colonization of Mars is underway. However, when an oxygen generator and a gravity control pod malfunction, Major Syrtis (the Lips' Steven Drozd) and his team (including the Lips' Michael Ivins) fear the worst. Syrtis also hallucinates about the birth of a baby, and many other strange things. Meanwhile, a compassionate alien superbeing (Coyne) arrives, inspiring and helping the isolated astronauts.

Christmas on Mars screens in a custom-designed screening room within the Kraine Theater of the KGB Complex at 85 East Fourth Street. A speakeasy during Prohibition and a Ukrainian Socialist Social Club during the Cold War, the KGB Complex features two theater spaces, a comedy club, and a bar. For Christmas on Mars, Cinema Purgatorio is converting the KGB's Kraine Theatre into a superb screening room with high definition video and the custom designed Zeta Bootis Mega Supersonic Super-Sound Surround System, which the Flaming Lips created specifically for this film.