Tonight, Spencer Krug's Sunset Rubdown is playing the second of two local shows at the Mercury Lounge with Boston's Passion Pit, and Brooklyn's optimistically named The End of The World.
The End of The World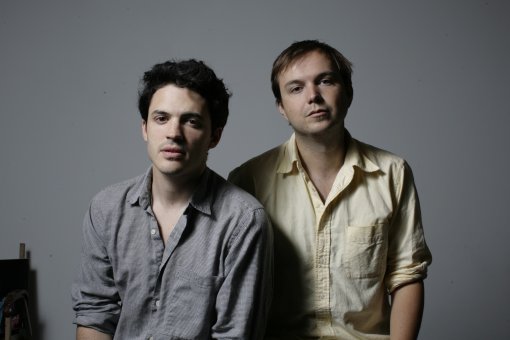 Photo: Michael Schmelling
As far as I know, Sunset Rubdown hasn't put out a new album since 2007's Random Spirit Lover, so one would think they'll be showcasing a few new tunes tonight in anticipation of a future record. Passion Pit on the other hand, just released their Chunk of Change EP to the blog hungry masses on Tuesday (September 16). Not to be outdone, The End of The World has a brand new full length record coming out on November 4, 2008 (Election Day) called French Exit. To tide you over until the new album drops, you can download the track "Jody" off of RCRDLBL.com right now. And if that's not enough, you can also check out their recent split 7″ with The Subjects entitled Subs and Dubs (Pretty Activity). That record conveniently comes with a digital download component and can be purchased over here.
Passion Pit and SSR tour dates after the jump.
Sunset Rubdown 2008 Tour Dates
09/17/08 New York, NY – Mercury Lounge
09/18/08 Philadelphia, PA – First Unitarian Church
09/19/08 Washington, DC – Black Cat
09/20/08 Columbus, OH – Skully's Music Diner
09/21/08 Bloomington, IN – Bluebird
09/22/08 Covington, KY – The Mad Hatter
09/24/08 Atlanta, GA – The Earl
09/25/08 Birmingham, AL – Bottletree Cafe
09/26/08 Baton Rouge, LA – Spanish Moon
09/27/08 Austin, TX – Mohawk
09/29/08 Dallas, TX – Granada Theatre
09/30/08 Norman, OK – Opolis Productions
10/01/08 Lawrence, KS – Jackpot
10/02/08 Iowa City, IA – The Picador
10/03/08 Madison, WI – The Annex
10/04/08 Chicago, IL – Empty Bottle
Passion Pit 2008 Tour Dates
Sep 17 2008 Mercury Lounge W/ Sunset Rubdown New York, New York
Sep 18 2008 Great Scott ( CD RELEASE SHOW! 18+) Allston, Massachusetts
Sep 24 2008 Bowery Ballroom w/ French Kicks New York, New York
Oct 04 2008 POP MONTREAL w/ The Dodos MONTREAL, Quebec
Oct 27 2008 Neumo's w/ Yelle Seattle, Washington
Oct 28 2008 Commodore Ballroom w/ Yelle Vancouver, British Columbia
Oct 29 2008 Berbati's Pan w/ Yelle Portland, Oregon
Oct 31 2008 Mezzanine W/ Yelle San Francisco, California
Nov 01 2008 Henry Fonda Theatre w/ Yelle Los Angeles, California
Nov 02 2008 The Beauty Bar w/ Yelle San Diego, California