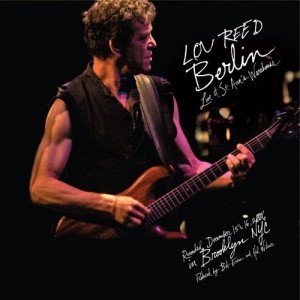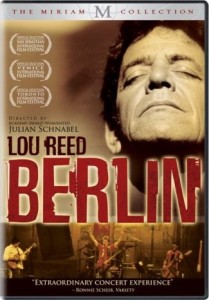 DOWNLOAD: Lou Reed – Caroline Says, Pt. 2 (mp3)
The Julian Schnabel directed film version of Lou Reed's Berlin (which screened recently at the Film Forum) is about to hit the DVD shelves next week (September 30). In addition to the theatrical release, the DVD contains bonus footage featuring Lou's performance on "Spectacle: Elvis Costello with…" (the taping where I was unceremoniously turned away from the door moments before the show started). I thought it was kind of interesting that this material will be released in DVD format before a single episode of Spectacle has even aired on the Sundance Channel, but I digress.
For those of you who may be unfamiliar with the work, here's a little bit about Lou Reed's Berlin:
The story of Jim and Caroline, a drug-addicted couple, is told through the emotive and provocative words and music of Lou Reed. Including performances by Fernando Saunders, Antony Hegarty, Steve Hunter, Rob Wassermann, Rupert Christie and Sharon Jones, Reed captivates his audience as he bares witness to the couples' self-destruction. The live staging contains music-video-like film clips projected behind the band and sometimes cross-faded into the film itself, with material ranging from the literal to the abstract.
But wait, there's more… Berlin: Live at St. Ann's Warehouse (just the music), will be released on iTunes on September 30 as well. For those of you who still prefer the physical medium, the 2 CD/LP version of the album will be released on Matador Records on October 21, 2008. Here's a little blurbage on that release:
The record contains the first live performance of the controversial 1973 masterwork, 33 years after it originally came out. It was recorded at the filming of Julian Schnabel's 'Berlin' feature length film in December 2006, featuring Antony Hegarty, Sharon Jones and Steve Hunter among other guests, with production from Bob Ezrin and Hal Willner.
More CD and DVD details after the jump.
Berlin: Live at St. Ann's Track listing:
1. Intro
2. Berlin
3. Lady Day
4. Men Of Good Fortune
5. Caroline Says, Pt. I
6. How Do You Think It Feels
7. Oh, Jim
8. Caroline Says, Pt. II
9. The Kids
10. The Bed
11. Sad Song
12. Candy Says
13. Rock Minuet
14. Sweet Jane
Lou Reed's Berlin (UK DVD Cover)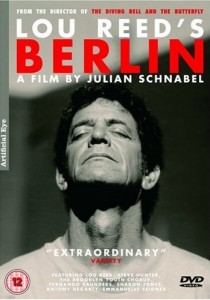 Berlin DVD Bonus Materials
An Excerpt From Spectacle: Elvis Costello With Lou Reed & Julian Schnabel
Berlin On Tour
Basics
Price: $22.95
Street Date: September 30, 2008 USA/ October 6, 2008 UK
MPAA Rating: NR
Run Time: 81 minutes
Languages: English Dolby 5.1
Subtitles: English and Spanish
Closed Captioned