Eugene Mirman at The Bell House (09/17/08)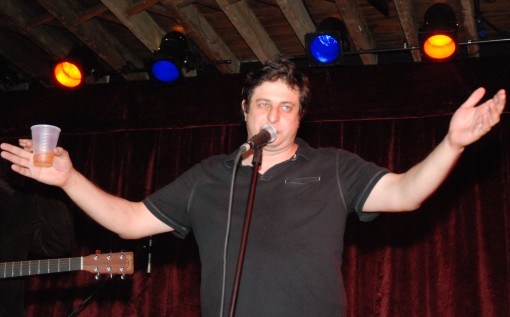 Comedian Eugene Mirman took some time to sit down with us to discuss his upcoming Eugene Mirman Comedy Festival (which starts tonight at The Bell House), his take on the New York comedy scene, some interesting future plans, and a blockbuster revelation about Season 2 of Flight Of The Conchords.
Bumpershine: Why the Eugene Mirman Comedy Festival? Why now?
Eugene Mirman: Because it's ridiculous and it's a good time for it. I like fall a lot. It's my favorite season.
Bumpershine: I heard that the idea for the Eugene Mirman Comedy Festival basically came out of a dare from Julie Smith and Mike Birbiglia, what made you actually decide to put the festival together?
Eugene Mirman: It wasn't a dare. We were at Union Hall one day and I jokingly said I was going to organize a Eugene Mirman Comedy Festival. Then they said that it'd be funny to do it for real. So, basically, Julie and I joked about it for the next month and then decided to do it and now it's happening.
Bumpershine: Do you like comedy festivals in general?
Eugene Mirman: I actually do. There's a lot of stupid fanfare that can come with it, but the truth is you often get to see lots of friends, go to great shows, and various companies buy you free drinks and have parties (with mashed potato bars!!!!!).
Bumpershine: New York has a couple of comedy festivals that I know of, The Del Close Marathon and The NY Comedy Festival for instance, how is the Eugene Mirman Comedy Festival going to be different from those? Do you have a favorite comedy festival that you have been to?
Eugene Mirman: My festival is very small, pretty goofy, and takes place in Park Slope, while other festivals often have the names of entire cities attached. Mine is the only festival to present performers with awards before the festival happens. It's the first one to incorporate bingo. But it is not the only festival that features a mashed potato bar with a man in a tuxedo serving it. That will happen tonight at our opening night awards gala. My favorite festival might be Sketch Fest in San Francisco. It's super fun. I love the Vancouver comedy festival as well. I used to sneak into the Montreal comedy festival every year when I lived in Boston, and I've had a great time in Aspen, when they still did that festival. Mine will be both a real festival and also make fun of stuff at festivals.
Bumpershine: You got such an amazing lineup, was it relatively easy to get people to come on board? Is there anyone you are especially excited about or would like to tell people a little more about?
Eugene Mirman: It was relatively easy to get people, but sort of hard to coordinate everything. Everyone who we asked who was free was happy to do it. I'm very excited for the "One of Each" and "Fresh Faces" shows. I'm also excited for the "Apartment 2F Reunion". Along with The State, Apartment 2F was one of the first shows to come out of the downtown alternative comedy scene in the 90s. And then tonight's awards show and "Invite Them Up". And also, the Saturday and Sunday shows as well. I think I just listed all the shows, sorry.
Bumpershine: SubPop is sponsoring this festival in part, will any of the show be recorded for a future record? Do you have plans for a new "Eugene Mirman " comedy record anytime soon?
Eugene Mirman: None of the festival will be recorded for an album. But I am planning on recording a new record November 7th and 8th in Chicago at the Lakeshore Theater.
Bumpershine: What kind of surprises or special guests can we expect at the EMCF?
Eugene Mirman: I can't say in case it doesn't work out, but we have lots of surprises planned throughout the festival. Some surprises are people you'd expect and some will be decidedly unexpected.
Bumpershine: I know it's a little premature, but if all goes well, are there plans to have another festival next year?
Eugene Mirman: Maybe. It's sort of a ton of work, but if it goes well, we might do it again.
Bumpershine: I understand you're filming Season 2 of Flight Of The Conchords right now, anything special you can tell us about the new season?
Eugene Mirman: Yes. The entire season takes place on the moon.
Bumpershine: What do you think will be the next Rififi? Will there be one at all?
Eugene Mirman: I don't really know. I think everyone is asking that, and naming places, but it will take time to make a place a hub for a comedy scene, where comics hang out a lot, and people in general know about. We did Invite Them Up for a year and a half or two before Rififi really started to take off as a place for comedy. It just takes a while. It has to come about organically.
Bumpershine: Do you think it is easier to make it as a comedian in New York or LA?
Eugene Mirman: I have no idea. I never lived in LA. I personally like New York a lot more, but I believe there's a lot more work in LA. I think it's best to start in a city like Boston, Chicago, Seattle or Austin and then move to NY or LA after doing comedy for a few years.
Bumpershine: Would you like to have your own TV show?
Eugene Mirman: A little. I really don't like pitching things and selling myself, but as time goes on I think I'd enjoy working on my own TV show. Especially if the TV show was The Whoopsy Daisy Time Travel Boys, about two guys (me and Larry Murphy) who go back in time each week and when they return from the past they realize they left something (like a lighter, a cell phone, a sandwich, etc) that has destroyed the world and each episode they have to go back and fix it.
Bumpershine: You've been on Conan O'Brien, you've had your own Comedy Central Special, you're an actor on a very funny TV show, and now you've got your own comedy festival, what's next for Eugene Mirman?
Eugene Mirman: I have a book coming out in February called The Will To Whatevs, which is a fake self-help book/ guide to modern life. I'm also on a new show starring Jon Glaser called Delocated, which will air sometime in the first months of the new year.
Bumpershine: Thanks a lot Eugene!
The Eugene Mirman Comedy Festival takes place from September 25-28 at The Bell House and Union Hall in Park Slope, Brooklyn. Advance tickets for the shows at The Bell House are on sale now.