In case you were one of the hundreds (thousands?) to be turned away at the door, you can check out the international premiere of the documentary film 77BOADRUM for one night only on October 13, 2008 at the Anthology Film Archives .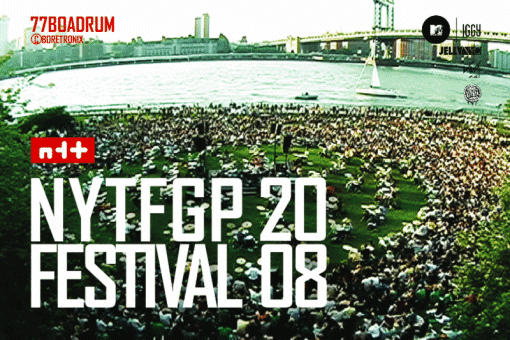 New York – Tokyo presents the International Premiere of
77BOADRUM
at
NYTFGP (New York – Tokyo Film Grand Prix) 2008 Festival
with special appearance by

Director Jun Kawaguchi

Japan | 2008 | 77 min. 777 seconds | Japanese with English Subtitles

Mon. Oct. 13 – Double Screening Event
One: Doors open 6:00 – Film starts 7:00pm
Two: Doors open 8:15 – Film starts 9:15pm
Anthology Film Archives, 32 Second Ave, NYC

Buy your tickets here (7:00pm)
Buy your tickets here (9:15pm)

77 BOADRUM, directed by Jun Kawaguchi, documents the now-legendary 7/7/07 performance by the mega-iconic Japanese band The Boredoms with 77 guest drummers. Expect big, loud, explosive energy!

There will be appearances by the Director Kawaguchi for both screenings. The 7:00 screening will feature a Q&A session afterward, and he will introduce the 9:15 airing.
Check out my 88BoaDrum pictures over here. Check out the movie trailer after the jump.