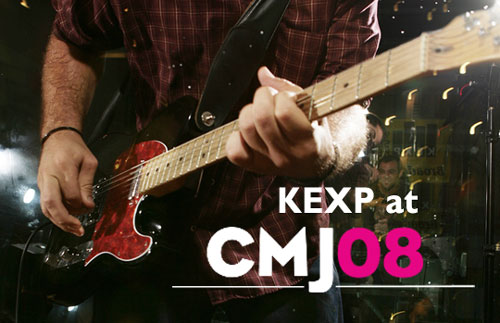 Like they've done in year's past, radio station KEXP will be broadcasting live concert sessions throughout the week during CMJ. You can sign up over here to be part of the Gibson Showroom studio audience (all KEXP sessions are free, space is limited). The 2008 CMJ schedule looks like this:
KEXP at CMJ 2008
Monday
10/20/2008
Tuesday
10/21/2008
7:00AM
Takka Takka
7:00AM
Hercules and Love Affair
9:00AM
Deerhoof
9:00AM
Eugene Francis Jnr
11:00AM
Vivian Girls
11:00AM
Lykke Li
1:00PM
Black Nite Crash
1:00PM
The Voom Blooms
Wednesday
10/22/2008
Thursday
10/23/2008
7:00AM
Jessica Lea Mayfield
7:00AM
Johnny Foreigner
9:00AM
Cotton Jones
Basket Ride
9:00AM
Friendly Fires
11:00AM
The Dears
11:00AM
Fujiya & Miyagi
1:00PM
Bang Bang Eche
1:00PM
All The Saints
Friday
10/24/2008
7:00AM
The Physics of Meaning
9:00AM
A Place To Bury Strangers
11:00AM
Brendan Canning and Broken Social Scene
1:00PM
Freshkills
PS If you aren't lucky enough to be part of the KEXP studio audience, the CMJ sessions are usually made available as podcasts after CMJ.