Novillero at Fat Baby (10/24/08)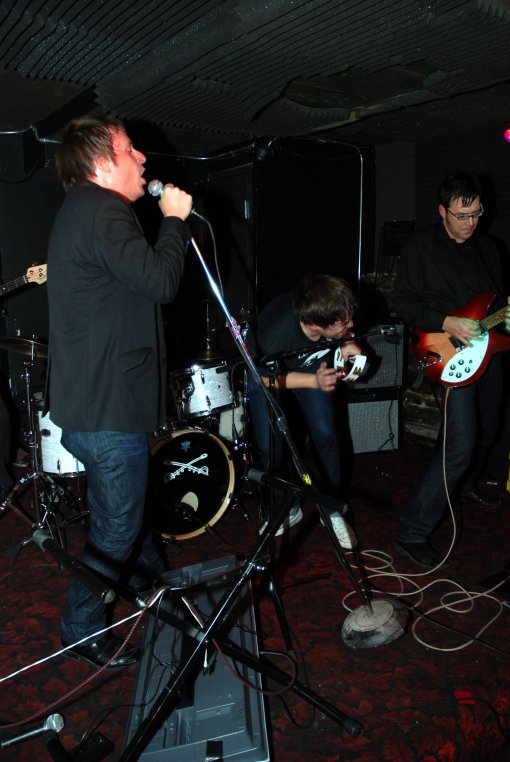 The Rosebuds at The Bell House (10/24/08)

Q: Where were you Friday and Saturday (October 24 & 25)?
A: After The Jump Bloggers Respond Below.
Bumpershine.com
Friday: On Friday night I headed off to the Mint Records showcase to see Hot Panda, The Awkward Stage and Novillero. Both bands were in fine form, but Novillerro absolutely killed it. After Novillero finished their set, I stuck my head into the overly crowded Delancey for a minute, before heading home via The Bell House to see The Rosebuds.
Saturday: Stayed in all night though The Seabellies and Blackstrap at The Bell House beckoned me.
Abbey says:
Friday: Roisin Murphy at Mansion, followed by The Whip, Luciano and Late of the Pier at Fillmore Irving Plaza for the Pete Tong Presents night…. didn't last for Soulwax's set, but we've seen em a bunch already.
Saturday: Public Assembly for: The Muslims, Cut Off Your Hands, The Mae Shi and Juvelen
and
The Music Hall of Williamsburg for:
Shout Out Out Out Out
Totally Michael
Heartsrevolution
Designer Drugs
Ninjasonik
Franki Chan
3 videos here.
Jed says:
Early Friday Morning: A Vice writer almost died at the hands of LiveFastDie! (link)
Friday Proper: Bel Air at some random bar on Bedford – Alt. Country goodness with a splash of Amy Mann. Then on to Irving Plaza for Rob DeBank, The Whip (who sounded massive. I love them), Late Of The Pier (also great), and James Laville (Unkle) dj'ing to an Irving Plaza transformed into lil' Ibizia.
Saturday: Little Boots (not much more than a poor man's 80's dance club act, but the allure of the tenori-on is undeniable), Sharon Van Etten, and The Forms (new line up is totally refreshing).
Jin says:
If it weren't for Flickr, I wouldn't remember the past weekend. But here it is!
Friday: I went to have some delicious brunch presented by JellyNYC at the Hotel Rivington — biscuits, gravy, eggs, turkey sausages, peanut butter ice cream, yumz! Then I headed over to Nora's "I Rock, I Roll" day party at Rehab, where I caught a Noisettes song and happily revived myself on some Function water. Nora was looking spicy and I was sad to leave her, but next, I had to jet off to Williamsburg to pow wow with The End of the World and Flameshovel Records at Brooklyn Bowl's private preview of the new venue, which combines some of my favorite things — bowling, food (from Blue Ribbon), drinks (Brooklyn Brewery), music (yes it's a rock venue, not just a bowling alley!) and more. Later on that night, I went to see Donald Beaman of the Double perform a solo show at Monkeytown. I really enjoyed his new solo work, a gentle echo of sensitive indie rock, which seemed to draw from various influences — Neil Young-esque singing (with that distinctive Beaman bend on the vocals) paired with earnest, intricate guitar work. The end of Friday night brought me to my third free meal of the day, le petit cheeseburgers from Le Gamin outside of Music Hall of Williamsburg for the Kemado Records / Adult Swim late night party with Children and Cheeseburger. Cheeseburger premiered the music video for Adult Swim's show "Superjail!" where they did the theme song — and the video featured a special live action cameo with Les Savy Fav's Tim Harrington. Backstage, I chatted with Harrington about his upcoming Internet TV show on Pitchfork TV and smoked pot with Tracie from Pot Psychology. Kind of amazing… I ended up staying up until 7:30am in the Cheeseburger practice space with Luke, the band's drummer, talking about life and family and bullshit. Quality times! Hearts to hearts! That's what living in New York is all about, in my opinion.
Saturday: I slept for about three hours and woke up early on Saturday to head to the Daytrotter/Take the Handle/Snowghost day party at Glasslands. I caught a beautiful, captivating set from singer-songwriter Laura Gibson, as well as an intriguing set from boy-girl duo Wye Oak. The End of the World boys and I then hopped in a cab to go perform at the Bowery Presents day party at Pianos. I ran into Frank from Chromewaves there, and we stuck around for Emmy the Great, who has a knack for writing lyrically entertaining and heartbreaking songs — "You were stroking me like a pet, but you didn't own me yet." Here, here, Emmy. Frank informed me that Canada didn't really have any good authentic southern fried chicken. This appalled me so much that I suggested we go to Mama's and get ourselves some! I parted ways with the blogging canuck and headed for Canada (the gallery, not the country) for an art opening for Joe Bradley (of Cheeseburger) titled "Schmagoo Paintings." In case you don't know, "Schmagoo" is a 1960s slang for heroin. As the rain started pouring from the drab New York sky on the final night of CMJ, I sprinted to Lit to catch The End of the World at the Flameshovel/Pretty Activity label showcase. I kicked off my drenched Converse and swayed to the somber soundtrack the band has provided for me the past several months. They dedicated "Show Your Age" to me, that's my jam! It makes me want to cry… in a good way. After their set, my CMJ was finally over. I peaced out early and went to bed.
Bryan says:
Friday: I started with a stop at Rehab for Nora's party, where I missedPretty & Nice again but did see Princeton, Jukebox the Ghost, and The Noisettes (finally! and it was well worth the two year wait – they were fantastic!). Then I took a cab all the way down to the Seaport to see Bearsuit again at the Space there. I fell more in love with them. After some time just hanging out at Fader and then Pianos I went to the Mint Records showcase at Fat Baby, where I argued with Carl Newman because he told me he'll never come play a solo show in Maine (note: all those New Pornographers album on my iTunes were promptly deleted when I got home), then watched great sets from Hot Panda, the Awkward Stage, Vancougar and Novillero before some burrito action (that Neighburritos joint that replaced Dash is actually pretty good!) and then went to the Delancey to see my friend's friend's band Jupiter Oneplay to a packed house that knew the words to all their songs and danced the whole time. Oh yeah, the drummer wore a horse head through the set. Called it an early night for CMJ and headed to Union Hall for late night karaoke. I sand "Baby Got Back" and backed up my friend (whose birthday party it was) on "Living On A Prayer."
Saturday: I started with a bagel and some free beer at Union Hall. I missed Frauke but did see the Jones Street Boys, Goes Cube, and the XYZ Affair. Nothing like some headbanging to wake you up. I headed into the city and then and saw Little Boots at Fader (she was dressed kinda like an ice skater but I loved her set) and my buddy Nick Catch dubs spinning (I had no idea he was going to be there, so that was a nice surprise) before settling into the Delancey for the StereoactiveNYC showcase. I missed Remnimbi (lost track of time atFader, as usual) but saw sets from El Jezel, Art of Shooting, Mancino,The Secret Life of Sofia, The Silent Years, Gold Streets, and Abigail Warchild. I was pretending to DJ but really just haphazardly picking songs I liked on my iPod. Nora was helping me but there were still some big fails in there (note to self and others when someone comes up and says "play one of my band's songs!" maybe it's best to just pretend you don't have any instead of actually playing it). In retrospect it might not have been a great idea to schedule to shoot the very last two bands that I would be seeing on the very last night of the whole festival, but I think I took at least a couple shots of them. Afterward I wandered around, ran into some people, then met up with the CMJ crew for a wind-down, which ended at 6:30 am at theRemedy diner. Somehow I got up in time for lunch with my parents on Sunday before flying back to Portland, ME.
Nora says:
Friday: I had my show at rehab. it was awesome. people came. they drank all the colt 45. pretty & nice were EXCELLENT and i am hoping to get them back for a show asap. their drummer is one of my new favorite people. jukebox the ghost's guitar player (tommy…?) woke up 15 minutes before their set in brooklyn, but managed to make it to the venue after seth basically told him he had no choice, looking like he had just fallen out of bed. they rocked it. the noisettes BLEW MY MIND, their singer is a talent like I haven't seen in a while. and she's super hot and smelled really good too, if that matters. they were fantastic. tally hall played two new songs, wore their new vests, and were great. so yay for my first cmj show ever! afterwards matt music slut and i went to the zune party, where i ate a lot of crudite and pretended I care about zune.
Saturday: I went to the jelly nyc brunch at the rivington where i spent most of the time downing bloody marys and reading after the jump emails and relating them to laura. the food was great and it was all free. Afterward i went to knitting factory to see my friend Dave and watch the Delta Spirit, who for SOME REASON were playing in the old office! which was really weird/bad/annoying. BUT they were fantastic and sweaty and awesome. they would have played alonger set though if the room hadn't been such a bummer for them (i think). after this i went back to pianos to see the end of the world, where i ran into the aforementioned drummer from pretty & nice and the lovely Jinners. we went downstairs and watched chief, who rocked and the room was super packed. then drummer and i got ice cream and walked in the rain to the fader fort, where i introduced him to bryan, sean and sparks plus. little boots played and she was kinda fun and tiny and sparkly. bryan and sean kidnapped me with a bag of sparks and we went to the delancey. i saw el jezel and i don't really know what i thought of it, but i know Bryan enjoyed it a lot. at some point there was a cheese hotdog and a lot of rain. bryan and i djed, and i played morning theft and then jeremy from autodrone came over to say hi and suggested (as a joke i think) that we play one of his songs, which i think he later regretted since bryan in a "sparks haze" played the one that is EIGHT MINUTES LONG. oh well, it was funny. then bryan and sean had some kind of camera fight/bromance and i watched The Secret Life of Sofia, who were greatt although I wish they would rock out more. some bands are just always mellow I guess. And the Silent Years played, and it wasn't their best show but the played "Worlds Worst Birthday Gift" and I love that song so that was good. Then I had to say goodbye to Bryan (sad!) and went back to williamsburg to see Pretty & Nice play in the basement of the Charleston, which is REALLY JUST A BASEMENT. Things were dripping from the ceiling. But they rocked, it was fun, I ran into Tally Hall outside, and then I went home.
Pat says:
Friday: Started my day by sharing a van ride to the city with the awesome Bearsuit! They had won me over the night before and then drew me in even deeper after a great set at The Seaport on Friday afternoon. Also caught Kirste Kejster (totally spelled that wrong) and The Loom before I headed for free beer at Fader and at the Zune social (both were awful, but free booze is a strong lure). Went almost an hour without seeing a band before watching the absolutely abominable Picture Picture open the NY Noise 5th Anny party at Cake Shop. After that I bounced over to Pianos for some Sub Pop/Hardly Art/Suicide Squeeze action with The Coathangers, Pretty & Nice, and The Dutchess and the Duke. Coathangers and Pretty & Nice absolutely rocked the upstairs, I have seriously never seen the floor up there shake like that, and then the Dutchess was kind of a downer after two seriously fun punk bands! Tried to get back into Cake Shop after that, caught a sliver of The Pains of Being Pure At Heart before giving up on both packed venues and calling it a night.
Saturday: I went for Plan B and spent most of the day at the Brooklyn Vegan showcase at Knitting Factory. Saw Shout Out Out Out Out (acronym SOOOO….), Marnie Stern (stunning again!), Women, Duke Spirit, The Mae Shi, and Lightspeed Champion before heading over to Fader for a snippet of Dungen and Rachael's DJ gig in the pouring rain. Got drenched, called it a week!
Chris says:
Friday was as much about what didn't happen as what did happen. Started the day @ Bell House for travels first NYC show. They were excellent. Told me that Metal Hearts and Victory At Sea were officially dead and that travels will be back in town again soon. Also saw a little bit of Wild Sweet Orange. The little bit I saw was solid. Went to Lit to see Snowman, but I guess they weren't able to make the trip from Australia. Earlier in the day I found out that The Black and White Years had cancelled their trip from Austin to CMJ as well, so also didn't get to see them Friday. Went to Fader and saw a different Aussie band, The Seabellies, who were pretty good. Then School of Seven Bells came on and I think they were also good, but those two girls are way too distractingly beautiful. Heard one Phenomenal Handclap Band song before heading to Acme for a delicious dinner. After dinner went downstairs for LoveLikeFire. They were so great. I'm jealous of San Fran folks that get to see them play with Finest Dearest all the time. They were the last band I saw for a while, because Mercury, Pianos, and Cake Shop all were not letting anyone else in. Prav texted me and told me to come to Irving Plaza, so I did and got there right in time for Late Of The Pier. I don't know how to describe them. Disco metal psyche rock? Wanted to see Soulwax, so I hung out while James LaVelle of Unkle djed for an hour. He was really good but I was too tired to enjoy it and ended up leaving before Soulwax.
Saturday went much better, well except for our showcase being cancelled. I had been avoiding the bands that were playing our Sat showcase, so I was glad that was able to catch Ruby Suns @ Music Hall. They reminded me of a simplified Architecture in Helsinki. Ate a free hot dog and then went next door for Drink Up Buttercup. Great as usual. Went back to Music Hall for Monotonix and WTF. I think seeing Monotonix is like finding a used condom in your room. It's pretty foul but you know that something awesome happened. Then walked over to Glasslands for Moby Dick and The End of the World. Both were good. Ate dinner @ Papa Lima. Off to Fat Baby. Saw Real Ones (very fun) and FanFarlo (very good, if not just a little tooo much like Beirut, BSS, CYHSY, etc.). Then went to Mercury Lounge to see Wye Oak again. They have the honor of being the only band that I saw twice during CMJ and I wish I had seen them a hundred times. SOOOOOOOOO GOOOOOODDD. Then to Delancey for a nice set by the creators of my favorite album of '08, The Secret Life of Sofia. After them I teleported over to the Red Bull Space just in time for Delta Spirit and FREE!!!! Guinness. So, Trashcan is pretty much the song of '08, right? Then Scotty beamed me over to Rehab for The Coast, who were so great that I decided to end my CMJ after seeing them.
miss modernage says:
Nothing! I got really sick on Friday afternoon and couldn't make it out to any shows. dragged myself out of bed on sat morning to go to Brooklyn but after the ATJ show was canceled I headed back home and watched Entourage on the Internet. However, tonight I'm seeing Coldplay. I'm here right now in NJ! [Laura does love Coldplay! -ed.]