The Killers – Day and Age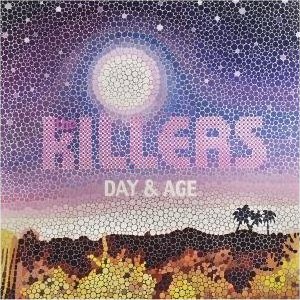 The Killers just played an "intimate" show at the Hammerstein Ballroom one week ago (10/24) and tickets go on sale tomorrow (11/01) for another (much larger) show at Madison Square Garden on January 29, 2009. As I mentioned before, The Killers have a new record coming out on November 28, 2008 called Day and Age. The hugely popular and hugely annoying first single off that record, "Human", is streaming at MySpace now.
More Killers tour dates after the jump.
The Killers 2008-2009 Tour Dates
Nov 03 2008 Royal Albert Hall London, London and South East
Dec 09 2008 Deck The Hall Ball Seattle, Washington
Dec 12 2008 Warfield Theater San Francisco, California
Jan 17 2009 Magness Arena Denver, Colorado
Jan 19 2009 Northrop Auditorium Minneapolis, Minnesota
Jan 20 2009 UIC Pavillion Chicago, Illinois
Jan 22 2009 EMU Convocation Center Ypsilanti, Michigan
Jan 23 2009 Air Canada Center Toronto, Ontario
Jan 25 2009 Madison Square Garden New York, New York
Jan 26 2009 Agganis Arena Boston, Massachusetts
Jan 28 2009 George Mason University Patriot Center Fairfax, Virginia
Jan 29 2009 House of Blues Myrtle Beach, South Carolina
Jan 30 2009 Atlanta Civic Center Atlanta, Georgia
Jan 31 2009 Grand Ole Opry House Nashville, Tennessee
Feb 02 2009 Verizon Wireless Theater Houston, Texas
Feb 03 2009 Frank Erwin Center Austin, Texas
Feb 04 2009 Nokia Theater Grand Prairie, Texas
Feb 20 2009 The O2 Dublin Dublin
Feb 21 2009 Odyssey Arena Belfast, Northern Ireland
Feb 23 2009 O2 Arena London, London and South East
Feb 24 2009 O2 Arena London, London and South East
Feb 26 2009 LG Arena Birmingham
Feb 27 2009 LG Arena Birmingham
Feb 28 2009 Cardiff International Arena Cardiff, Wales
Mar 02 2009 Sheffield Arena Sheffield
Mar 03 2009 Nottingham Arena Nottingham
Mar 05 2009 Aberdeen Exhibition and Conference Center Aberdeen, Scotland
Mar 06 2009 Scottish Exhibition and Conference Center Glasgow, Scotland
Mar 07 2009 Newcastle Arena Newcastle
Mar 09 2009 Manchester Evening News Arena Manchester
Mar 10 2009 Manchester Evening News Arena Manchester
Mar 12 2009 Heineken Music Hall Amsterdam
Mar 13 2009 Phillpshalle Dusseldorf
Mar 14 2009 Max Schmelinghalle Berlin
Mar 16 2009 Zenith Munich
Mar 17 2009 Alcatraz Milan
Mar 18 2009 Maag Eventhall Zurich
Mar 19 2009 Zenith Paris
Mar 21 2009 Sala Razzmatazz Barcelona