"It's the best holiday dance party in NYC!"
Bumpershine.com
Save 20% with code Zanes912 on a 21st century holiday celebration at The New Victory Theater. Grammy Award winner Dan Zanes and his friends from near and far heat up the holidays with disco Hanukkah rave-ups, raucous Arabic worship songs, a Korean New Year's anthem, high-octane Mexican fiddling, tap dancing, a homespun puppet show, snow, laughter, and the occasional Christmas carol!
Tickets start at just $12 with code Zanes912. The Dan Zanes and Friends residency at the New Victory Theater lasts until Sunday, January 4.
UPDATE (12/26/08): Hey, in case you didn't know it (and I didn't until today), Dan Zanes also has a new record out now (yes, even newer than Nueva York) called The Welcome Table: Songs of Inspiration, Mystery, and Good Times which was released on December 9, 2008 and is available exclusively at Amazon.com and at DZ shows. The Welcome Table is a compilation of songs mostly in the style of various North American gospel traditions, and includes two new Dan Zanes tunes along with other previously released material. Check out The Welcome Table track listing after the jump.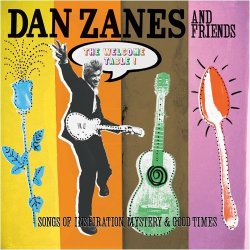 The Welcome Table Track Listing
1. Workin' On A Building 2:33
2. Up Above My Head 3:15
3. Get On Board 2:23
4. Granito De Mostaza 3:38
5. By and By 3:27
6. Roll the Chariot 2:42
7. In the Land of Egypt 1:20
8. Under the Sun 2:39
9. Oseh Shalom 3:54
10. Daniel In the Den 2:59
11. Jesus On the Mainline 2:37
12. Himno Guadalupano 2:30
13. Home In That Rock 2:54
14. Welcome Table 3:10
15. We've Been Down This Road Before 3:20