Roger Daltrey and Pete Townshend

The last surviving members of The Who (Peter Dennis Blandford Townshend and Roger Harry Daltrey) were honored by The Kennedy Center on December 7th, 2008 and tonight (December 30th, 2008) that gala will be broadcast on CBS at 9 PM EST.
To their credit, The Who still keep up an active tour schedule for a band that no longer has anything left to prove, but I would be remiss if I didn't mention the recent release of The Who: At Kilburn: 1977, a gem of a DVD that captures the band in their full glory, plowing through many of their biggest hits. Recorded live at Gaumont State Theatre in North London on December 15, 1977 and shot on 35mm film with six cameras, the Kilburn show was originally intended to be part of The Kids Alright documentary, but was eventually scrapped because the band felt it was too "raw and messy". But unlike many shows recovered from the so-called "vault", the Kilburn performance is high quality archival footage of a band peak of their powers (not only that, but it's also Keith Moon's second last public performance), and despite Townshend's on stage claims to the contrary, I think it's "pretty fucking good". The second disc features their 1969 London Coliseum performance, and while not as visually pristine as the Kilburn show, it contains the first-ever full live recording of their groundbreaking rock opera, Tommy. If you're a Who freak, this disc is obviously a must, but I think even the casual fan will find this DVD thoroughly enjoyable.
Oh, and one last thing, because I liked it so much, I'm giving away a copy of The Who At Kilburn: 1977 to one lucky reader who can tell me what show marked Keith Moon's final public performance with The Who. Send your entries to contests@bumpershine.com, winner will be notified on January 9, 2009. Full The Who At Kilburn: 1977 track listing after the jump.

The Who at Kilburn (Entwistle, Moon, Townshend, Daltrey)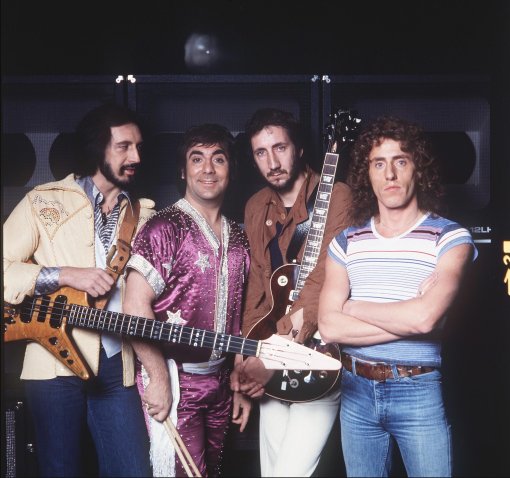 Photo: David Thorpe (Rex USA)
Disc One:
Kilburn Songs: " I Can't Explain," "Substitute," "Baba O'Reilly (Teenage Wasteland)," "My Wife/Going Mobile," "Behind Blue Eyes," "Dreaming from the Waist," "Pinball Wizard," "I'm Free," "Tommy's Holiday Camp," "Summertime Blues," "Shakin' All Over," "My Generation," "Join Together," "Who Are You?," "Won't Get Fooled Again."
London Coliseum Songs: "Heaven and Hell," " I Can't Explain," "Fortune Teller," "Tattoo," "Young Man Blues," "A Quick One While He's Away," "Happy Jack," "I'm a Boy," "I'm Free," "Tommy's Holiday Camp," "See Me, Feel Me," "Summertime Blues," "Shakin' All Over," "My Generation."
Disc Two:
70 minutes of rare Coliseum bonus tracks and extended versions including the first-ever live recording of the rock opera Tommy: "A Quick One While He's Away," "Overture," "It's a Boy, " "1921," "Amazing Journey," "Christmas," "Acid Queen," "Pinball Wizard," "Do You Think It's Alright," "Fiddle About," "Tommy Can You Hear Me?," "There's a Doctor," "Go to the Mirror," "Smash the Mirror," "Miracle Cure," "Sally Simpson," "Tommy's Holiday Camp," "I'm Free," "We're Not Gonna Take It."