Ra Ra Riot at The Wellmont Theatre (12/08/08)


Photo: Jon Klemm
Ra Ra Riot just announced a massive tour schedule with the likes of Death Cab for Cutie, Cold War Kids, Tokyo Police Club, Passion Pit, Cut Off Your Hands and new Merge signees Telekinesis. In addition to the big tour, they're also releasing a CD single (because that's what the kids are asking for these days) of "Can You Tell" on March 3, 2009. Also, this time they hit NYC, they'll be playing everybody's favorite venue, Webster Hall, on April 4, 2009. Tickets for that show go on sale Friday (Jan 30) at noon. Oh yeah, rumor has it the band has started writing songs for the next record already. Who knows, maybe we'll see a few new ones on this tour. Until then you can tide yourself over with this Passion Pit remix of "Ghost Under Rocks".
DOWNLOAD: Ra Ra Riot – "Ghost Under Rocks" (Passion Pit Remix)
All tour dates and CD single track listing after the jump.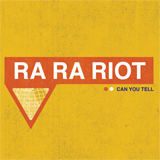 "Can You Tell" CD Single track listing:
1. Can You Tell (album version)
2. Run My Mouth (RAC mix)
3. Dying Is Fine (Tom Campesinos! mix)
4. A Manner to Act (live at Daytrotter)
5. Can You Tell (2006 demo)
(Also, Including a BONUS VIDEO MP4 file of The Rhumb Line Live "Attic Sessions" in Syracuse, NY)
Ra Ra Riot 2009 Tour Dates
01/30 – Colgate University (Hamilton, NY)
01/31 – Smith Opera House (Geneva, NY)
02/11 – Barfly (Birmingham)
02/12 – King Tuts (Glasgow)
02/14 – Academy 2 (Newcastle)
02/15- Night and Day (Manchester)
02/16 – Bodega (Nottingham)
02/17 – King's College (London)
02/18 – La Fleche D'or (Paris)
02/21 – Richard's on Richards (Vancouver, BC) !@
02/22 – Lucky (Victoria, BC) ! 2/24 – Doug Fir Lounge (Portland, OR) !@
02/25 – Neumos (Seattle, WA) !@
02/27 – The Independent (San Francisco, CA) (Noise Pop) !@
02/28 – El Rey Theatre (Los Angeles, CA) !@
03/01 – The Loft (San Diego, CA) !@
03/02 – Detroit Bar (Costa Mesa, CA) !@
03/07 – Harvest of Hope Festival (St. Augustine, FL)
03/08 – Langerado Music Festival (Miami, FL)
03/10 – The Parish @ HOB (New Orleans, LA) #
03/11 – Walter's on Washington (Houston, TX) #
03/12 – Cine El Rey (McAllen, TX) #
03/13 – The White Rabbit (San Antonio, TX) #
03/14 – Granada Theatre (Dallas, TX) #
03/16 – The Slowdown (Omaha, NE) #
03/17 – The Billiken Club (St. Louis, MO) *
03/18 – The Conservatory (Oklahoma City, OK) $
03/24 – The Cinemat (Bloomington, IN) $
03/25 – Musica (Akron, OH) $!
03/26 – The Blind Pig (Ann Arbor, MI) $
04/04 – Webster Hall (New York, NY)
04/07 – Tower Theatre (Upper Darby, PA) %
04/08 – DAR Constitution Hall (Washington, DC) %
04/09 – John Belk Arena (Davidson, NC) %
04/10 – Louisville Palace Theatre (Louisville, KY) %
04/11 – Orpheum Theatre (Memphis, TN) %
04/12 – Brady Theater (Tulsa, OK) %
04/15 – Roy Wilkins Auditorium (St. Paul, MN) %
04/17 – Aragon Ballroom (Chicago, IL) %
04/18 – Michigan State University, Breslin Events Center (East Lansing, MI) %
04/19 – Carroll College, Van Male Fieldhouse (Waukesha, WI) %
04/24 – Gonzaga University, McCarthey Athletic Center (Spokane, WA) %
04/25 – Morrison Center (Boise, ID) %
04/27 – Sacramento Convention Center, Memorial Hall (Sacramento, CA) %
05/01 – Austin Music Hall (Austin, TX) &
05/04 – Ryman Auditorium (Nashville, TN) &
05/05 – BJCC Concert Hall (Birmingham, AL) &
05/06 – Fox Theatre (Atlanta, GA) &
! w/ Cut Off Your Hands
@ w/ Telekinesis
# w/ Tokyo Police Club
* w/ Maps & Atlases
$ w/ Passion Pit
% w/ Death Cab for Cutie, Cold War Kids
& w/ Death Cab for Cutie, Matt Costa