Schuyler Fisk and Ben Taylor at The Bell House (01/28/09)


Words and Photos: Tim Griffin
The Bell House has become the seat of rock royalty's progeny over the past week with shows from the likes of Benjamin Taylor (son of James Taylor and Carly Simon), Schuyler Fisk (daugter of Sissy Spacek) and Harper Simon (son of Paul Simon). While Paul Simon and Rufus Wainwright made appearances for Harper Simon's set tonight (Jan 31), it was just Tim and a bunch of other music fans on Wednesday night for the Ben Taylor and Schuyler Fisk show. Here's what he had to say about the evening:
Schuyler Fisk is a sweet, interesting and very talented performer. She's got a soft-husky quality to her voice that I found quite soothing. In fact, I could probably listen to her talk or sing for about 8 or 9 hours without getting tired of hearing her. She was also really comfortable on stage and highly in tune with her band, so I was kind of surprised to find out that she doesn't have two or three albums under her belt yet. I can't imagine her sounding better than how she was live.

As for BT – I don't often do well with new stuff, and I can be a harsh critic at times (read: jerk), so I kind of expected to dislike Ben Taylor before I even stepped in the room. I had it in my mind that he was probably just riding on the family coattails and *maybe* some talent had rubbed off. But by the time the night was over, I had done a complete 180, in fact, I'll even go out on a limb and say that Ben Taylor's set was one of the best I've seen at the Bell House so far. He was incredibly disarming, engaging, and funny. In addition, while his music style isn't exactly in line with my tastes, (I'm not a terribly folk-y guy), I listened to and enjoyed every song. I met Ben after the show and he was equally charming off-stage, especially when I told him how I felt going into the show. I couldn't not like him. He's about 6'3 or so (and rail thin), but his personality is about 9′ tall.

When I take pictures, I tend to tunnel my experience through my camera lens and pay limited attention to what I'm hearing, but this night was very different. I'm still a little shocked by how good the whole show was. –Tim Griffin
More of Tim's pics after the jump.

Schuyler Fisk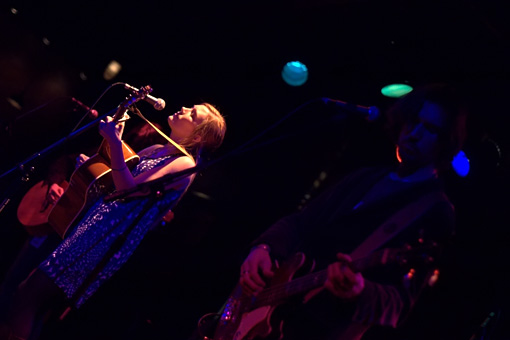 Benjamin Taylor