Leonard Cohen at the Beacon Theatre (02/19/09)


Photo: Kathryn Yu
Twelve songs from the recent Leonard Cohen concert at the Beacon Theatre will be webcast by NPR Music for one month only, beginning on Thursday, Feb. 26. Here's what NPR's Bob Boilen had to say about Mr. Cohen's triumphant return to the restored theatre:
Let me cut right to the chase: Leonard Cohen's performance at the Beacon Theatre in New York City Thursday night was remarkable. His performance was gracious, his voice deep and direct, his body of work extraordinary. [All Songs Considered]
In other LC news, he's got a new live 2 CD set (also available as a single DVD) entitled Live In London coming out on March 31, 2009 on Columbia Records. Also, the 74 year old Cohen just announced a new string of tour dates that include a return visit to NYC on May 16, 2009 for a show at Radio City Music Hall (buy tickets).
More tour dates, Live In London track listing, and Beacon Theatre set list after the jump.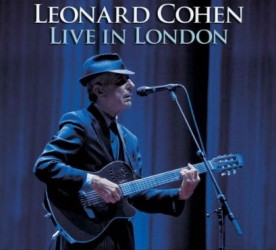 Live in London Track Listing
Disc 1
1. Dance Me To The End Of Love
2. The Future
3. Ain't No Cure For Love
4. Bird On The Wire
5. Everybody Knows
6. In My Secret Life
7. Who By Fire
8. Hey, That's No Way To Say Goodbye
9. Anthem
10. Introduction
11. Tower Of Song
12. Suzanne
13. The Gypsy's Wife
Disc 2
1. Boogie Street
2. Hallelujah
3. Democracy
4. I'm Your Man
5. Recitation w/ N.L.
6. Take This Waltz
7. So Long, Marianne
8. First We Take Manhattan
9. Sisters Of Mercy
10. If It Be Your Will
11. Closing Time
12. I Tried To Leave You
13. Wither Thou Goest
Leonard Cohen 2009 Tour Dates
02-Apr-09 Austin, TX, Canada Michael and Susan Dell Hall at Long Centre
03-Apr-09 Grand Prairie, TX, USA Nokia Theatre
05-Apr-09 Phoenix, AZ, USA Dodge Theatre
07-Apr-09 San Diego, CA, USA Copley Symphony Hall
10-Apr-09 Los Angeles, CA, USA Nokia Theatre
13-Apr-09 Oakland, CA, USA Oakland Paramount Theatre Of The Arts
17-Apr-09 Indio, CA, USA Coachella
19-Apr-09 Vancouver, BC, Canada GM Place
21-Apr-09 Victoria, BC, Canada Save On Foods Memorial Centre
23-Apr-09 Seattle, WA, USA WaMu Theatre at Qwest Field Events Centre
25-Apr-09 Edmonton, AB, Canada Rexall Place
26-Apr-09 Calgary, AB, Canada EPCOR Center's Jack Singer Hall
28-Apr-09 Saskatoon, SK, Canada Credit Union Centre
30-Apr-09 Winnipeg, MB, Canada MTS Centre
03-May-09 Minneapolis, MN, USA Orpheum Theatre
05-May-09 Chicago, IL, USA Chicago Theatre
09-May-09 Detroit, MI, USA Fox Theatre
11-May-09 Columbia, MD, USA Merriweather Post Pavilion
12-May-09 Philadelphia, PA, USA Academy Of Music
14-May-09 Waterbury, CT, USA Palace Theatre
16-May-09 New York, NY, USA Radio City Music Hall
19-May-09 Hamilton, ON, Canada Copps Coliseum
21-May-09 Quebec City, QC, Canada Pavillon de la Jeunesse
22-May-09 Kingston, ON, Canada K-Rock Centre
24-May-09 London, ON, Canada John Labatt Centre
25-May-09 Ottawa, ON, Canada National Arts Centre
26-May-09 Ottawa, ON, Canada National Arts Centre
29-May-09 Boston, MA, USA Wang Theatre
02-Jun-09 Morrison, CO, USA Red Rocks Amphitheatre
Beacon Theatre Set List (02/19/09)
"Dance Me to the End of Love"
"The Future"
"Ain't No Cure for Love"
"Bird on a Wire"
"Everybody Knows"
"In My Secret Life"
"Who by Fire"
"Chelsea Hotel"
"Hey That's No Way to Say Goodbye"
"Sisters of Mercy"
"Anthem"
"Tower of Song"
"Suzanne"
"The Gypsy's Wife"
"The Partisan"
"Boogie Street"
"Hallelujah"
"I'm Your Man"
"Poem"
"Take This Waltz"
"So Long Marianne"
"First We Take Manhattan"
"Famous Blue Raincoat"
"If It Be Your Will"
"Democracy"
"I Tried to Leave You"
"Whither Thou Goest"