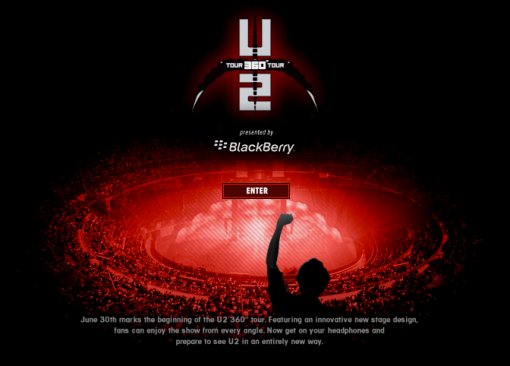 The U2 360° Tour will visit 14 cities across Europe including dates in Milan, Gothenburg, Amsterdam, Paris, Nice, Dublin, Chorzow, Berlin, Gelsenkirchen, London, Sheffield and Glasgow before finishing at Millennium Stadium in Cardiff on August 22.

The European tour will be followed by dates in North America beginning at Chicago's Soldier Field on September 12th, 2009.

In September and October, U2 360° Tour will also visit: Atlanta, GA; Charlottesville, VA; Dallas, TX; Houston, TX; Las Vegas, NV; Los Angeles, CA; Norman, OK; Phoenix, AZ; Tampa, FL; Washington, DC and Vancouver, BC. Complete Tour and ticketing information to follow.

Long-time U2 Show Director Willie Williams has worked again with architect Mark Fisher (ZooTV, PopMart, Elevation and Vertigo), to create an innovative 360° design which affords an unobstructed view for the audience. U2 360° also marks the first time a band has toured in stadiums with such a unique and original structure.
U2 will be playing Giants Stadium in East Rutherford, New Jersey on Thursday, September 24, 2009. All currently announced U2 tour dates after the jump.
U2 2009 Tour Dates
30 Jun 2009 Camp Nou Barcelona ES
07 Jul 2009 San Siro Milan IT
11 Jul 2009 Stade De France Paris FR
15 Jul 2009 Parc des Sports Charles Ehrmann Nice FR
18 Jul 2009 Olympic Stadium Berlin DE
20 Jul 2009 Arena Amsterdam NL
24 Jul 2009 Croke Park Dublin IE
31 Jul 2009 Ullevi Stadium Gothenburg SE
06 Aug 2009 Slaski Stadium Chorzow PL
10 Aug 2009 Stadium Makimir Zagreb HR
14 Aug 2009 Wembley Stadium London GB
18 Aug 2009 Hampden Park Glasgow GB
20 Aug 2009 Don Valley Stadium Sheffield GB
22 Aug 2009 Millenium Stadium Cardiff Wal. GB
12 Sep 2009 Soldier Field Chicago IL US
16 Sep 2009 Rogers Centre Toronto ON CA
20 Sep 2009 Gilette Stadium Boston MA US
24 Sep 2009 Giants Stadium New York NY US