BLK JKS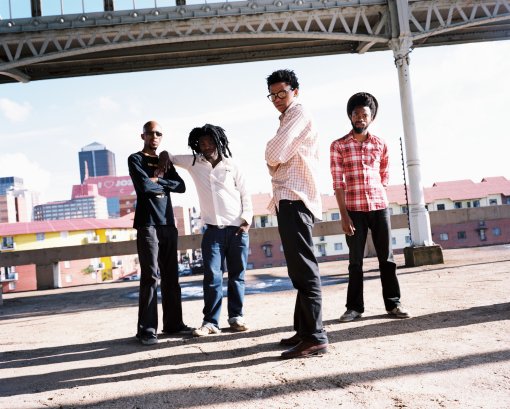 DOWNLOAD: BLK JKS – "Lakeside" (mp3)
This past Tuesday (March 10) marked the re-release of the Mystery EP by South Africa's BLK JKS. For the Secretly Canadian reissue, the EP was re-mastered with new artwork and a new track sequence. I first heard the track "Lakeside" on NPR and was instantly captivated, and now that I've heard the whole EP, I think it's definitely worth picking up (Pat's a fan too). If you live in NYC, you've got two chances to catch them this weekend, on Friday night (March 13) they'll be at Union Hall and on Saturday they'll be at Santos Party House, after that US fans will have to seek them out at SXSW or at the Sasquatch Festival in May.
Mystery EP Track Listing
1. Lakeside
2. Mystery
3. Summertime
4. It's In Every Thing You'll See


More BLK JKS tour dates after the jump.
BLK JKS 2009 Tour Dates
03/13/09 Brooklyn, NY – Union Hall
03/14/09 New York, NY – Santo's Partyhouse
03/18/09 Austin, TX – SXSW (KEXP event) 11:00 am
03/18/09 Austin, TX – SXSW Paradise Café (401 E. 6th St) 10:00 pm
03/19/09 Austin, TX – SXSW The Parish (NPR event) (214 E. 6th St) 2:00pm
03/19/09 Austin, TX – SXSW Mohawk Patio (912 Red River St) 10:30pm
04/09/09 London, UK – Adventures in the Beetroot Field @ Fabric
04/14/09 Colchester, UK – Arts Centre wt/ Errors
04/15/09 London, UK – The Lexington
04/16/09 London, UK – ICA wt/ Errors
04/18/09 Newcastle, UK – The End
04/19/09 Glasgow, UK – Captain's Rest
04/20/09 Leeds, UK – Brudenell Social Club
04/21/09 Bristol, UK – NME @ The Lanes
04/22/09 Manchester, UK – The Deaf Institute wt/ HEALTH
04/23/09 Reading, UK – South Street
04/24/09 London, UK – Ether @ South Bank Centre wt/ Squarepusher
04/25/09 London, UK – Camden Crawl
05/25/09 Quincy, WA – Sasquatch Music Festival