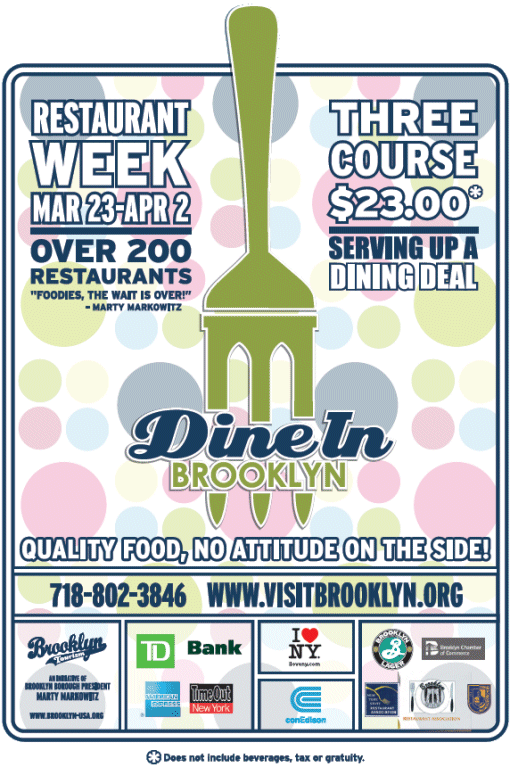 List of participating restaurants after the jump.
Call any of the participating restaurants and make a reservation —make sure to mention "Dine In Brooklyn." (Availability is limited, so please cancel any reservations you can't keep.) Go to www.visitbrooklyn.org for directions by train.
P.S.: email your feedback to: DineInBrooklyn@brooklynbp.nyc.gov. Did you get what we advertised, "Quality food with no attitude on the side?" Name names and let us know!
Key:
B Serving Brunch (2 for $23.00!)*
L Serving Lunch
D Serving Dinner
*(new this year! 2 people dine for $23 at all restaurants participating for brunch)
Bay Ridge
101 Restaurant & Bar LD
Italian
10018 4th Avenue
718-833-1313
Areo L
Italian
8424 3rd Avenue
718-238-0079
Arirang Hibachi Steakhouse
and Sushi Bar D
Japanese
8812-8814 4th Avenue
718-238-9880
Austin's Steakhouse L
American
8915 5th Avenue
718-439-5000
Bally Bunion Bar &
Restaurant D
Irish / American
9510 3rd Avenue
718-833-2801
Cappuccino Café LD
American Bistro
7721 3rd Avenue
718-238-8700
Casa Calamari Pizza
& Pasta LD
Italian
8602 3rd Avenue
718-921-1900
Casa Pepe Restaurant BLD
Spanish / Mexican
114 Bay Ridge Avenue
718-833-8865
Cebu Bar & Bistro BLD
American
8801 3rd Avenue
718-492-5095
Chadwick's Restaurant D
American
8822 3rd Avenue
718-833-9855
Chianti Restaurant D
Italian
8530 3rd Avenue
718-921-6300
Colandrea New Corner
Restaurant, Inc. LD
Italian
7201 8th Avenue
718-833-0800
Embers D
American
9519 3rd Avenue
718-745-3700
Gino's Restaurant D
Italian
7414 5th Avenue
718-748-1698
Goodfella's Restaurant&BarD
Neapolitan
9606 3rd Avenue
718-833-6200
Greenhouse Café LD
American
7717 3rd Avenue
718-833-8200
Hunter'sSteak & AleHouseLD
American
9404 4th Avenue
718-238-8899
J.T.'s Restaurant D
American
9703 3rd Avenue
718-238-8781
Los Pollitos D
Mexican
7302 3rd Avenue
718-439-0808
Mambo Italiano Restaurant
LD
Italian
8803 3rd Avenue
718-833-4432
Nouvelle Restaurant LD
Fusion
8716 3rd Avenue
718-238-8250
The Pearl Room BLD
New American
8201 3rd Avenue
718-833-6666
Petit Oven LD
French/American
276 Bay Ridge Avenue
718-833-3443
Ristorante Vaccaro LD
Italian
6718 Fort Hamilton Parkway
718-238-9447
Saint Germain D
French
8303 3rd Avenue
718-745-8899
Sancho's LD
Spanish
7410 3rd Avenue
718-748-0770
Sofia Ristorante Italiano LD
Italian
8406 3rd Avenue
718-680-4242
Tanoreen LD
Middle Eastern
7704 3rd Avenue
718-748-5600
Tuscany Grill D
Italian
8620 3rd Avenue
718-921-5633
Vesuvio Restaurant LD
Italian
7305 3rd Avenue
718-745-0222
Yellow Hook Grille D
American
7003 3rd Avenue
718-238-1089
Bedford-Stuyvesant
Peaches Restaurant D
Southern
393 Lewis Avenue
718-942-4162
Soule Restaurant BD
West Indian/American
920 Fulton Street
718-399-7200
Sugar Hill Restaurant
and Supper Club BLD
Southern
609 DeKalb Avenue
718-797-1727
Bensonhurst
VillaParadisoRestaurant LD
Neapolitan
1969 Bath Avenue
718-837-2696
Bergen Beach
Il Posto Ristorante LD
Italian
7409 Avenue U
718-241-4317
BoerumHill
Apartment 138 BLD
New American
138 Smith Street
718-858-0556
Bacchus D
French
409 Atlantic Avenue
718-852-1572
Brawta Caribbean Café D
Caribbean
347 Atlantic Avenue
718-855-5515
Downtown Atlantic Restaurant
& Bakery D
New American
364 Atlantic Avenue
718-852-9945
Jolie Restaurant D
French
320 Atlantic Avenue
718- 488-0777
Lunetta D
Rustic Italian
116 Smith Street
718-488-6269
Mai Restaurant D
Southeast Asian
497 Atlantic Avenue
718-797-3880
Stan's Place LD
New Orleans
411 Atlantic Avenue
718-596-3110
Borough Park
China Glatt (Glatt Kosher) D
Chinese
4413 13th Avenue
718-438-2576
Glatt Ala Carte (Glatt Kosher) L
American
5123 18 Avenue
718-438-6675
Brighton Beach
Tatiana Restaurant LD
Russian
3152 Brighton 6th Street
718-891-5151
Brooklyn Heights
Café Buon Gusto BLD
Italian
151 Montague Street
718-624-3838
Eamonn's Irish Bar &
Restaurant BD
American
174 Montague Street
718-596-4969
Le Petit Marche D
French
46 Henry Street
718-858-9605
Waterfront Ale House LD
American
155 Atlantic Avenue
718-522-3794
Queen Ristorante L
Italian
84 Court Street
718-596-5955
Bushwick
Northeast Kingdom D
American
18Wyckoff Avenue
718-386-3864
Canarsie
FootPrints Café L
Caribbean American
5814 Clarendon Road
718-451-3181
Carroll Gardens
Chestnut D
American
271 Smith Street
718-243-0049
The Grocery D
American
288 Smith Street
718-596-3335
Hana Café, Inc. LD
Japanese
235 Smith Street
718-643-1963
Marco Polo Ristorante LD
Italian
345 Court Street
718-852-5015
Panino'teca 275 D
Eclectic Italian
275 Smith Street
718-237-2728
Pó D
Italian
276 Smith Street
718-875-1980
Provence en Boite LD
French
263 Smith Street
718-797-0707
Union Smith Café BD
American
305 Smith Street
718-643-3293
Clinton Hill
Anima Italian Bistro BD
Italian
458 Myrtle Avenue
718-422-1122
Autour du Monde D
French
860 Fulton Street
718-398-3500
Five Spot D
Soul
459 Myrtle Avenue
718-852-0202
Graziella's LD
Italian
232 Vanderbilt Avenue
718-789-5663
Il Porto Ristorante D
Italian
37Washington Avenue
718-624-0954
Maggie Brown Restaurant D
American
455 Myrtle Avenue
718-643-7001
Mojito Cuban Cuisine D
Cuban
82Washington Avenue
718-797-3100
Tamboril Restaurant D
Latin
527 Myrtle Avenue
718-483-2152
Cobble Hill
BarTabac LD
French
128 Smith Street
718-923-0918
Bocca Lupo D
Italian
391 Henry Street
718-243-2522
Café on Clinton D
New American
268 Clinton Street
718-625-5908
Hibino D
Japanese
333 Henry Street
718-260-8052
Quercy Restaurant D
French
242 Court Street
718-243-2151
ColumbiaWaterfront
Alma Restaurant D
Mexican
187 Columbia Street
718-643-5400
Korhogo 126 D
French /West African
126 Union Street
718-855-4405
Mazzat BLD
Mediterranean
208 Columbia Street
718-852-1652
Coney Island
FootPrints Café South L
Caribbean/American
1521 Surf Avenue
718-265-2530
Gargiulo's Restaurant LD
Italian
2911West 15th Street
718-266-4891
Crown Heights
Tavern On Nostrand D
American
813 Nostrand Avenue
347-787-1543
Ditmas Park
The Farm on Adderley L
American
1108 Cortelyou Road
718-287-3101
Picket Fence Restaurant BD
American
1310 Cortelyou Road
718-282-6661
Pomme de Terre BD
French Bistro
1301 Newkirk Avenue
718-284-0005
Downtown Brooklyn
Junior's Restaurant D
NewYork Deli
386 Flatbush Avenue Extension
718-852-5257
Morton's The Steakhouse L
American
339 Adams Street
718-596-2700
DUMBO
Bubby's Main Street D
American
1 Main Street
718-222-0666
Five Front LD
American
5 Front Street
718-625-5559
River Café L
American
1Water Street
718-522-5200
Water Street Restaurant &
Lounge D
American
66Water Street
718-625-9352
Dyker Heights
Mama Rao's D
Italian
6408 11th Avenue
718-745-2269
Tommaso Restaurant D
Italian
1464 86 Street
718-236-9883
Fort Greene
Bonita BD
Mexican
243 Dekalb Avenue
718-622-5300
Caffe e Vino LD
Italian
112 Dekalb Avenue
718-855-6222
Chez Lola D
French
387 Myrtle Avenue
718-858-1484
Chez Oskar D
French
211 DeKalb Avenue
718-852-6250
Dajeh Restaurant BD
American/Caribbean
919 Fulton Street
718-857-1616
iCi D
French/American
246 Dekalb Avenue
718-789-2778
Kif LD
French Moroccan
219 DeKalb Avenue
718-852-7273
La Stalla D
Italian/Mexican
499 Myrtle Avenue
718-636-6125
Loulou Restaurant D
French
222 DeKalb Avenue
718-246-0633
Luz Restaurant BLD
Latin American
177 Vanderbilt Avenue
718-246-4000
Madiba RestaurantBLD
South African
195 Dekalb Avenue
718-855-9190
Mullanes Bar & Grill D
Irish/American
71 Lafayette Avenue
718-797-7606
Olea Mediterranean Taverna D
Mediterranean
171 Lafayette Avenue
718-643-7003
Scopello Ristorante Bar BD
Italian
63 Lafayette Avenue
718-852-1100
Sushi D LD
New Japanese
207 DeKalb Avenue
718-858-0058
Thomas Beisl BLD
Viennese Bistro
25 Lafayette Avenue
718-222-5800
Greenpoint
68 Restaurant D
American
68 Greenpoint Avenue
718-389-6868
Kensington
Dougies BBQ & Grill D
(Kosher)
American
4310 18thAvenue
718-686-8080
ElGauchoGlatt Steakhouse L
(Kosher)
Argentinean
4102 18thAvenue
718-438-3006
Marine Park
Buckley's Restaurant D
American
2926 Avenue S
718-998-4222
Michael's LD
Italian
2929 Avenue R
718-998-7851
Salvi Restaurant LD
Italian
4220 Quentin Road
718-252-3030
Tasty Tavern D
Chinese
4521 Avenue N
718-692-1020
Midwood
Back to Nature LD
(Kosher)
Italian/Sushi
535 Kings Highway
718-339-0273
Burtolucci's Ristorante D
(Kosher)
Italian
1969 Coney Island Avenue
718-382-5559
Essex on ConeyD
(Kosher)
American/Chinese
1910 Avenue M
718-336-1206
Estihana BrooklynLD
(Kosher)
Asian
1217 Avenue J
718-677-1515
Gio Caffe LD
(Kosher)
French/Italian
448 Avenue P
718-375-5437
Hibachi Steak House L
(Kosher)
Japanese
816 Avenue U
718-336-1445
Hunan L
(Kosher)
Chinese
557 Kings Highway
718-645-6555
Mendy's Kosher
Delicatessen LD
(Kosher)
American
1359 Coney Island Avenue
718-859-1002
MoshiMoshi D
(Kosher)
Asian Fusion
1987 Coney Island Avenue
718-336-4566
RimonimRestaurant D
(Kosher)
Middle Eastern/European
1317 Coney Island Avenue
347-587-5615
Taci's Beyti Restaurant LD
Turkish
1955 Coney Island Avenue
718-627-5750
Mill Basin
Mill Basin Kosher Deli and Art
Gallery LD
American
5823 AvenueT
718-241-4910
Park Slope
12th Street Bar & Grill BD
New American
1123 8th Avenue
718-965-9526
200 Fifth BD
American
200 5th Avenue
718-638-2925
Alchemy Restaurant &TavernD
New American
56 5th Avenue
718-636-4385
al di la Trattoria L
Contemporary Italian
248 5th Avenue
718-783-4565
AltaVoce Restaurant BD
Italian
318 5th Avenue
718-369-4899
applewood D
Seasonal American
501 11th Street
718-788-1810
Anthony's D
Italian
426A 7th Avenue
718-369-8315
AOC Bistro BLD
French
259 5th Avenue
718-788-1515
Aperitivo Café BLD
Italian
279 5th Avenue
718-369-1123
Aunt Suzie's Restaurant BD
Italian
247 5th Avenue
718-788-2868
Barrio BLD
Mexican
210 7th Avenue
718-965-4000
Bar Tano D
Italian Bistro
457 3rd Avenue
718-499-3400
Bar ToTo D
Italian
411 11th Street
718-768-4693
Belleville Bistro D
French
330 5th Street
718-832-9777
Belleville Lounge D
French
332 5th Street
718-832-9777
Blue Ribbon D
Eclectic
280 5th Avenue
718-840-0404
Blue Ribbon SushiD
Japanese
278 5th Avenue
718-840-0408
Bogota Latin Bistro D
PanLatino
141 5th Avenue
718-230-3805
bussaco D
American
833 Union Street
718-857-8828
Cabana Bar BD
Latin American
648 President Street
718-399-2161
Canaille Bistro D
French
78 5th Avenue
718-789-8899
Dizzy's D
American
511 9th Street
718-812-7851
Elementi LD
Italian
140 7th Avenue
718-788-8388
Gialetis Café LD
American
1658 8th Avenue
718-768-0500
J Pan Sushi LD
Japanese
287 5th Avenue
718-788-2880
KitchenBar BD
American
687 6th Avenue
718-499-5623
Long Tan D
Thai
194 5th Avenue
718-622-8444
Los Pollitos D
Mexican
148 5th Avenue
718-623-3065
Magnolia Restaurant & Bar
BD
American
486 6th Avenue
718-369-4814
Maria's Mexican D
Mexican
209 4th Avenue
718-638-2344
Melt D
New American
440 Bergen Street
718-230-5925
Miriam D
Israeli Middle Eastern
79 5th Avenue
718-622-2250
Palo Santo BD
Eclectic Latin
652 Union Street
718-636-6311
Peperoncino BLD
Italian
72 5th Avenue
718-638-4760
Piramide BLD
Mexican
499 5th Avenue
718-499-0002
Playa BD
Latin American
230 5th Avenue
718-399-2161
RoseWater D
New American
787 Union Street
718-783-3800
Santa Fe Grill D
Tex-Mex
62 7th Avenue
718-636-0279
Scottadito Osteria Toscana D
Italian
788A Union Street
718-636-4800
Sette Enoteca e CucinaLD
Rustic Italian
207 7th Avenue
718-499-7767
SottoVoce Restaurant LD
Italian
225 7th Avenue
718-369-9322
Stone Park Café L
American
324 5th Avenue
718-369-0082
Tempo Restaurant &Wine BarD
Mediterranean
256 5th Avenue
718-636-2020
Toby's Public House BD
American
686 6th Avenue
718-788-1186
Trattoria Mangia D
Italian
119 5th Avenue
718-636-5259
Prospect Heights
Aliseo Osteria del Borgo D
Italian
665 Vanderbilt Avenue
718-783-3400
Sheepshead Bay
Baku Palace LD
Mediterranean
2001 Emmons Avenue
718-615-4700
Clemente's Maryland Crabhouse
D
American
3939 Emmons Avenue
718-646-7373
Il Fornetto Restaurant D
Italian
2902 Emmons Avenue
718-332-8494
Liman L
Mediterranean
2710 Emmons Avenue
718-769-3322
Osaka Japanese RestaurantLD
Japanese
2805 Avenue U
718-891-6200
Sunset Park
Maria's Mexican Bistro D
Mexican
886 5th Avenue
718-438-1608
Williamsburg
Aurora L
Italian
70 Grand Street
718-388-5100
baci & abbracci BD
Italian
204 Grand Street
718-599-6599
Bamonte's Restaurant LD
Italian
32Withers Street
718-384-8831
Barberry Restaurant D
Mediterranean
152 Metropolitan Avenue
718-599-3027
DeStefano's Steakhouse D
American
89 Conselyea Street
718-384-2836
Fornino-TheArt & Science of
PizzaLD
Italian
187 Bedford Avenue
718-384-6004
Giando on theWater LD
Italian
400 Kent Avenue
718-387-7000
Kenny's Trattoria BD
Italian
7Withers Street
347-529-5582
LokalMediterranean BistroBLD
Mediterranean
905 Lorimer Street
718-384-6777
My Moon Restaurant D
Mediterranean/Turkish
184 North 10th Street
718-599-7007
P.T. Restaurant D
Italian
331 Bedford Avenue
718-388-7438
Zenkichi D
Japanese Brasserie
77 North 6th Street
718-388-8985
2 for $23.00 at these restaurants
Bay Ridge
First Oasis BLD(for 2)
Middle Eastern
9218 4th Avenue
718-238-4505
The Woodburning Pit LD(for 2)
Portuguese B.B.Q.
6715 5th Avenue
718-630-9980
Bedford-Stuyvesant
Food 4 Thought Café BD(for 2)
Vegetarian
445 Marcus Garvey Boulevard
718-443-4160
Solomon's Porch BD (for 2)
Southern
307 Stuyvestant Avenue
718-919-8001
Brooklyn Heights
The Atlantic Chipshop BLD
(for 2)
British
129 Atlantic Avenue
718-855-7775
Crown Heights
The Fish & Chip Spot LD
(for 2)
American
519 Albany Avenue
718-221-8887
DUMBO
RICE Restaurant LD(for 2)
Fusion
81Washington Street
718-222-9880
Fort Greene
The General Greene L(for 2)
American
229 DeKalb Avenue
718-222-1510
RiceLD(for 2)
Fusion
166 Dekalb Avenue
718-858-2700
The Smoke JointLD(for 2)
Barbecue
87 South Elliot Place
718-797-1011
SmoochB(for 2)
Organic Café
264 Carlton Avenue
718-624-4075
Greenpoint
KarczmaDB(for 2)
Polish
136 Greenpoint Avenuet
718-349-1744
Krolewskie JadloD(for 2)
Polish
694 Manhattan Avenue
718-383-8993
Midwood
Rimonim Restaurant L
(Kosher)
Middle Eastern/European
1317 Coney Island Avenue
347-587-5615
Park Slope
Cantina Restaurant & Bar
BLD(for 2)
Mexican
494 4th Avenue
718-369-5850
Luscious Food L(for 2)
American
59 5th Avenue
718-398-5800
Mulino Ristorante Italiano LD
(for 2)
Italian
133 5th Avenue
718-398-9001
Park Slope Chipshop BLD
(for 2)
British
383 5th Avenue
718-832-7701
Prospect Heights
Bombay Masala LD(for 2)
Indian
678 Franklin Avenue
718-230-7640
Joy Indian Restaurant LD
(for 2)
Indian
301 Flatbush Avenue
718-230-1165
Sheepshead Bay
Il Fornetto Restaurant L(for 2)
Italian
2902 Emmons Avenue
718-332-8494