The massively popular, (and at times, painfully annoying), Prairie Home Companion will be bringing its unique brand of folksy Minnesota storytelling to the Town Hall on April 3, 4, 11, and 17 (Buy Tickets). Though a presale was held earlier in the year, some tickets for those shows are apparently still available. More live PHC information over here.
Wait Wait…Don't Tell Me!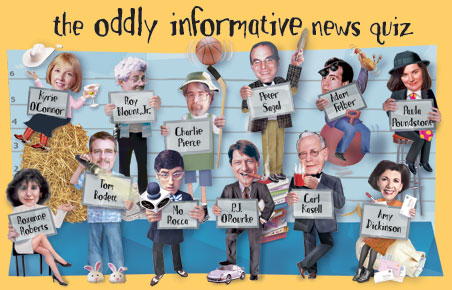 In other "NPR live" news, the funny and entertaining radio program, Wait Wait…Don't Tell Me! will be bringing its oddly informative news quiz to New York City on October 22, 2009. Full details, including panel guests, are expected to be announced shortly. [ProductShopNYC.com]
But wait, New York and Chicago aren't the only places you can catch Peter Sagal and WWDTM this year; check out some more Wait Wait…Don't Tell Me! tour dates after the jump.
UPDATE: Tickets for WWDTM go on sale to the general public on September 2, 2009. Tickets should be available through the Carnegie Hall Box Office (212-247-7800) and CarnegieHall.org at that time. WNYC was offering presale tickets to the show for those individuals that donated $300 to the station, but those tickets are now sold out. Fore more information on NPR's oddly informative news quiz follow @waitwait on Twitter.
Wait Wait…Don't Tell Me! 2009 Tour Dates
March 26 Victoria Theatre Dayton, Ohio (Buy Tickets)
May 14 Lisner Auditorium Washington, D.C. (Buy Tickets)
May 28 Austin, TX
Jun 11 Chicago, IL
Jun 18 Raleigh, NC
Sep 24 Santa Barbara, CA Arlington Theatre (Buy Tickets)
Oct 8 Boston, MA
Oct 22 New York, NY Carnegie Hall (Buy Tickets)
Nov 5-6 Pasadena, CA The Pasadena Civic (Buy Tickets)