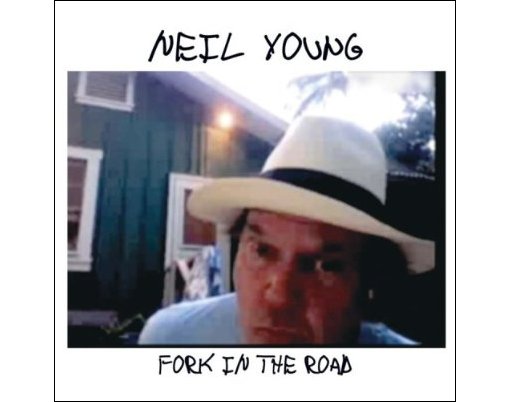 Neil Young's new album, Fork In The Road, is out today (April 7) on CD/DVD. Up until yesterday, it was streaming in full at his MySpace, but I guess you'll have to buy it now if you want to hear the whole thing. Always topical, apparently Young's latest album, "was inspired by the changes and challenges happening all around him, with special focus paid to the global economic crisis and climate change."
If Neil's past is more your thing, Mr. Young is also releasing first volume of his archives set on June 2.
Volume I covers the period from his earliest recordings with The Squires in Winnipeg, 1963, through to his classic 1972 album Harvest and beyond, including studio and live tracks with the legendary Buffalo Springfield; Crosby, Stills, Nash & Young; and Neil Young with Crazy Horse.
If you preorder your Archives box set on Neil Young's website before June 2, you'll receive a free Blu-Ray preview copy of disc 0 and an exclusive 7″ vinyl single with the songs "Aurora" and "Mustang."
More archives information after the jump, plus two new Neil Young videos and upcoming tour dates.
Neil Young Archives Vol. 1

Audio in the Blu-ray edition is presented in ultra-high resolution 24-bit / 192 kHz stereo PCM state-of-the-art master quality sound, while audio in the DVD edition is presented in high resolution 24-bit / 96 kHz stereo PCM audiophile quality sound. The CD edition is presented in standard resolution 16-bit / 44 kHz stereo PCM CD quality sound.

Each of the 10 Blu-ray discs feature 1920×1080 high definition picture quality while the 10 DVD discs have 720×480 standard definition picture quality.

An interactive timeline feature, which presents an in-depth overview of Young's life and career, is in both the Blu-ray and DVD editions, The Timeline on the Blu-ray edition is enhanced with BD Liveâ"¢ capability, which enables users to download additional content to their players or to external drives.
Completing Volume 1 in the Blu-ray and DVD editions is Young's acclaimed first film, Journey Through The Past, which is now available for the first time since its original theatrical release in 1973. This disc features pristine picture transfer, audio presented in both DTS-HD 5.1 surround and stereo 24-bit / 96 kHz PCM, plus archival materials.

The Blu-ray and DVD editions are sold in a durable custom display box that houses a lavish 236-page full-color hardbound book that features additional archival materials, tapes database, and detailed descriptions of the music and artwork; a foldout Archives poster, a custom keeper for the 10 sleeved discs, and more. The CD edition is sold in a custom disc keeper for the 8 sleeved discs and descriptive booklet. [Neil Young Archives]
Neil Young – "Cough Up The Bucks"

Neil Young – "Light A Candle"

Neil Young 2009 Tour Dates
Apr 10 – Metro Center – Halifax, Nova Scotia
Apr 11 – Harbour Station – Saint John, New Brunswick
Apr 13 – K-Rock Centre – Kingston, Ontario
Apr 15 – John Labatt Centre- London, Ontario
Apr 17 – Essar Centre – Sault Ste. Marie, Ontario
Apr 20 – Credit Union Centre – Saskatoon, Saskatchewan
Apr 22 – Prospera Place – Kelowna, British Columbia
Apr 23 – Roxall Place – Edmonton, Alberta
Apr 25 – Enmax Centre – Lethbridge, Alberta
Apr 27 – Magness Arena – Denver, CO
Apr 29 – Quest Center – Omaha, NE
May 3 – New Orleans Jazz Festival – New Orleans, LA
Jun 9 – Stadtgarten – Erfurt, Germany
Jun 11 – Norwegian Wood Festival – Olso, Norway
Jun 14 – Isle Of Wight Festival – Newport, UK
Jun 16 – 02 World – Berlin, Germany
Jun 17 – Olympiahalle – Munich, Germany
Jun 19 – Tanzbrunnen Koein – Cologne, Germany
Jun 21 – The O2 – Dublin, Ireland
Jun 23 – Trent Fm Arena – Nottingham, UK
Jun 24 – Aberdeen Exhibition Centre – Aberdeen, UK
Jun 27 – Hard Rock Calling – London, UK