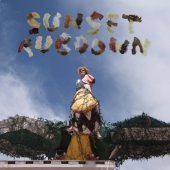 The lineup for the First Annual Northside Festival was announced today and here's what the press release said:
Oh, hey, look it's Monday and it's rainy and miserable outside. Which is why you're seated comfortably in front of your computer looking for things to brighten your otherwise awful day. So the timing is perfect, it seems, for our first list of confirmed performers at this year's Northside Festival. For those of you who will only continue reading if you can be guaranteed a certain level of awesomeness, Sunset Rubdown, Bishop Allen, The Dodos, Bill Callahan, Vivian Girls, The Van Pelt, Brightblack Morning Light, O'Death, Asobi Seksu, and John Vanderslice are all included.
A limited number of $45 badges are on sale right now (badge-holders must be 21 or older as of right now). If you're at all interested in the lineup (which looks fine by me), you should probably pick one up, apparently they won't be priced that low forever. Full list of bands after the jump.
The list, as of right now:
Aaron Behrens
The Albertans
Andrew D'Angelo's Gay Disco Trio
Asobi Seksu
The Beets
Bill Callahan
Bishop Allen
Brightblack Morning Light
Browns
Cale Parks
Cymbals Eat Guitars
Dark Faith
Dinowalrus
The Dodos
Doug Paisley
Dragons of Zynth
Drink Up Buttercup
Endless Boogie
Henry Wolfe
Home Video
Homosexuals
John Vanderslice
Katie Eastburn
Kilgore Trout is Dead
Kneebody
La Strada
Motel Motel
Murder Mystery
O'Death
Obits
Pretty & Nice
Pterodactyl
Quo Vadis
Real Estate
Screaming Females
Sean Bones
Sir Richard Bishop and His Freak Of Araby Ensemble
Steve Coleman's Five Elements
Sunset Rubdown
tUnE-YaRdS
Virgin Forest
Vivian Girls
War on Drugs
We Are Country Mice
Zaza

We've got a bunch of other stuff in the works as well, much of which we aren't allowed to announce just yet, but be sure to check back often for more details.