The Chap at Le Poisson Rouge (03/27/09)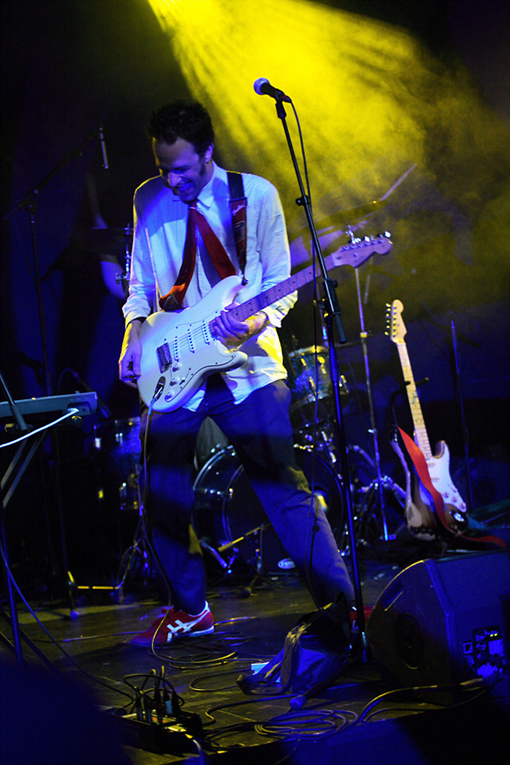 Photo: Paul Kim
UK buzz band, The Chap were recently in town to play a headlining gig at Le Poisson Rouge and bumpershine's newest photographer Paul Kim was their to capture the action. Since I wasn't at the show to offer up my two cents worth, (and I'm not having too much luck on the Internets), I present you with a little excerpt from their amusing bio:
The Chap: a modern pop group based in north London. The Chap: have never been influenced by anyone or anything at any time, ever.

Starting out with very limited equipment (one microphone, etc.) they came up with their first album "The Horse", a surreal classic of lo-fi pomposity. "Ham", the follow-up, was recorded with four microphones instead of one and journeyed into more "grown-up" territory. It received considerable acclaim from all the magazines. Now they have the ambitious "Mega Breakfast" to serve. The Chap is comprised of these people: Claire Hope (keyboards, vocals); Johannes von Weizsacker (guitar, vocals, computer, cello), Panos Ghikas (bass, violin, guitar, computer, vocals) and Keith Duncan (Drums). They are and always have been about the psychological unease of despising and loving things at the same time. Those things, in particular, may be pop culture, the media world and their interactions; yet the Chap wish to convey a more general, deliciously terrifying sense of destabilisation, surprise and wonder. Kids at gigs have frequently said the Chap "are amazing" and "look like teachers." John Peel liked them too.
The Chap released their third album Mega Breakfast on Ghostly International in July of 2008, and according to Cameron, "everyone in London is talking about The Chap". More pictures from the LPR show after the jump.