The Monks: Caption this photo and win copies of their new Light In Attic releases!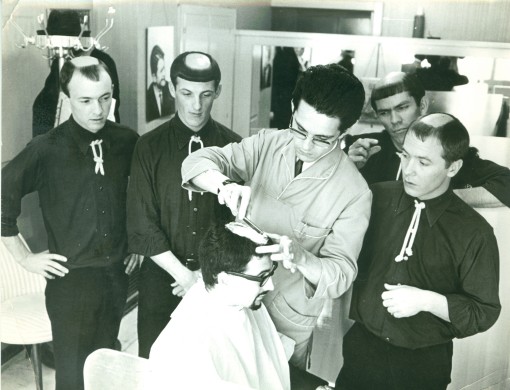 DOWNLOAD: The Monks (as The Torquays) – "Love Came Tumblin' Down" (mp3)
Just in time for Record Store Day, the master restorers over at Light In The Attic Records are re-releasing two hard to find gems from The Monks (no, not the "Drugs In My Pocket" Monks), but these guys:
The Monks were five beat playing American GIs stationed in Germany who, after their discharge, decided to stay and continue their musical mission. Meeting up with a team of local managers, they transformed themselves and their sound into a holy racket like the world had never known. This five-person order literally birthed the above genres through a fuzz-drenched evolution of sound, bursting with social commentary and future primitive rhythms.

These are the definitive releases of these classic albums. Numerous period photographs (many unseen) and an extensive two-part essay by Canadian music journalist Kevin Howes (Rodriguez – Cold Fact, Jamaica – Toronto series) accompany both releases and tell the Monks story like it has never been told. Bonus material dating back to pre-Monks Torquays and up to post Black Monk Time 7″s are also included.
In celebration of the re-release of these classic albums, I'm giving away a copy of Black Monk Time and The Early Years 1964-1965 to the two readers who send me the best caption for the above photograph of The Monks. Send your entries to contests@bumpershine.com, lucky winners (who will get one CD each) will be picked on Wednesday, April 22.
Full track listings and cover art after the jump.
Monks: The Early Years 1964-1965 and Black Monk Time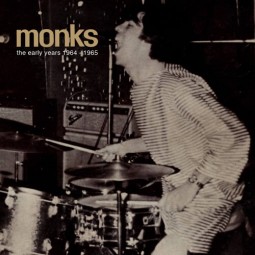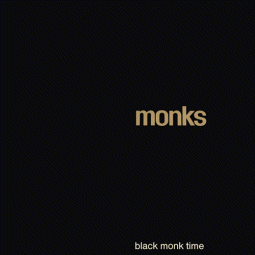 Monks: The Early Years 1964-1965
Release Dates: CD – April 14th / LP – April 28th
1. Monk Time
2. Love Came Tumblin' Down – FREE MP3
3. Boys Are Boys
4. Space Age
5. We Do Wie Du
6. I Hate You
7. Pretty Suzanne
8. Higgle-dy Piggle-dy
9. Hushie Pushie
10. Oh, How To Do Now
Bonus Tracks
11. Boys Are Boys
12. There She Walks
Monks: Black Monk Time
Release Dates: CD – April 14th / LP – May 5th
1. Monk Time
2. Shut Up
3. Boys Are Boys And Girls Are Choice
4. Higgle-Dy – Piggle-Dy
5. I Hate You
6. Oh, How To Do Now
7. Complication
8. We Do Wie Du
9. Drunken Maria
10. Love Came Tumblin' Down
11. Blast Off!
12. That's My Girl
Bonus Tracks
13. I Can't Get Over You
14. Cuckoo
15. Love Can Tame The Wild
16. He Went Down To The Sea
17. Pretty Suzanne
18. Monk Chant (Live)
Bonus Material:
* Each CD release includes 36-pg deluxe booklet feat. in-depth notes, interviews, lyrics, and countless unseen photos
* Select CDs include limited edition Monks Trading Card (collect all 7 cards!)
* Each limited edition Double-Vinyl gatefold LP features 180 gram wax, old school tip-on jacket, lyrics, and notes