The Wooden Birds


DOWNLOAD: "Sugar" – The Wooden Birds (mp3)
Hey, I was just listening to the debut record by The Wooden Birds, and I realized that they are on tour right now and more specifically they are playing Union Hall tonight! If you're in the Park Slope area this evening, I highly recommend that you check them out (look for me, I'll be the guy with the camera). Their new album, Magnolia, is pretty great and it comes out on May 12 on Barsuk Records. For those of you not familiar with the band (I know I wasn't), here's a little snippet from their bio:
The Wooden Birds is the latest project from Andrew Kenny, best known as the singer/songwriter behind American Analog Set. Fans of AmAnSet will recognize Kenny's voice and songwriting immediately, but the arrangements on magnolia are more vocal- and percussion-heavy than anything he's done before. The band also includes Ola Podrida songwriter and David Gordon Green film score composer David Wingo, co-producer Chris Michaels, vocalist, guitarist, and AmAnSet guest artist Leslie Sisson, and Lymbyc Systym drummer Michael Bell.
More Wooden Birds tour dates after the jump.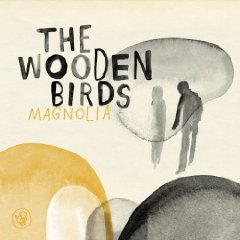 The Wooden Birds 2009 Tour Dates
Apr 16 2009 Mercury Lounge New York, New York
Apr 17 2009 Union Hall Brooklyn, New York
Apr 18 2009 TT the Bears Cambridge, Massachusetts
Apr 19 2009 Bar Night Club New Haven, Connecticut
Apr 23 2009 Debaser w/ Grand Archives Malmo, Sweden
Apr 24 2009 Prinzenbar w/ Grand Archives Hamburg, Germany
Apr 25 2009 Hafen 2 w/ Grand Archives Offenbach, Germany
Apr 27 2009 Schocken w/ Grand Archives Stuttgart, Germany
Apr 28 2009 Chat Noir w/ Grand Archives Trier, Germany
Apr 29 2009 Vera w/ Grand Archives Groningen, Netherlands
Apr 30 2009 Bar Mondial w/ Grand Archives Antwerpen, Belguim
May 01 2009 Bikini Test w/ Grand Archives La Chaux-De-Fonds, Switzerland
May 02 2009 d*qliq w/ Grand Archives Luxembourg, Luxembourg
May 03 2009 Albani w/ Grand Archives Winterthur, Switzerland
May 04 2009 Cafe de la Danse w/ Grand Archives Paris, France
May 05 2009 TBA w/ Grand Archives Bordeaux, France
May 06 2009 Wah-Wah Club w/ Grand Archives Valencia, Spain
May 07 2009 Moby Dick Club w/ Grand Archives Madrid, Spain
May 08 2009 Cafe Hispano w/ Grand Archives Zaragoza, Spain
May 09 2009 Apolo w/ Grand Archives Barcelona, Spain
May 10 2009 Psilocybenea Cultural Center w/ Grand Archives Hondarribia, Spain
May 12 2009 Orangehouse w/ Grand Archives Munich, Germany
May 13 2009 Wuk w/ Grand Archives Vienna, Austria
May 14 2009 Zagreb, Croatia
May 15 2009 GrooveStation w/ Grand Archives Dresden, Germany
May 16 2009 Pop-Up Festival @ UT Connewitz Leipzig, Germany
May 17 2009 Cafe Zapata w/ Grand Archives Berlin, Germany
Jul 04 2009 7:00P Stubb's BBQ w/ Explosions in the Sky Austin, Texas