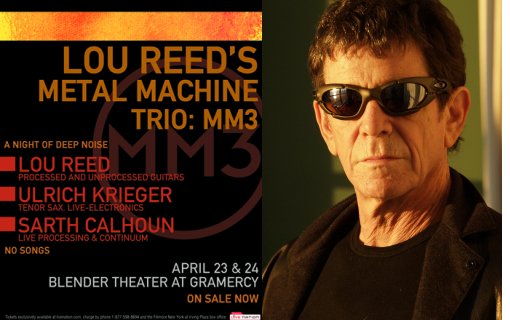 DOWNLOAD: Metal Machine Trio Samples
Lou Reed is revisiting his "Metal Machine Music" period with a set of non-vocal performances at the Gramercy Theater on April 23 and 24, 2009. Because it feels like Xmas in February April, I'm giving a pair of tickets to one of these shows to a lucky reader who can tell me the name of their favorite Lou Reed or Velvet Underground album (or if you want to say why you love Metal Machine Music, that'll work too). Please send your entries to contests@bumpershine.com and specify what night which you would like to attend the show, the winner will be notified on Wednesday, April 22. If you're not familiar with Lou Reed's Metal Machine Trio, here's a little information from the show listing:
LOU REED'S METAL MACHINE TRIO
When Lou Reed released "Metal Machine Music," his 1975 double album mostly (exclusively?) consisting- of guitar feedback, critics and fans were dumbfounded "" was it a joke, a smirking way to get out a sour record deal? Or was it a harbinger of the industrial and noise music that would flourish decades later? Now, Mr. Reed is again revisiting the experiment, teaming with the composer and saxophonist Ulrich Krieger and the multi-instrumentalist Sarth Calhoun to create "a night of deep noise." (The trio has already released two live concerts through Mr. Reed's Web site, loureed.com, and they're surprisingly soothing.)
Lou Reed's Metal Machine Trio
April 23, 24 at 8:30 p.m.
Blender Theater at Gramercy
127 East 23rd Street
New York, NY
Buy Tickets*
*Please note that students are half-price with a valid student ID
Stream "The Creation of the Universe Night 1 & 2" via embeddable widget after the jump.