When a band goes to such lengths for their art, I figure it deserves a post of its own.
Matt and Kim – "Lessons Learned"
Matt and Kim's second album, Grand, is out now on the FADER Label. The duo are heading out on a major world tour starting May 1, but don't worry, they'll be back in NYC in time for the summer. More specifically, you can catch them on July 9, 2009 at Pier 54 as part of the Hudson River Rocks concert series.
All Matt and Kim tour dates after the jump.
PS When's the uncensored version coming out?
Matt and Kim – Grand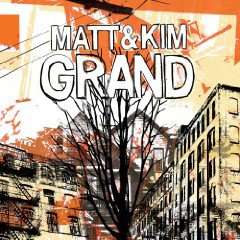 Matt and Kim 2009 Tour Dates
May 01 2009 Evelyn Hotel Melbourne, AU
May 02 2009 Oxford Art Factory Sydney, AU
May 04 2009 The Step Inn Brisbane, AU
May 06 2009 Whammy Bar Auckland, NZ
May 07 2009 Mighty Mighty Wellington, NZ
May 20 2009 Neumo's Seattle, WA
May 22 2009 Magnet berlin, Berlin, DE
May 23 2009 Die Werkstatt Koln, DE
May 24 2009 Headcrash Hamburg, DE
May 25 2009 Le Baron Paris, FR
May 26 2009 Melkweg Amsterdam, NL
May 27 2009 Debaser Malmo, SE
May 29 2009 Debaser Slussen Stockholm, SE
May 30 2009 The Garage Oslo, NO
May 31 2009 Apollon Bergen, NO
Jun 03 2009 Clash São Paulo, BR
Jun 06 2009 P.A.R.C Festival Porto Alegre, BR
Jun 07 2009 La Trastienda Buenos Aires (provincia), AR
Jun 18 2009 House of Blues Boston, MA
Jun 20 2009 Rock and Roll hotel Washington DC
Jul 02 2009 Venue TBA Charlotte,NC
Jul 03 2009 Park Tavern Atlanta, GA
Jul 04 2009 House of Blues Orlando, FL
Jul 09 2009 Pier 54 New York, NY
Jul 10 2009 Stubbs Austin, TX
Jul 11 2009 House of blues Dallas, TX
Jul 18 2009 Pitchfork festival Chicago, IL
Aug 28 2009 Outside Lands Festival San Francisco, CA