Phoenix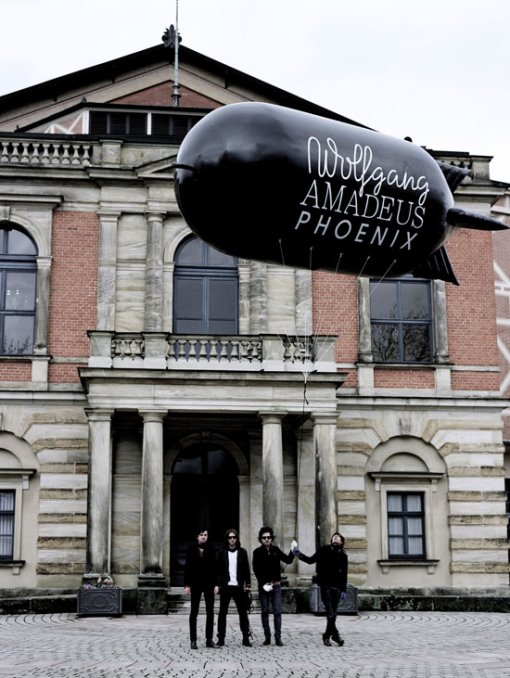 DOWNLOAD: Phoenix – "1901" (mp3)
Drake has been singing the praises of Franco pop-stars Phoenix ever since he first got a hold of their forthcoming album, Wolfgang Amadeus Phoenix (May 26). Since their recent "3 song" SNL performance, it seems that the rest of the world is pretty excited about them too, so excited in fact, that they've added a second New York gig to satisfy the masses. If you've already bought tickets to the cavernous T5, you might feel a little bit perturbed when you learn that they'll be playing the comparitively intimate Music Hall of Williamsburg on June 18. Tickets for that show go on sale Friday, April 24 at noon (don't be late to this one folks).
UPDATE: An Internet presale started today (4/23), the password is SEMAPHORE.
More Phoenix tour dates and a new video after the jump.
Phoenix 2009 Tour Dates
April 23 : London, Hoxton Bar & Grill – SOLD OUT
May 20 : Spex Festival @ Berghain, Berlin Germany
May 23 : T-Mobile Electronics Beats Festival, E-Werk, Cologne, Germany
May 25 : La Cigale, Paris, France – SOLD OUT
May 28 : Primavera Sound, Barcelona, Spain
May 30 : Siesta, Hasseleholm, Sweden
June 01 : Koko, London, UK – SOLD OUT
June 04 : Trouw Club Amsterdam, Holland
June 05 : L'Orangerie, Brussels, Belgium
June 06 : Rock AM Ring, Germany
June 07 : Rock IM Park, Germany
June 12 : Bonnaroo, Manchester, TN, USA
June 13 : Park West, Chicago, IL, USA
June 15 : Phoenix Concert Theatre, Toronto, ON, Canada
June 16 : Les Saints, Montreal, Canada
June 17 : Paradise Rock Club, Boston, MA, USA
June 18 : Music Hall of Williamsburg Brooklyn, NY USA
June 19 : Terminal 5, New York, NY USA – SOLD OUT
June 21 : Rock & Roll Hotel, Washington DC, USA – SOLD OUT
June 23 : Varsity, Minneapolis, MN, USA
June 25 : Bluebird, Denver, CO, USA
June 27 : Regency Center – Grand Ballroom, San Francisco, CA, USA
June 28 : The Wiltern, Los Angeles, CA, USA
July 03 : Main Square, Arras Festival, France
July 05 : Eurockéennes Festival, Belfort, France
July 18 : Melt! Festival, Germany
July 24 : Secret Garden Festival, Cambridgeshire, UK
July 25 : Camp Bestival, Dorset, UK
August 07 : Summersonic Tokyo, Japan
August 08 : Summersonic Osaka, Japan
August 21 : Pukkelpop Festival, Belgium
August 22 : V Festival Chelmsford, UK
August 23 : V Festival Staffordshire, UK
October 28 : O2 Academy, Brixton, London UK