Virgin Festival (Canada)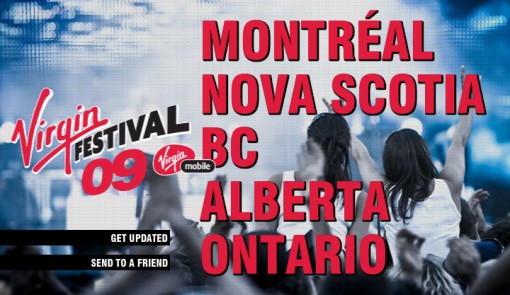 While we are still awaiting an announcement regarding the fate of the US Virgin Mobile Festival, our neighbor to the north has committed to hosting 5 "Virgin Mobile Festival" events this year, two of which have already announced dates and initial lineups. Any way you look at it, the lineup for the two day Montreal Virgin Festival is weak, the just announced lineup for the one day Halifax Virgin Festival looks pretty promising though. Check out all the details below, (more information will be posted as it becomes available):
Virgin Festival Montréal: June 19-20, 2009 (Parc Jean-Drapeau, Montreal, QC)
June 19: Black Eyed Peas, Simple Plan, Hedley, The New Cities, Eva Avila, Stereos, Kreesha Turner
June 20: New Kids On The Block, Akon, Live, Lights, Divine Brown, Jabbawockeez, David Usher
Get Tickets

Virgin Festival Nova Scotia: July 4, 2009 (Citadel Hill, Halifax NS)
The Tragically Hip, The Offspring, Metric, Dinosaur Jr, Hey Rosetta!, Plants and Animals, Arkells, and more TBA
Get Tickets

Virgin Festival BC: Info Coming Soon!

Virgin Festival Alberta: Info Coming Soon!

Virgin Festival Ontario: Coming Soon!