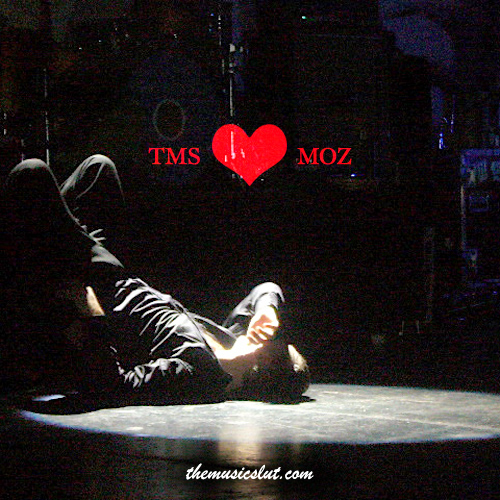 DOWNLOAD: TMS Hearts Moz
Our good friends over at The Music Slut who are mad crazy Morrissey fans put together a tribute record (pictured above) in honour Mozzer's 50th Birthday and they're having a record release party for it tonight (May 22) at the The Studio at Webster Hall. Check out some more details about the tribute record below:
As many of you are well aware, I'm a massive Morrissey fan. In fact, "˜massive' might just be an understatement. As Mozzer's 50th birthday approaches (May 22nd), I wanted to celebrate in some sort of special manner. After much deliberation, I decided that a covers project would be the perfect way for The Music Slut to mark the occasion. Over the course of the last few months, I've asked a bevy of my favorite artists to contribute tracks to TMS Hearts Moz. Highlighting a selection of their choice, the result is a 19 song compilation that includes renditions of Smiths favorites, Morrissey rarities and nearly everything in between. I'm so proud to present this to you, our dear readers, and I'm forever thankful to each of the acts that took time out of their busy schedules to submit their own interpretations of some of my most cherished tunes. Beginning on May 4th, and concluding on May 28th, one cover will be profiled & available for free download every weekday at 4PM EST.

The full list of artists included on TMS Hearts Moz (in alphabetical order) is as follows: A Brief Smile, Bridges & Powerlines, Chris Garneau, Deleted Scenes, Exit Clov, Free Blood, The Glass, Laura Palmer, Max Vernon, Microfilm, Mixel Pixel, My Burgundy Waltz, Pattern Is Movement, The Physics Of Meaning, Sharon Van Etten, Soren Anders, Spanish Prisoners, Teddy Blanks & Unicycle Loves You. [The Music Slut]
Full party details and flyer after the jump.

Morrissey's 50th Birthday Bash
THE STUDIO at Webster Hall
10 PM Doors
$5 w/ Flyer or Moz/Smiths Shirt, $10 Without
19+ w/ ID