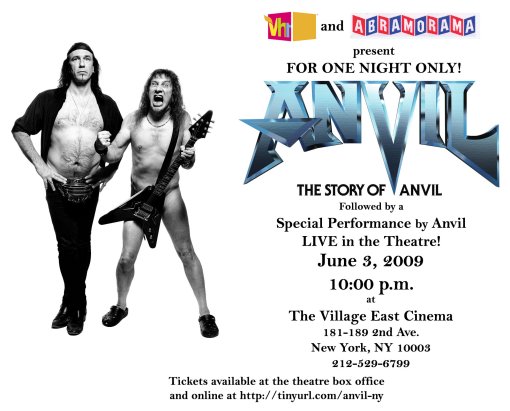 Steve "Lips" Kudlow and Robb Reiner formed the band Anvil as teenagers but never really found fame after years of playing together and releasing a string influential yet commercially unsuccessful albums, including 1982's much respected, Metal on Metal. In 2008, Sacha Gervasi's Anvil! The Story of Anvil!, a documentary about the band's first European tour in decades and their last ditch quest for glory, premiered to much acclaim at the Sundance Film Festival. Billed as "the real life Spinal Tap", the film put the band back in the spotlight and in what could only be described as a "Hollywood Ending" finally gave them a taste of the rock stardom they so desperately craved for all these years.
The film has now been commercially released and Robb and Steve have been touring around Canada and the US playing a number of "Anvil Experience" shows, which consist of a screening of Anvil! The Story of Anvil and a live performance afterwards by the band (they played to a sold out Gramercy Theater back in April). The next "Anvil Experience" show will take place on Wednesday, June 3, 2009 at 10:00PM at the Village East Cinemas in New York, NY, get your tickets here.
More showtimes and the trailer for Anvil! The Story of Anvil after the jump.
Anvil Screenings and Performances
Los Angeles — Monday, June 1, 2009 @ 8:00PM
Regency Fairfax Cinemas
7907 Beverly Blvd.
Los Angeles, CA. 90048
(323) 655-4010
Tickets are available at the theatre box office!
New York — Wednesday, June 3, 2009 @ 10:00PM
Village East Cinema
181-189 2nd Ave.
New York, NY 10003
(212) 529-6799
Tickets are available here or at the theatre box office!