Record of the Week Club – Various Artists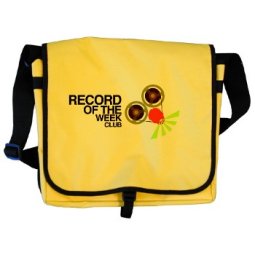 DOWNLOAD: "Keewatin Arctic" – John K. Samson, Nikki Komaksiutiksak, Blunderspublik
Winnipeg's The Weakerthans don't release new records that often (witness the four year span between Reconstruction Site and the EP length Reunion Tour), but tomorrow (June 16) marks the debut of a new track from John K. Samson, the primary singer and songwriter for the band. The new song comes by way of a new Winnipeg compilation entitled, Record of the Week Club (Listen Here), and here's a little bit more about that project:
Every Wednesday for 16 weeks, 3 musicians showed up at MCM Studios in Winnipeg. They didn't know who else would be arriving. They only knew that over the course of one evening they would have to get to know each other, write, record and mix one song. And that song would be made available for download the following morning.

Modeled after the classic French arts 'salon', host and producer Mike Petkau paired musicians who may not have otherwise ever found themselves in the same room together. A member of the local symphony was paired with a DJ and a roots singer. The frontman of Winnipeg's most prominent indie-rock band (Samson) was paired with an Inuit throat singer (Nikki Komaksiutiksak) and a glitchy electronic artist (Blunderspublik). And so it went, for 16 weeks: getting musicians to take some chances and do stuff they don't normally do.

The project also includes members of The Waking Eyes, Novillero, Nathan, Chic Gamine, Moses Mayes, BurnThe8Track, Twilight Hotel, Mahogany Frog and many more.
In other Weakerthans news, the band recently announced some new tour dates which will see them at MHOW and the Bowery Ballroom on September 17 and 18 respectively (Buy Tickets).
All The Weakerthans tour dates after the jump.
The Weakerthans 2009 Tour Dates
Jul 17 2009 Vancouver Folk Festival Vancouver, British Columbia
Jul 18 2009 Neumo's Seattle, Washington
Jul 20 2009 The Crepe Place Santa Cruz, California
Jul 21 2009 Downtown Brew San Luis Obispo, California
Jul 22 2009 The Roxy Los Angeles, California
Jul 23 2009 Great American Music Hall San Francisco, California
Jul 24 2009 WOW Hall Eugene, Oregon
Jul 25 2009 The Aladdin Portland, Oregon
Jul 26 2009 Spiritbar, Hume Hotel Nelson, British Columbia
Sep 15 2009 Casbah Hamilton, Ontario
Sep 16 2009 Paradise Boston, Massachusetts
Sep 17 2009 Music Hall of Williamsburg Brooklyn, New York
Sep 18 2009 Bowery Ballroom New York, New York
Sep 19 2009 9:30 Club Washington, Washington DC
Sep 20 2009 World Cafe Live Philadelphia, Pennsylvania
Sep 23 2009 Mr Smalls Theatre Pittsburgh, Pennsylvania
Sep 24 2009 Magic Stick Detroit, Michigan
Sep 25 2009 Bottom Lounge Chicago, Illinois
Sep 26 2009 Triple Rock Minneapolis, Minnesota
Sep 27 2009 High Noon Madison, Wisconsin