Avett Brothers at The Fillmore @ Irving Plaza (06/13/09)


Photos: Jon Klemm
The Avett Brothers brothers played two sold out, packed, and sweaty (by the looks of it) shows at Irving Plaza on the weekend (June 12-13); here's a bit of a play-by-play of what Saturday night was like:
9:00 – The Avett Brothers storm the stage. They're all dressed like the southern gentlemen I pictured them to be. I'd imagine they enjoy sitting on their large porches, sipping iced tea and being nice to women like their mamma raised them to.

9:01 – I smell pot. Their fans aren't southern ladies and gentlemen.

9:05 – 10:50 – The brothers set off a hootenanny! It feels like some sort of crazy love-fuelled barn party with everyone jumping up and down with the bass drum and the banjo finger pickin' up a storm. Somber ballads flow seamlessly into outright folksplosions (Yes, I just did make up that awesome word). A man throws a Virginia license plate onstage that reads "AVTT BROS". An "AVETT NATION" banner hangs proudly on the side railing. For a minute, I forget I'm in New York City.

10:52 – It's so hot in here. I don't have a shirt on under my flannel. Can I just wear a vest? Is that possible? My arms look like chopsticks. Man up; let's do this.

10:55 – The show ends. My mind is blown. [PopSense]
In other Avett Brothers news, the band has a new Rick Rubin produced record (their major label debut) coming out on August 11 called I and Love You. They've also announced a string of new tour dates, many of which are currently on presale (u/p: Avett/Brothers) through Artist Arena. No NYC return engagement has been announced as of yet, but with a new album about to drop, you gotta imagine they'll be back soon.
More photos, tour dates and I and Love and You track listing after the jump.
I and Love and You Track Listing
1. I and Love and You
2. January Wedding
3. Head Full of Doubt, Road Full of Promise
4. And it Spread
5. The Perfect Space
6. Ten Thousand Words
7. Kick Drum Heart
8. Laundry Room
9. Ill with Want
10. Tin Man
11. Slight Figure of Speech
12. It Goes On and On
13. Incomplete and Insecure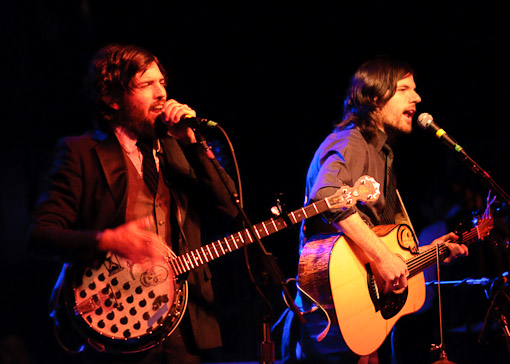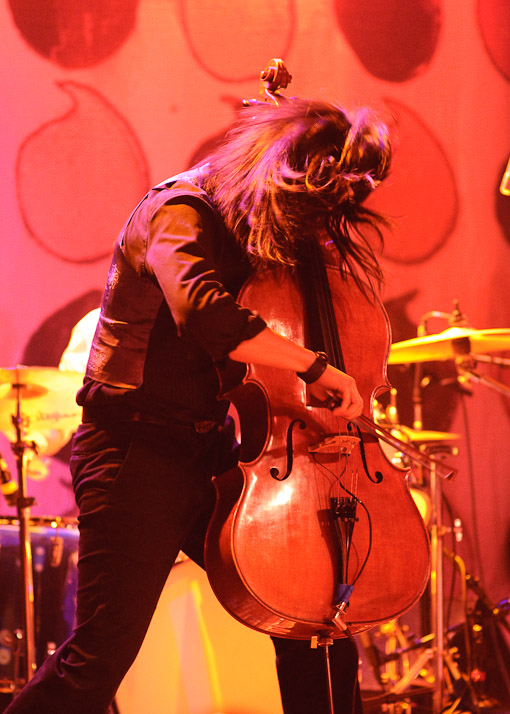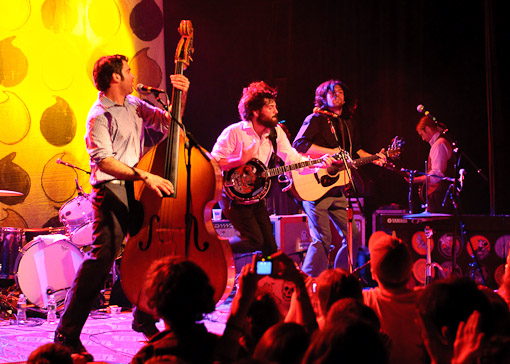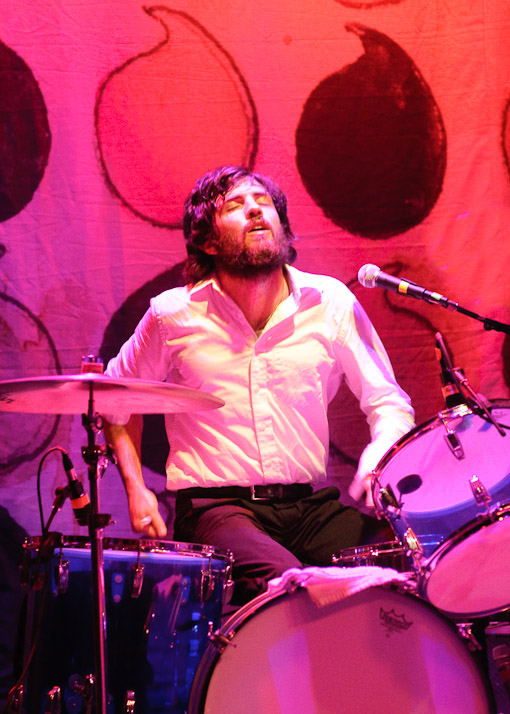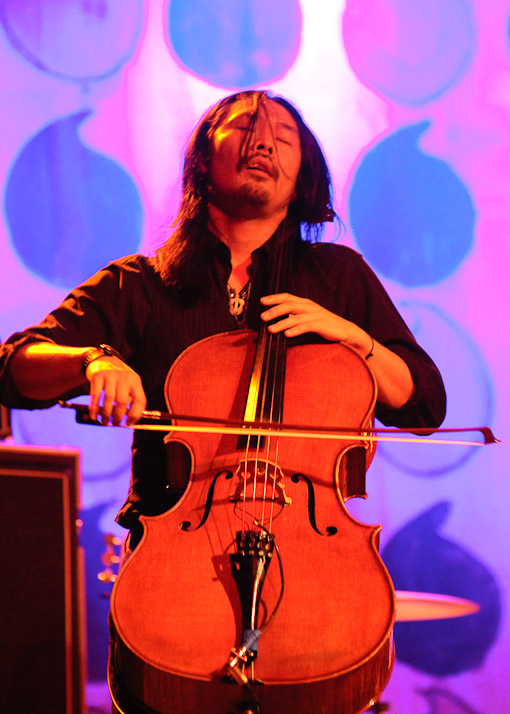 The Avett Brothers 2009 Tour Dates
06.16.09 Carnegie Music Hall of Homestead Pittsburgh, PA
06.18.09 Frederik Meijer Gardens & Sculpture Park Grand Rapids, MI
06.19.09 Akron Civic Theatre Akron, OH
06.20.09 Newport Music Hall Columbus, OH
06.21.09 The Madison Theater Covington, KY
06.23.09 Kentucky Theatre Lexington, KY
06.25.09 The Pageant St. Louis, MO
06.26.09 Hoyt Sherman Theatre Des Moines, IA
06.27.09 Minnesota Zoo Amphitheater Minneapolis, MN
06.28.09 House of Blues Chicago, IL
07.02.09 Comerica Cityfest Detroit, MI (Free Show)
07.09.09 Harrison Opera House Norfolk, VA
07.10.09 The National Richmond, VA
07.11.09 Roanoke Performing Arts Theatre Roanoke, VA
07.12.09 Forecastle Festival Louisville, KY
07.16.09 St. Augustine Amphitheater St. Augustine, FL
07.17.09 House of Blues Lake Buena Vista, FL
07.18.09 The Cuban Club Tampa, FL
07.19.09 The Parker Playhouse Ft. Lauderdale, FL
07.24.09 House of Blues Myrtle Beach, SC
07.25.09 House of Blues Myrtle Beach, SC
07.30.09 Thursday At The Square Buffalo, NY (Free Show)
07.31.09 Westcott Theater Syracuse, NY
08.01.09 Folk Festival 50 Newport, RI
08.02.09 Calvin Theater Northampton, MA
08.04.09 Bottle & Cork Dewey Beach, DE
08.08.09 Bojangles Coliseum Charlotte, NC
08.14.09 Mulberry Mountain Harvest Music Ozark, AR
08.15.09 Crossroads Kansas City, MO
08.16.09 Sokol Auditorium Omaha, NE
08.19.09 Sunset Concert Series Telluride, CO (Free Show)
08.20.09 Steamboat Springs Free Summer Steamboat Springs, CO (Free Show)
08.21.09 Boulder Theater Boulder, CO
08.22.09 Ogden Theatre Denver, CO
08.25.09 Red Butte Garden Salt Lake City, UT
08.26.09 Knitting Factory Concert House Boise, ID
08.28.09 Paramount Theatre Seattle, WA
08.29.09 Britt Festival Jacksonville, OR
08.30.09 Outside Lands Music and Arts Festival San Francisco, CA
09.01.09 HSU Van Duzer Theater Arcata, CA
09.03.09 Grand Sierra Theatre Reno, NV
09.04.09 Strawberry Music Festival Camp Mather, CA
09.05.09 Orpheum Theatre Los Angeles, CA
09.17.09 North Charleston P.A.C North Charleston, SC
09.18.09 Westobou Festival Augusta, GA
09.19.09 The Moon Tallahassee, FL
09.20.09 Bama Theatre Tuscaloosa, AL
09.22.09 The Lyric Oxford Oxford, MS
09.24.09 Minglewood Hall Memphis, TN
09.25.09 Robinson Center Music Hall Little Rock, AR
09.26.09 Cain's Ballroom Tulsa, OK
09.27.09 Granada Theater Dallas, TX
09.29.09 Baton Rouge River Center Theatre Baton Rouge, LA
10.01.09 House of Blues New Orleans, LA
10.02.09 Austin City Limits Festival Austin, TX
10.03.09 Rose State PAC Midwest City, OK
10.05.09 Lovett Auditorium Murray, KY
10.20.09 Englert Theatre Iowa City, IA