2009 Virgin Mobile Free Fest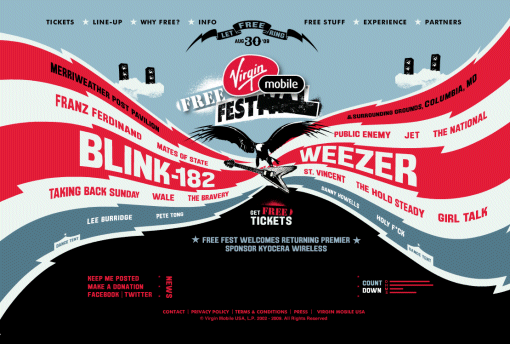 I have been tracking the developments of this year's Virgin Mobile Festival for a while, and though it seemed like it might not happen at one point, the producers finally came through and announced the lineup today. Aside from the somewhat uninspiring headliners (a Weezer/Blink-182 combo just doesn't do it for me), the rest of the festival lineup actually looks pretty solid. Certainly worth the price of admission, which is FREE this year. The newly christened Virgin Mobile Free Fest will take place for a single day on August 30 at the Merriweather Post Pavilion (and surrounding grounds) in Columbia, MD. Lineup, ticket information and more festival details below.
Virgin Mobile Free Fest
Sunday, August 30
Merriweather Post Pavilion
FREE
Virgin Free Fest Lineup as of 06/24/09
Weezer
Blink-182
Franz Ferdinand
Public Enemy
Jet
The National
Girl Talk
The Hold Steady
St. Vincent
Wale
Taking Back Sunday
The Bravery
Holy Fuck
Mates of State
Pete Tong
Danny Howells and Lee Burridge (Dance Tent)
– Thanks to BabyStew for the heads up on the lineup
Ticket Information
Tickets to the 2009 Virgin Mobile FreeFest will be available to the public at http://www.ticketmaster.com at 10 am EST on Saturday, June 27th. Virgin Mobile customers and previous Virgin Mobile Festival ticket buyers will be invited via email to a private "free-sale" (much like a pre-sale, except free) to be held Thursday, June 25th and Friday, June 26th. Ticketmaster is waiving the convenience charge when fans pick up their FreeFest tickets at Merriweather or the 9:30 Club in Washington, D.C.