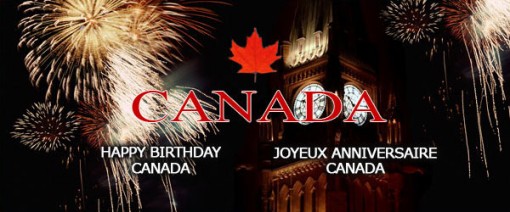 Joyeux Anniversaire Canada! Ah, I couldn't have said it better myself. Here's a look at the Canada Day festivities going on in NYC tonight (July 1):
Canadians in NYC Party
Date: Wednesday, July 1, 2009
Time: 7:00pm – 11:55pm
Location: Mama's Bar
Street: 34 Avenue B, at East 3rd St. (SW corner)
City: New York, NY

No cover charge.
FREE POUTINE all night.
Canadian drink specials, including:
$4 Molson Canadian, Labatt Blue and Moosehead pints on tap.
$5 Rye & Ginger and Seagrams/7 mixers

Great Canadian tunes all night.

Don't miss the annual singing of our anthem at 10pm.

Wear your best Red & White & maple leaves, or a hockey jersey, or a beaver hat.
Canada's Birthday Bash, featuring the Great Canadian Songbook
Wednesday, July 1, 7 and 9:30 pm
Joe`s Pub at the Public Theater
425 Lafayette Street
New York, NY
(212) 967-7555

Celebrate Canada`s 142nd birthday with this all-star tribute to the Great Canadian Songbook, featuring a stellar international line-up singing Canada`s greatest hits.

Join Canadian legend Carole Pope (pictured), BETTY`s Alyson Palmer and Tony Salvatore, the East Village Opera Company`s Tyley Ross, jazz great Carolyn Leonhart, singer-songwriter Greg Naughton, Irish rocker Joe Hurley, jazz-soulstress Kellylee Evans, singer-songwriter Anthony Da Costa, jazz singers Amy Cervini and Melissa Stylianou (in a special duet), and Peter Kiesewalter and the all-star 'Workin` for the Weekend House Band,' as they lay down unforgettable versions of favorite Canuck anthems.
Also, the The National Post's music and pop culture blog, The Ampersand, just listed the top 10 Canadian acts you should be listening to this Canada Day and they are:
10. Patrick Watson
9. In-Flight Safety
8. Malajube
7. Jenn Grant
6. Elliott Brood
5. Coeur de Pirate
4. Cadence Weapon
3. The Acorn
2. Hey Rosetta!
1. Royal City

Special mention: The Warped 45s
Yesterday, the lineup for the Virgin Festival Alberta was announced.
In case you missed it, you can find the CBC's list of the most anticipated Canadian albums of 2009 over here.
Once again, in case you missed it, you can find Bob Mersereau's list of the "100 Top Canadian Album of All Time" over here.
Finally, the Polaris Music Prize Short List will be announced on July 7.