Littlefield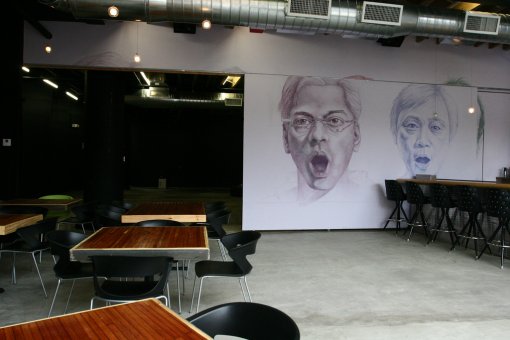 More Photos
Brooklyn Bowl


More Photos | Flickr
UPDATE 1: Shortly after this post went up, Brooklyn Bowl announced that it will be open for business on Tuesday, July 7 at 6:00 p.m. The first music show will take place on July 10 with O'Death, Justin Carter, Eamon Harkin, and Terror Pigeon Dance Revolt (Buy Tickets).
UPDATE 2: I received an email from Ben Sisario tonight stating that he wasn't aware of Littlefield's green factor and that he would have included the club in his story had he known about their efforts. (I did indeed try to contact him before I published this article.)
---
There was a feature in NYTimes Arts section the other day by Ben Sisario on the "soon to be opening" bowling alley and performance space, Brooklyn Bowl. In the piece, Sisario praises Brooklyn Bowl for its high style and environmentally conscious construction:
But the thing that sets it apart from most every club in the country is not as readily apparent. As part of its mission to operate in an environmentally responsible way, Brooklyn Bowl was built according to the strict standards of the United States Green Building Council's Leadership in Energy and Environmental Design program, which call for, among other things, efficient use of energy and water. Scrupulous attention was paid to construction materials: the stage was made from recycled tires, for example, and the wood was certified to have come from well-managed forests. [NYTimes.com]
After remarking on Brooklyn Bowl's bleeding edge L.E.E.D. construction, Sisario then goes on to cite some instances where local clubs or promoters have made various trifling efforts at being more environmentally friendly; for instance, Irving Plaza "uses energy-efficient lighting", and AEG Live, "is studying the environmental footprints of its spaces across the country." Really, one club switches to compact fluorescents and a promoter is studying the amount of environmental damage it inflicts around the country, and you single out those two things as examples of going "green"? Littlefield, on the other hand, a new performance and art space in Gowanus, Brooklyn, has done infinitely more than Irving Plaza or AEG at reducing its environmental impact and it didn't even receive a perfunctory mention in the article. Take a look at this description of Littlefield's eco-approach and I think you'll agree that they are the most environmentally conscious venue operating New York right now:
Housed in an old, 6200-square foot warehouse, littlefield merges the Gowanus' industrial past with an organic, eco-friendly future. These green elements include a landscaped interior courtyard, sound walls formed from recycled rubber tires, a bar constructed of salvaged bowling alley lanes, and energy supplied by wind power. Future projects include a greywater system and a landscaped roof that will reduce littlefield's footprint to virtually zero. [littlefieldnyc.com]
Finally, what really got my blood boiling was when Sisario made it sound like Brooklyn Bowl was the first "Green" venue in the city by stating that, "[t]here are few models for a truly green club…", and, "…if anyone can build one, it is Mr. [Peter] Shapiro." Well, maybe there are "few models" out there (I honestly don't know how many other green clubs exist), but certainly Littlefield, which has been up and running since Memorial Day, should count as one of them. It remains to be seen whether Sisario's failure to acknowledge Littlefield's existence was a slap in the face to the club or just a glaring oversight on his part (I suspect the latter, but he never responded to my email so I can't say for sure it is indeed the latter, he responded to my email today).
Littlefield is currently open on the weekends, and has already hosted a few live shows. The next "big" scheduled music show at Littlefield is Malajube on July 24th (though there are other things happening before that). Check out the full Littlefield performance space schedule after the jump.
According to their website Brooklyn Bowl's opening date is, "very, very close" (which I guess means that they are not opening "this week", as the NYTimes article states). The first scheduled event on their calendar is the Lebowski Fest on September 23-24, 2009. Flyer for that after the jump.
PS Brooklyn Bowl does look very cool and I applaud the thought and effort that went into its construction and design, my problem is not with them, just the incompleteness of the article about them.
Littlefield Performance Space Schedule July 2009
FRIDAY JULY 3RD
SURE SHOT PARTY WITH AGENT TREVOR
Doors 9:00pm
FREE
SATURDAY JULY 4TH
LITTLEFIELD'S 1ST ANNUAL SUPER FESTIVE 4TH OF JULY GOWANUS SCAVENGER HUNT AND BBQ
Doors 2:00pm
FREE
THURSDAY JULY 9TH
BARBECUE AND BAR NIGHT BENEFITING DOC TO DOCK
Doors 6:30pm
$10.00 includes one free beer!
tix at door
SATURDAY JULY 11TH
HAT CITY INTUITIVE
W/ FAT WORM OF ERROR, KATO HIDEKI, LITTLE GIRLS
21 and Over
Doors 8:00pm
$8.00
SUNDAY JULY 12TH
7 SUNDAYS SERIES KICKOFF
All Ages
Doors 12:00pm
FREE!
FRIDAY JULY 24TH
MALAJUBE
W/ APE SCHOOL
18 and Over
Doors 8:30pm
$10.00
Lebowski Fest at Brooklyn Bowl