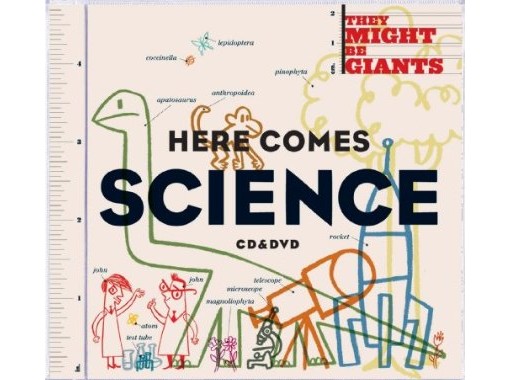 The two John's are having a homecoming show of sorts this weekend (July 11) at the Prospect Park bandshell where they will be performing tunes from their massively popular children's titles, No!, Here Come The ABC's, Here Come The 123's, and perhaps previewing a few tracks from their forthcoming new children's album, Here Comes Science.
"Here Comes Science" is due to hit store shelves on September 1. Like the other entries in the series, last year's math-themed "Here Come the 123s" and 2005's "Here Come the ABCs," the set will be released as a dual CD/DVD, and will include music videos for each of the album's songs.

"It's not drastically different," multi-instrumentalist and vocalist Linnell told LiveDaily last year about writing music for children instead of adults. "There are a lot of similarities. We bring very much the same attitude to the kids' stuff. The main difference, I'd say, is we possibly don't dwell on death imagery. There's less, what we would consider, inappropriate stuff. But the typical vibe and the range of subjects are not that different." LiveDaily.com
More TMBG tour dates and Here Comes Science track listing after the jump. View the entire 2009 Celebrate Brooklyn! schedule over here.
PS Word to the wise, get to the bandshell early, I expect David Byrne like numbers.
Here Comes Science Track Listing
1. Science Is Real
2. Meet the Elements
3. I Am a Paleontologist w/Danny Weinkauf
4. The Bloodmobile
5. Electric Car w/Robin Goldwasser
6. My Brother the Ape
7. What Is a Shooting Star?
8. How Many Planets?
9. Why Does the Sun Shine?
10. Why Does the Sun Really Shine?
11. Roy G. Biv
12. Put It to the Test
13. Photosynthesis
14. Cells
15. Speed and Velocity w/Marty Beller
16. Computer Assisted Design
17. Solid Liquid Gas
18. Here Comes Science
19. The Ballad of Davy Crockett (in Outer Space)
They Might Be Giants 2009 Tour Dates
Jul 11 – Brooklyn, NY – Celebrate Brooklyn! FREE (Family Show)
Jul 25 – Camden, NJ – Wiggins Park
Sep 13 – Clark, NJ – Musicfest 2009
Sep 19 – Raleigh, NC – North Carolina Museum of Art
Sep 19 – Raleigh, NC – Family Show – North Carolina Museum of Art
Sep 01 – Ithaca, NY – State Theatre
Sep 02 – Albany, NY – The Egg
Sep 03 – Albany, NY – Family Show – The Egg
Sep 04 – New York, NY – American Museum of Natural History
Sep 04 – New York, NY – American Museum of Natural History
Sep 09 – St. Louis, MO – The Pageant
Sep 10 – Chicago, IL – Family Show – Vic Theatre
Sep 10 – Chicago, IL – Flood Show – Vic Theatre
Sep 11 – Madison, WI – Barrymore Theatre
Sep 13 – Indianapolis, IN – The Vogue
Sep 15 – Cleveland, OH – Beachland Ballroom & Tavern
Sep 16 – Pittsburgh, PA – Mr. Smalls Theatre
Sep 17 – Kutztown, PA – Kutztown University
Sep 18 – New York, NY – Skirball Center for the Performing Arts
Nov 14 – Los Angeles, CA – Flood Show – Royce Hall
Nov 14 – Los Angeles, CA – Family Show – Royce Hall