Fanfarlo's Reservoir Limited Edition Box Set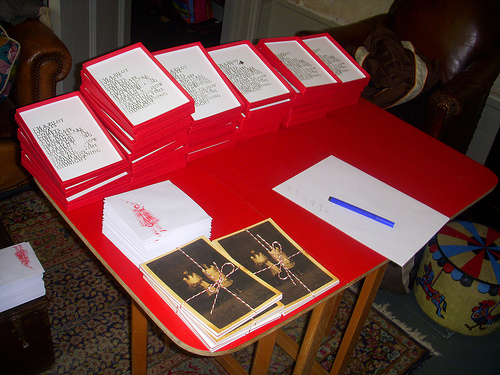 DOWNLOAD: Fanfarlo – "Finish Line"
DOWNLOAD: Fanfarlo – "I'm A Pilot"
First off, in case you missed out on the amazing $1 download deal, I'm happy to report that I'm giving away a copy of Fanfarlo's debut album in some sweet limited packaging. The "Reservoir" box set (which sold out at Rough Trade shops in 4 days), comes in a special foil-blocked, embossed linen-covered dvd-shaped box, packed with six heavyweight art postcards containing original artwork by Sarah Hooper, the album's liner notes, and the lyrics to each song on the album. To enter to win the CD box set send an email to contests@bumpershine.com and tell me your favorite Fanfarlo song. Winner to be selected on Wednesday, July 22 (US entrants only please).
Second, in case you missed my earlier announcement, Fanfarlo is playing the Bowery Ballroom on September 21 (Buy Tickets) and The Bell House on September 22 (Buy Tickets). "Reservoir" is currently available for purchase on CD and vinyl on Fanfarlo.com.
Finally, as you may have noticed, I've really been digging the new record by Fanfarlo, and that's was I very pleased when Justin from Fanfarlo agreed to do a little Q&A with bumpershine.com. Check out the result of our exchange (otherwise known as an email interview) below.
Interview with Justin Finch of Fanfarlo
Bumpershine: I was trying to find out a little more about your band name, and I read that it was inspired by Charles Baudelaire's novella La Fanfarlo, can you tell me little bit more about how you settled upon the name? Was one of you reading him at the time?
Justin Finch: Simon decided to call his project Fanfarlo in Sweden when he started writing songs. I think he read La Fanfarlo by Baudelaire and kind of liked the word. It has a few conotations whilst not being an actual word. At least I don't think it means anything in French. La Fanfarlo is a novella about a dancer called Fanfarlo that everyone falls head over heels in love with.
Bumpershine: You guys recorded Reservoir in October and November of 2008 with producer Peter Katis who has also worked with bands like Interpol and The National. Can you tell me a little bit about how you chose Peter to be your producer and what the recording process was like?
JF: We constructed a list of producers we would like to work with. We narrowed it down to the ones that were realistic and then we got our management on the case. We had a few options. We knew that we wanted to get out of the country to do it and we knew we wanted to just stick together day in day out for a period of time until it was finished. We all lived in this big old house in Connecticut with the studio in the attic. Man if you listen to Peter's work with Interpol and The National specifically you can tell why we chose him. He's a clever guy.
Bumpershine: Reservoir was released in the UK in May of 2009 via Raffle Bat records, which is your own label, was the plan to always release the album on your own or were there plans to shop it around to labels after recording it?
JF: Getting a good label on board just seemed like the normal thing to do. As it turned out everyone just wanted too much from us for too long a period of time so we thought we would go it alone for a while until something more attractive came along. We have good backing and support from our managers so we all feel good about what we're doing.
Bumpershine: You guys recently released your album for $1 on your website (fanfarlo.com), I heard the response was pretty great, can you tell me how many people ended up downloading the record? Is this something you guys would consider doing again in the future?
JF: I don't know the final figure. I do know that after a few days it was into 5 figures which we were pretty stoked about. We feel the experiment was a success in as much as it got people listening and talking about the record and the band. We would do it again I'm sure. That is if we could afford it. Having people listen to the record is the objective, y'know. Having people pay money for it is just something that has to happen if we wanna carry on doing it.
Read the rest of the interview after the jump.
Bumpershine: I've been told that Reservoir will be re-released in stores in September, can you tell me how that release will be different from the other release and will it be available from stores in the U.S.?
JF: Well it's gonna be different because you'll be able to buy it from store worldwide as opposed to either at gigs, fanfarlo.com or iTunes. Also the pakaging is gonna be different. A bit more up market y'know. It's also coming out on vinyl and were releasing another special edition box set which is beautiful, if I might be so bold.
Fanfarlophone


Photo: MixedCasesSpaces.co.uk
Bumpershine: When you recorded Reservoir, you guys were a sextet, with Mark West in the group, now that he's no longer a member of the band are you looking for a new permanent sixth member? Does anyone play the Fanfarlophone now that Mark is gone?
JF: We are currently looking for a permanent sixth member yeah. We play with a couple of guys one of which is the talented Jeremy Warmsley. We also toured with the now guitarist of Does it Offend You Yeah?, Matty Derham, who was a hoot. Thankfully no one plays the Fanfarlophone anymore [ha! -ed.]. Maybe Mark does in his new band but I'm sure he has renamed it.
Bumpershine: The cover photo of Reservoir was taken by Lilja Birgisdottir (Sigur Rós member Jónsi Birgisson's sister) and you've recently gotten some nice words of support from Jónsi on the Sigur Rós mailing list, how did you make the connection with Lilja and with Jónsi?
JF: Our management also manage Sigur Rós and Jónsi is a friend. It's one big happy family. The girl in the mask on the cover is actually Sigur Rós [with Jónsi's cousin Disa standing beside her -ed.]. The band is named after her.
Bumpershine: I was really impressed with the detail that you guys put into the Reservoir limited edition box set, was there always a plan to make a special edition of the album or was that something you decided upon a little later? Also, there is some really cool artwork on the inside, who was responsible for that?
JF: Oh we've always had a bunch of ideas for pretty looking shit when it comes to the pakinging of our records. Sadly it's expensive so we were pleased when Rough Trade liked the record and came to us with ideas for a limited release. Sarah Hopper is responsible for the design of that beast. She's a friend of ours too.
Bumpershine: Looking over the liner notes on the box set, I noticed you all share songwriting credits equally on your record, I was a little surprised to see that because I was under the impression that Simon was the primary songwriter of the group, can you tell me a little bit more about the songwriting process in Fanfarlo?
JF: Simon is the soul songwriter. He has a song in his head and he either demos it or he plays it to us on an acoustic guitar. He'll relay his ideas for instrumentation or melodies or we'll just go away and what we please. We all add our shit until the song is a mix of interpretations of the song idea he originally had. Sometimes it sucks and we strip it down again and start again. There's been a lot of that going on recently. It's very exciting.
Bumpershine: You've played SXSW and CMJ, and now you're coming back to the US and playing the Mercury Lounge [at least they were when I asked this question -ed.] and The Bell House in NYC, will we see a full fledged US tour in the fall? Also, will you be playing as a five piece or a six piece when you play over here?
JF: We will always play as a 6 piece. Whether Fanfarlo is a 5 or 6 piece it takes six people minimum to create what we want onstage. If we could have more we would. One day the stage is gonna be full of all the shit we want and it's gonna be berzerk. We're actually playing the Bowery Ballroom now instead due to popular demand. We're touring around the States a bit. It's all kinda TBC but we'll make it happen.
[I just noticed a new date at the Troubadour in West Hollywood, CA on September 15, 2009 (Buy Tickets) -ed.]
Bumpershine: I know you guys supported Snow Patrol on a big European arena tour earlier this year, were you at all nervous playing such large venues? Do you have any interesting stories to share from that tour?
JF: No we didn't get nervous. We've played some pretty big stages in the past and we're pretty confident about filling a big stage. The stage is often bursting at the seams when we play smaller venues. My bass guitar broke about 20 minutes before going on stage for our first arena gig. The SP bass player plays left handed so we had to drive to some dudes house our manager knew and beg to borrow his. It all worked out fine but it was traumatic.
Bumpershine: I just saw you guys posted a video of a Bonnie Prince Billy cover online, would you consider him one of your musical influences? Can you name some other of your musical influences?
JF: I dont think Bonnie is one of our influences in Fanfarlo. We are fans though which is why we wanted to cover a song. I guess the sound is influenced by shit like Neutral Milk Hotel, Arcade Fire [I deliberately didn't ask about Arcade Fire -ed.], Talking Heads, Fleetwood Mac amongst others. So many styles are responsible for the songs we make but whether you would hear them in the mix if I mentioned them is another matter. The connection between influence and the the finished product is a strange one and very personal between the five of us.
Bumpershine: You're now selling Reservoir on CD and vinyl on your website, do you have any plans to compile any of your earlier singles and release them as an EP? Finally, do you guys have any other future plans you'd like to share with me?
JF: We don't have plans to release old stuff to be honest. We're all about progressing. We are a band in motion. We are constantly changing and getting better in our opinion. Our newest work is the most important and is how we want to be regarded. We feel a lot of our old stuff is a bit crass and unsubtle at times. That's why so many old songs didn't make the record. You never know though. When we sign with that big label they might get us over a barrel :).
Bumpershine: Thanks so much for your time Justin, really looking forward to seeing you guys in NYC! (In fact, I'm rearranging my travel plans around it.)