Japandroids at Pianos (07/11/09)


Photo: G!
DOWNLOAD: Japandroids – "Heart Sweats"
Vancouver's Japandroids (Brian King and David Prowse) played two pre-Siren shows in New York last week (Jul 10 at Cameo Gallery & Jul 11 at Pianos) and they're back again this Saturday to play the Main Stage at the Siren Music Festival.
Slim Twig at Pianos (07/11/09)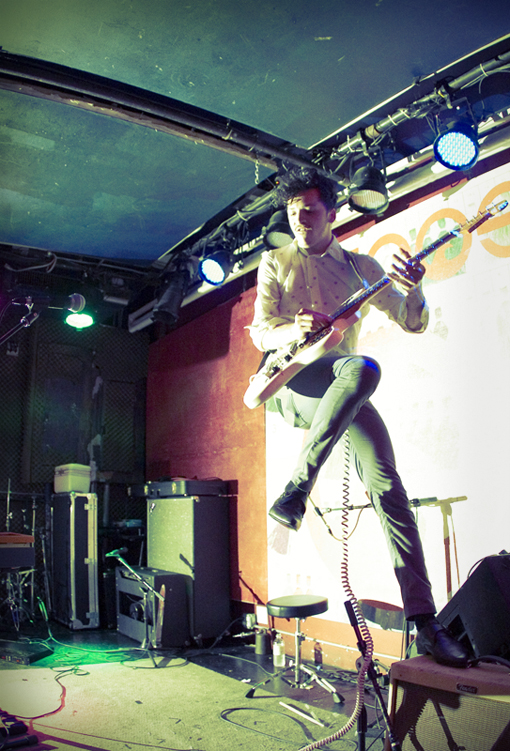 Photo: G!
DOWNLOAD: Slim Twig – "Young Hussies"
The Canadian artist (and sometime actor) known as Slim Twig (aka Max Turnbull), opened for Japandroids at Pianos on Saturday night. Slim (Mr. Twig?) recently released his "unpredictable and highly original" full-length debut album, Contempt!, on Toronto's Paper Bag Records. Contempt!, if I may quote some press related materials, "…leans decidedly towards an innovative pop sound that places sampling and found sound firmly at its core." There weren't too many writeups of Slim's performance at the Pianos show, but I did find this review of his set at DC9 a couple nights before, which works pretty well I think:
Boasting impeccable style, a courageous haircut and a beautiful 1970's Farfisa organ, Toronto's Slim Twig play the sort of music that would make most people want to commit Suicide"¦ references. This one man show relied heavily on pre-programmed samples and loops allowing him to spastically pace around the stage, spitting crazed and often incoherent lyrics while gesticulating wildly. [BrightestYoung Things]
Once again, eventhough the Pianos show was sold out, the reviews of Japandroids set were also a bit scarce, here's what the Village Voice blog had to say about missing the show:
File under regrets: Missing Japandroids, the Post Nothing Canadian duo with a Polyvinyl debut on the way, at Pianos late Saturday night, where the band played what will probably be the last small club show this band will get in New York. YouTube turns up a decent version of "Young Hearts Spark Fire," the absurdly oversized anthem these two guys will hate soon enough, once they're forced to perform it at every show, ever. But it's early and the record isn't even out yet and over the weekend, they don't seem to mind playing it all; that breakdown right in the middle of the song is everything it should be and more. [Sound of the City]
Jon Caramonica of the NYTimes was at the Cameo show, you can read that review over here.
More Slim Twig and Japandroids photos after the jump. All Japandroids tour dates and some videos after the jump.
Editor's Note: Star Wars fans may remember David Prowse as the actor who played Darth Vader.
Slim Twig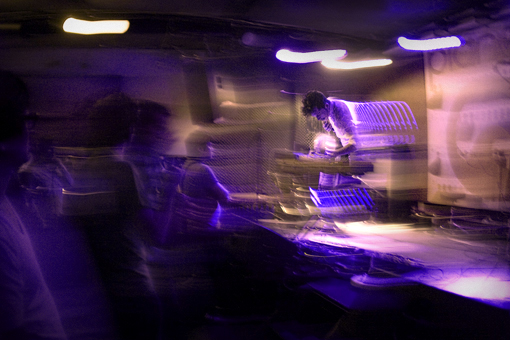 Japandroids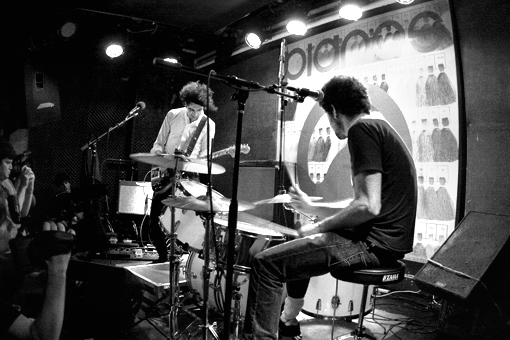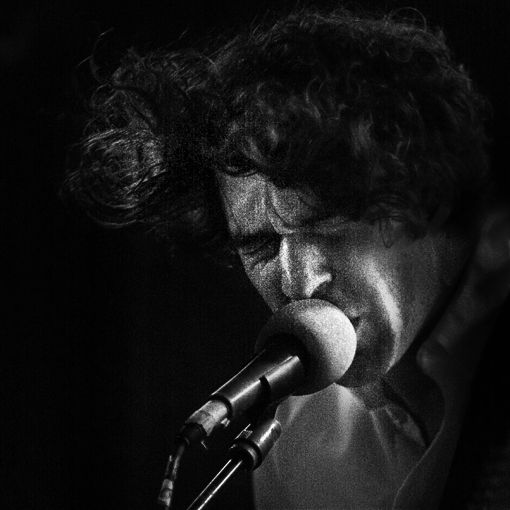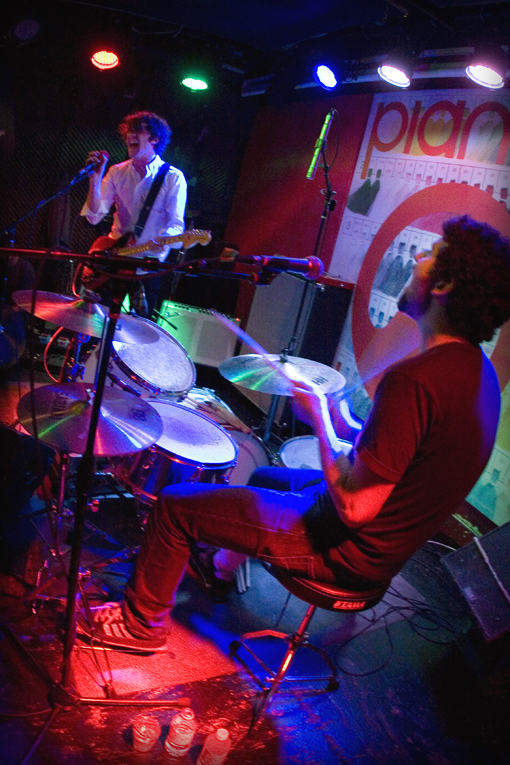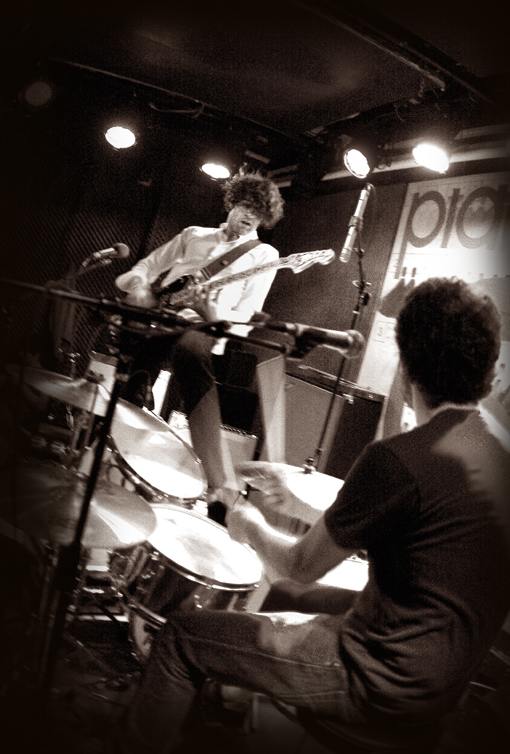 Japandroids 2009 Tour Dates
07-18 New York City, NY – Siren Music Festival
07-19 Chicago, IL – Pitchfork Music Festival
07-20 Des Moines, IA – Vaudeville Mews
07-21 Denver, CO – Hi Dive
07-23 Boise, ID – Neurolux
07-25 Seattle, WA – Capitol Hill Block Party
07-28 Portland, OR – Holocene
07-29 Sacramento, CA – Blue Lamp
07-30 San Diego, CA – Soda Bar
07-31 Los Angeles, CA – Spaceland #
08-01 Visalia, CA – Howie & Sons
08-02 San Francisco, CA – Hemlock
08-07 Vancouver, British Columbia – Rickshaw Theatre
08-08 Seattle, WA – KEXP BBQ (free show)
09-05 Victoria, British Columbia – Lucky Bar ^
09-07 Kelowna, British Columbia – Habitat ^
09-09 Calgary, Alberta – Broken City ^
09-10 Saskatoon, Saskatchewan – Amigos ^
09-11 Winnipeg, Manitoba – The Lo Pub ^
09-12 Fargo, ND – Aquarium ^
09-13 St Paul, MN – Turf Club ^
09-14 Madison, WI – High Noon Saloon ^
09-16 Urbana, IL – Pygmalion Festival
09-17 Detroit, MI – Magic Stik ^
09-18 Guelph, Ontario – Albion ^
09-19 Toronto, Ontario – Horseshoe Tavern ^
09-21 Columbus, OH – The Summit ^
09-24 New York City, NY – Mercury Lounge ^
09-28 Buffalo, NY – Big Orbit's Soundlab ^
09-29 Hamilton, Ontario – Casbah ^
09-30 Peterborough, Ontario – The Montreal House ^
10-03 Ottawa, Ontario – Zaphods *
10-04 Quebec City, Quebec – Le Cercle *
10-05 Boston, MA – Great Scott *
10-06 Philadelphia, PA – The Barbary *
10-07 Pittsburgh, PA – Garfield Artworks *
10-08 Cleveland, OH – Now That's Class *
10-09 Chicago, IL – Schubas *
10-13 Dallas, TX – The Cavern *
10-14 Austin, TX – Emos *
10-16 New Orleans, LA – One Eyed Jacks
10-17 Atlanta, GA – 529
10-18 Chapel Hill, NC – Local 506
10-19 Washington, DC – Rock and Roll Hotel
10-24 Halifax, Nova Scotia – The Paragon Halifax Pop Explosion
10-27 London, England – White Heat at Madame Jojo's
# with Future of the Left
^ with Mt. St. Helens Vietnam Band
* with the Coathangers