2009 Siren Music Festival Schedule (July 18, 2009)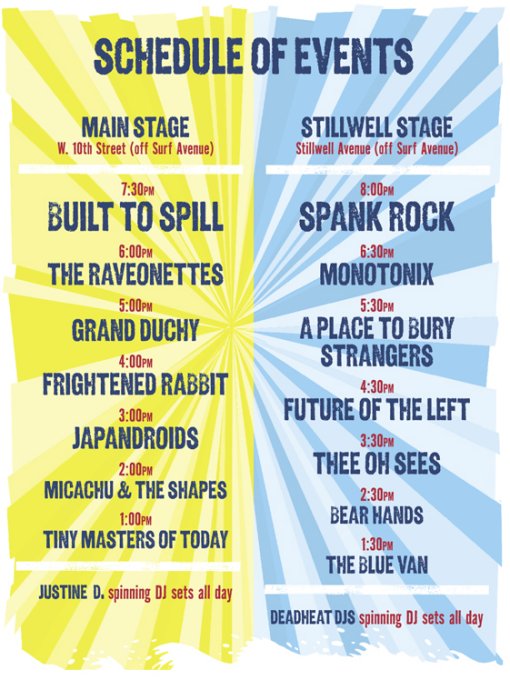 So the 9th Annual Siren Music Festival is happening this Saturday (July 18) on Coney Island and the schedule is now final (see above). This year's lineup is maybe not as exciting to me as it has been in year's past, and taking a look at who's playing on each stage and at what time, my preference would be to more or less stick to the main stage all day, ducking out only to see the antics of Monotix during the Raveonettes set. Sure, I'd like to see Future of the Left, Thee Oh Sees, and perhaps A Place To Bury Strangers over at the Stillwell Stage, but I'm not sure I want to see any of them enough to fight the crowds going back and forth or pass up a prime spot I'd already staked out. (Who am I kidding, I'm a VIP baby!)
PopTarts is doing a little more in-depth schedule analysis over at his site, check out his "Siren Battle" posts below:
Grand Duchy vs APTBS
Frightened Rabbit vs FOTL
Japandroids vs Thee Oh Sees
Micachu & The Shapes vs Bear Hands
My guess is there are probably two more posts left in this series. -ed.
Look at the 2009 Music Siren Festival schedule "in words" after the jump.
2009 Music Siren Festival Schedule
| | |
| --- | --- |
| Main Stage | Stillwell Stage |
| 7:30PM Built To Spill | 8:00PM Spank Rock |
| 6:00PM Raveonettes | 6:30PM Monotonix |
| 5:00PM Grand Duchy | 5:30PM A Place To Bury Strangers |
| 4:00PM Frightened Rabbit | 4:30PM Future of the Left |
| 3:00PM Japandroids | 3:30PM Thee Oh Sees |
| 2:00PM Micachu & The Shapes | 2:30PM Bear Hands |
| 1:00PM Tiny Masters of Today | 1:30PM The Blue Van |
| | |