Flight of the Conchords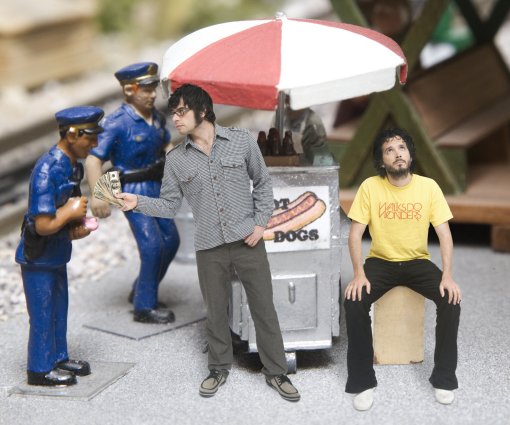 Photo: Sub Pop
I Told You I Was Freaky is the name of the sophomore LP from New Zealand's fourth most popular folk parody duo, the Flight of the Conchords. The new album is a compendium of songs from the second season of their eponymous HBO series, ten of which were previously available as singles through iTunes, and three of which were heretofore unreleased ("Rambling Through the Avenues of Time", "Too Many Dicks (On the Dance Floor)", and the Roxanne inspired "You Don't Have to Be a Prostitute").
In other Conchords news, the show took home 6 Emmy nominations this year, including one for Jemaine Clement for "Outstanding Lead Actor" in a comedy series. All FOTC nominations below:
Flight of the Conchords 2009 Emmy Nominations
Outstanding Comedy Series
Outstanding Director (James Bobin)
Outstanding Lead Actor (Jemaine Clement)
Outstanding original music for "Carol Brown" (Bret McKenzie, Jemaine Clement)
Outstanding Sound Mixing (Alex Sullivan, Brian Riordan)
Outstanding Writing (Jemaine Clement, Bret McKenzie)
Apparently there are no plans for 3rd season of FOTC, but if there's one thing we know for certain, HBO loves awards, so a big a win come Emmy time could possibly cause HBO and/or Bret and Jemaine to rethink things.
I Told You I Was Freaky album cover art and track listing after the jump.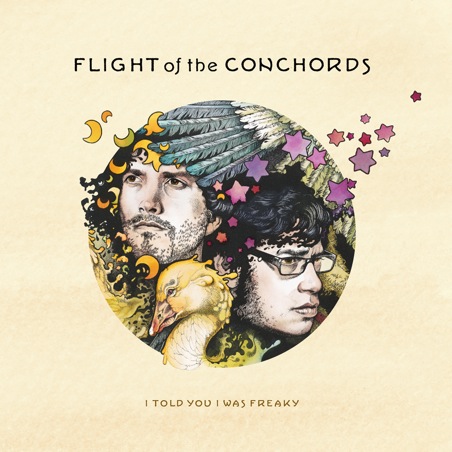 I Told I Was Freaky Track Listing
1. Hurt Feelings
2. Sugalumps
3. We're Both in Love with a Sexy Lady
4. I Told You I Was Freaky
5. Demon Woman
6. Rambling Through the Avenues of Time
7. Fashion Is Danger
8. Petrov, Yelyena and Me
9. Too Many Dicks (On the Dance Floor)
10. You Don't Have to Be a Prostitute
11. Friends
12. Carol Brown
13. Angels