Jay-Z at All Points West (07/31/09)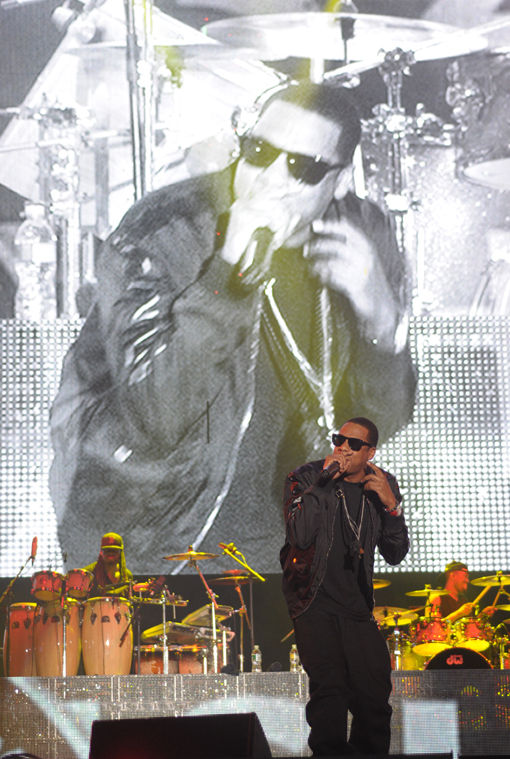 Photo: Paul Crispin Quitoriano
Concert to air LIVE COMMERCIAL – FREE exclusively on Fuse TV at 9 p.m.

CONCERT TO BENEFIT "NEW YORK POLICE & FIRE WIDOWS' & CHILDREN'S BENEFIT FUND"

CITI CARDMEMBERS ELIGIBLE FOR EXCLUSIVE PRESALE

Today, ABSOLUT(R) VODKA, the world's most iconic vodka, announces a creative collaboration with Madison Square Garden that will offer music fans an unparalleled series of high-profile concerts at the iconic venue. Showcasing performances ranging from rock-and-roll heavyweights to country crooners, these two legendary brands will work together to bring music lovers of all kinds the ultimate concert experience as only The Garden can offer. To kick off the series, ABSOLUT and Madison Square Garden will host a once-in-a-lifetime benefit show featuring hip-hop impresario JAY-Z on September 11, 2009, to aid the New York Police & Fire Widows' & Children's Benefit Fund (www.answerthecall.org). The highly-anticipated performance will air live and commercial-free on Fuse TV at 9pm.
Read the rest of the press release after the jump.
The events of September 11 challenged JAY-Z as an entertainer and a New Yorker. This charity concert serves as not just a reminder of the lives lost but as a look towards the future and the hope that arose on September 12. "This charity and concert encompass the true spirit of New York City," commented Shawn "JAY-Z" Carter. "We are asking everyone to 'answer the call' and support and honor the families of those that lost their lives in the line of duty. There is a true camaraderie and resiliency this city showed the world in 2001 and we continue that today by taking care of our own."

"On behalf of The New York Police & Fire Widows' & Children's Benefit Fund's Board of Directors and the families of our fallen heroes, we are truly grateful for JAY-Z's choice to support our charity and "answering the call," said Stephen J. Dannhauser, President and CEO of the New York Police & Fire Widows' & Children's Benefit Fund.

For this live event, 100 percent of the proceeds from ticket sales and concert merchandise will go directly to "New York Police & Fire Widows' & Children's Benefit Fund." Since its inception, New York Police & Fire Widow's & Children's Benefit Fund has distributed over $114 million to the families of New York City police and fire personnel who have lost their lives in the line of duty. Though the Benefit Fund was initially created to assist families of New York City Fire Fighters and Police Officers, the non-profit now includes the families of Emergency Medical Services and Port Authority Officers as well. For more information on the organization, go to www.answerthecall.org

The on-sale date and method of purchase for tickets to the concert will be announced shortly. After the announcement, Citi card members will have access to presale tickets through Citi's Private Pass(R) program. For complete presale details visit: www.citiprivatepass.com and for more information on programming surrounding this event, go to www.fuse.tv/jay-z.

"Madison Square Garden is an iconic venue known world-wide for presenting premier concert events year after year. ABSOLUT has a history of supporting the creative visions of artists in every genre. In celebration of ABSOLUT's ongoing partnership with musical visionaries, this collaboration with Madison Square Garden seems natural. Performing at MSG is certainly a defining moment in many artists' careers and we recognize MSG as a creative force in entertainment," said Tim Murphy, Vice President of Marketing, Pernod Ricard USA. "JAY-Z's concert will be a great kick-off and a sensational experience for our consumers and concert goers."

As part of the ABSOLUT Concert Series at MSG, concert goers can expect to see not only the biggest names in music today, but also the most diverse line-up of performers. Ranging from rock to country to hip-hop and pop, the ABSOLUT Concert Series at MSG will appeal to all music fans while offering them a premium, heightened experience at every show. Many of the greatest moments in music have been made on stage at Madison Square Garden and we anticipate many more to be made during this world-class Concert Series. Artists with upcoming performances at The Garden include Bruce Springsteen, Metallica, and Pink.

"Madison Square Garden is committed to providing the highest quality of entertainment to our patrons and we are thrilled to work with such an iconic brand, ABSOLUT, to bring the best in music entertainment to concert-goers," says Lew Sherr, SVP Marketing Partnerships, MSG Entertainment. "We are proud of our storied history in music performers and look forward to launching our relationship with ABSOLUT as we bring a pre-eminent roster of performers to our venue. Together, MSG and ABSOLUT will create unforgettable music experiences at the World's Most Famous Arena."

For more information about ABSOLUT, please visit www.absolut.com.

For more information about the Benefit Fund, please visit http://answerthecall.org

About Pernod Ricard USA

Pernod Ricard USA is the premium spirits and wine company in the U.S., and the largest subsidiary of Paris, France-based Pernod Ricard SA. In July, 2008, Pernod Ricard completed the acquisition of the iconic ABSOLUT(R) Vodka brand from the V&S Group, and Pernod Ricard USA is now the second-leading company in the U.S. by sales value.

In addition to ABSOLUT(R), Pernod Ricard USA's leading brands include such prestigious spirits as The Glenlivet(R) Single Malt Scotch Whisky, Chivas Regal(R) Scotch Whisky, Jameson(R) Irish Whiskey, Seagram's Extra Dry Gin(R), Beefeater(R) Gin, Plymouth(TM) Gin, Martell(R) Cognac, Malibu(R) flavored Rum, Kahlua(R) Liqueur, Hiram Walker(R) Liqueurs, Pernod(R) and Ricard(R); such superior wines as Jacob's Creek(R) and Brancott Estate(R); and such exquisite champagnes and sparkling wines as Perrier Jouet(R) Champagne, G.H. Mumm(TM) Champagne and Mumm Napa(R) sparkling wines.

The company is based in Purchase, New York, and has roughly 1,000 employees across the country.

Pernod Ricard USA urges all adults to consume its products responsibly and has an active campaign to promote responsible drinking. For more information on this, please visit: www.acceptresponsibility.org.

About Madison Square Garden

Madison Square Garden, L.P. is owned by Cablevision Systems Corporation and includes the New York Knicks (NBA); the New York Rangers (NHL); the New York Liberty (WNBA); the Hartford Wolf Pack (American Hockey League); MSG Entertainment, which includes concerts and events at Radio City Music Hall, Madison Square Garden, The WaMu Theater at Madison Square Garden, the Beacon Theatre, the legendary Chicago Theatre, as well as an exclusive co-booking agreement with the venerable Wang Theatre in Boston, and which manages wholly-owned live entertainment properties including the Radio City Rockettes and the Radio City Christmas Spectacular; MSG Media, which is comprised of television networks MSG and MSG Plus, MSG Interactive, which oversees all company wireless and online initiatives, and Fuse, the only national music television network; and the Madison Square Garden arena complex, located in the heart of the New York metropolitan area.