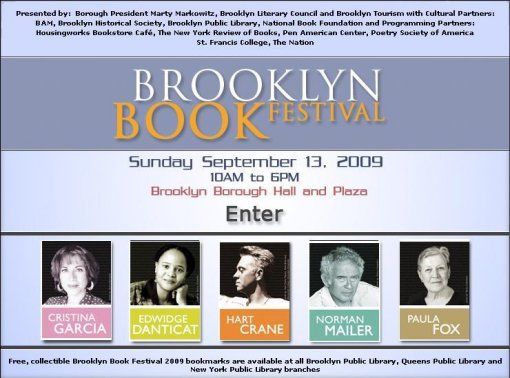 The fourth annual Brooklyn Book Festival will take place on September 13, 2009 at Borough Hall Plaza, Borough Hall Courtroom, St. Francis Auditorium and The Brooklyn Historical Society. This free event includes readings, discussions, and panels with such literary, comedic and musical luminaries as: Jonathan Ames, Paul Auster, Russell Banks, Dominic Carter, David Cross, Jonathan Coulton, Edwidge Danticat, Lupe Fiasco, Mary Gaitskill, Ben Greenman, A.M. Homes, Siri Hustvedt, Naomi Klein, Chuck Klosterman, Jonathan Lethem, Leonard Lopate, Phillip Lopate, Norman Mailer, Thurston Moore (Sonic Youth), Oliver Sacks, DJ Spooky, Melvin Van Peebles, Colson Whitehead and Mo Willems just to name a few. Check out the massive free schedule of events after the jump.
BROOKLYN BOOK FESTIVAL 2009 PROGRAM

PROGRAMMING AND VENUES SUBJECT TO CHANGE

ALL EVENTS ARE FREE. PROGRAMS TAKING PLACE IN THE BROOKLYN BOROUGH HALL COURTROOM AND ST. FRANCIS COLLEGE AUDITORIUM ARE TICKETED

FREE TICKETS ARE AVAILABLE ONE HOUR BEFORE THE PROGRAM BEGINS AT FESTIVAL INFORMATION BOOTHS ON THE PLAZA

Borough Hall Courtroom (209 Joralemon Street)—TICKETS REQUIRED

10:00 a.m. The Legacies of John Updike and David Foster Wallace. Two titans of American literature—John Updike and David Foster Wallace—died this past year. This panel of distinguished critics will discuss their work, their deep differences, surprising similarities and enduring influence. Time magazine book critic Lev Grossman (The Magicians) and Salon book critic Laura Miller (The Magician's Book). Moderated by David Ulin, editor of the Los Angeles Times Book Review.

11:00 a.m. The Writer's Capital. From Experience to the Limits of Fiction. How does a writer get from day-to-day life to fiction, and how far can that writer take the reader into the imaginative realm? Is there a limit to what the reader will accept? Readings by novelists Paula Fox, Steven Millhauser (Dangerous Laughter), Bradford Morrow, and Roxana Robinson (Cost). Moderated by Harold Augenbraum, executive director, National Book Foundation.

12:00 p.m. Faux Society. Amy Sohn (Prospect Park West), Robert Dunn (Meet the Annas) and Laura Albert (Sarah) talk about the real people and fictional characters who inhabit the societies represented in their work.

1:00 p.m. Out of Step. Readings from three acclaimed novels that follow their characters through the cultural enclaves that form, challenge and sometimes dictate their lives. Featuring Colson Whitehead (Sag Harbor), H.M. Naqvi (Home Boy) and Achy Obejas (Ruins). Moderated by Brigid Hughes, A Public Space.

2:00 p.m. Satire and Comic Relief in 2009. Whatever else is down (the economy, the Republicans)—satire is up. A conversation with authors Jeffery Rotter (The Unknown Knowns), Gary Shteyngart (Absurdistan), and Sloane Crosley (I Was Told There'd Be Cake). Moderated by New Yorker editor Ben Greenman (Super Worse).

3:00 p.m. Reality Prisms. Readings by Pete Hamill (North River), Jacqueline Bishop (Snapshots from Istanbul) and Esmeralda Santiago (The Turkish Lover), three authors who write from the heart of their life experiences.

4:00 p.m. Melvin Van Peebles. Filmmaker and author Melvin Van Peebles in conversation with TBA.

5:00 p.m. Writing Writers. A conversation with authors Christopher Sorrentino (Trance) and Michael Thomas (Man Gone Down), and moderated by Astra Taylor (film and book Examined Life), whose work takes contemporary thinkers out of the ivory tower to discuss philosophical matters in plain speak. The authors discuss what writing on writers might reveal about the creative impulse, the relationship between fact and imagination and the ethics of representation. Presented by BOMB magazine as part of BOMBLive!

Borough Hall Community Room (209 Joralemon Street)

10:00 a.m. In Search Of….Two wanderers, Daniel Asa Rose (Larry's Kidney) and Michael J. Agovino (The Bookmaker), travel abroad and write memoirs about their life-changing adventures and misadventures seeking luck, love and body organs in foreign lands.

11:00 a.m. The Future of Literary Fiction. What are the challenges facing fiction writers during an economic recession and a volatile publishing landscape? How does the digitization of literature impact the creative process? What unexpected opportunities might present themselves? A panel discussion featuring T Cooper (Lipshitz Six, or Two Angry Blondes) and Keith Gessen (All the Sad Young Literary Men).

12:00 p.m. The Great Recession. Call it what you like—the downturn, the financial crisis, the mini-depression, the slump. Whatever you call it…is it over? Will its effects be felt long-term or soon forgotten? Featuring Justin Fox (The Myth of the Rational Market), Naomi Klein (The Shock Doctrine) and Kai Wright (Drifting Toward Love). Moderated by New York Daily News columnist Errol Lewis.

1:00 p.m. Literature in a Digital Age. Some say the "age of the book" is ending and a glorious new "digital era" is dawning. Others turn the page and keep reading. How do new forms of media affect our literary culture, and how do writers and publishers adapt to them? Featuring John Freeman (The Tyranny of Email), Dwight Garner (Read Me) and Sarah Schmelling (Ophelia Joined the Group Maidens Who Don't Float: Classic Lit Signs On To Facebook). Moderated by Maud Newton, blogger of maudnewton.com.

2:00 p.m. Movin' On Up. Three writers on the myth and reality of upward mobility. Featuring Gloria Browne-Marshall (Race, Law and American Society), Walter Kirn (Lost in the Meritocracy) and Lewis Lapham (editor, Lapham's Quarterly). Moderated by Paul Tough (Whatever It Takes).

3:00 p.m. Onwards & Upwards. An inspiring talk with Dominic Carter (No Momma's Boy) and William D. Pointer Jr. (Pain to Power) discussing the power of living through painful experiences.

4:00 p.m. Independent Media Voices. Radical radio, insurgent 'zines, the Fourth Estate and social networks old and new. Who and what is the independent media? Voices that stand out from the crowd? Defenders of a new way of thinking? A discussion about the challenges of forging a new media voice. Host of Democracy Now!, Amy Goodman (Standing Up to the Madness), Jessica Hopper (Hit it or Quit It, The Girls Guide to Rocking) and Pamela Newkirk (Letters From Black America).

5:00 p.m. Why Poetry Now? A panel giving poetry lovers, as well as those new to poetry or those who haven't read poems in a long time, an opportunity to appreciate and enjoy the best of what's being written today, featuring Staceyann Chin, Cornelius Eady, and Paul Muldoon. Moderated by Mary Gannon, Poets & Writers.

St. Francis Auditorium (180 Remsen Street)—TICKETS REQUIRED

11:00 p.m. Short Stories Stand Tall. A panel discussion exploring the advantages, tools and inspiration authors gain by writing shorter fiction. Featuring Jeffrey Renard Allen (Holding Pattern), Joan Silber and A.M. Homes (Things You Should Know).

12:00 p.m. Poetry, Pop, and Hip-Hop. A panel discussing how poets, songwriters and rappers push language in new and essential ways. Featuring Lupe Fiasco, musician and poet; Thurston Moore; Tracie Morris; and Matthew Zapruder (The Pajamaist). Moderated by Touré.

1:00 p.m. Norman Mailer. Author and journalist Pete Hamill and NYPL Live's Paul Holdengräber join Norris Church Mailer to discuss the literary and journalistic legacy of Brooklyn's own Norman Mailer.

2:00 p.m. Edwidge Danticat. Brooklyn Book Festival 2009 BoBi Literary Award winner Edwidge Danticat reads and discusses the themes of social history and culture that have influenced her short stories, novels and memoir in a conversation with Johnny Temple, publisher of Akashic Books and chair of the Brooklyn Literary Council, and Mitchell Kaplan, Miami Book Festival.

3:00 p.m. Literary Masters. Readings by three highly revered authors: Paul Auster (Man in the Dark), Russell Banks (The Reserve) and Francine Prose (Goldengrove). Introduced by Louisa Ermelino.

4:00 p.m. Writers on Unforgettable Friendships. Three frequent contributors to The New York Review of Books speak about an extraordinary relationship that has—somehow—made a lasting mark. Oliver Sacks on Francis Crick; Darryl Pinckney on Djuna Barnes and Anita Desai on Ruth Jhabvala. Robert Silvers, editor of The New York Review of Books, will introduce.

5:00 p.m. Jonathan Lethem and Mary Gaitskill in Conversation. Moderated by Greg Cowles, senior editor at the New York Times Book Review.

St. Francis College Reading Room (180 Remsen Street)

10:00 a.m. Next Texts: Four Debut Novelists. The Brooklyn Book Festival presents readings from four of the finest debut novels of 2009. Featuring Marie Mockett (Picking Bones from Ash), Shanthi Sekaran (The Prayer Room), Marc Fitten (Valeria's Last Stand) and Joanna Smith Rakoff (A Fortunate Age).

11:00 a.m. Anarchy of Youth. Readings from three novels starring young protagonists who wreak havoc on the world around them. Featuring Alberto Ferraras (B as in Beauty) and Marisha Pessl (Special Topics in Calamity Physics).

12:00 p.m. Real Surreal. Tao Lin (Shop Lifting from American Apparel), Yona Zeldis McDonough (Breaking the Bank), Nicholson Baker (The Anthologist) and Ben Marcus (Notable American Women) read from the minds of their characters.

1:00 p.m. Editor as Author: Discipline and Freedom. A discussion on the relationship that editors play in the lives of authors in today's publishing world and the editor's role and sensibility vs. the authorial process. Featuring four authors who have also worked as editors: Heidi Julavits (The Uses of Enchantment), Hannah Tinti (The Good Thief), Sarah Rainone (Love Will Tear Us Apart) and Donald Breckenridge (You are Here).

2:00 p.m. Los Angeles Times Festival of Books Presents. Los Angeles–based writers Nina Revoyr (Southland), Judith Freeman (The Long Embrace, Raymond Chandler and the Woman He Loved), and Richard Rayner (A Bright and Guilty Place) read and discuss their books. Moderated by LA Times Book Review editor David Ulin.

3:00 p.m. Doubt, Faith & Monsters. In the worlds of Steven Cleaver (Saving Erasmus), Victor Lavalle (Big Machine) and Fiona Maazel (Last Last Chance) the Angel of Death is in a washing machine, a band of paranormal investigators are in the woods and a lethal virus vanishes from a lab.

4:00 p.m. Faith & Fiction. If fiction is make believe and faith is must believe, can writers reconcile the absolutes of religion with the ambiguities of character and the relative truths of storytelling? Faith and Fiction with Benjamin Anastas, Rene Steinke and Chris Adrian, moderated by Bookforum editor, Albert Mobilio.

Brooklyn Historical Society (128 Pierrepont Street)

12:00 p.m. Believe it or Not. Three writers—the reporter who broke the Madoff story, a popular historian of a classic newspaper hoax and a chronicler of cults and conspiracies—on great scams and the public that loves to loathe them. Erin Arvedlund (Too Good to Be True), Arthur Goldwag (Cults, Conspiracies and Secret Societies) and Matthew Goodman (Sun and the Moon). Moderated by James Surowiecki (The Wisdom of Crowds).

1:00 p.m. Knickerbocker. Author Elizabeth Bradley will be joined by Phillip Lopate to discuss the lasting impact of Diedrich Knickerbocker, the imaginary historian who narrates Washington Irving's A History of New York.

1:30 p.m. Interpreting Brooklyn. Three authors who used the collections of the Brooklyn Historical Society as inspiration present these works in progress: Elizabeth Gaffney and her novel about Brooklyn after World War II; Michael Schwartz and his one-man play on growing up in Coney Island; and Andres Vera Martinez, author of three graphic novels set in Brooklyn, past, present and future.

2:00 p.m. Life Stories. Three acclaimed memoirists talk about bad breaks, wise moves, tough choices—and turning life in all its messy glory into art on the page. Featuring Staceyann Chin (The Other Side of Paradise), Brad Kessler (Goat Song) and Sarah Manguso (The Two Kinds of Decay). Moderated by Brigid Hughes, editor of A Public Space.

3:00 p.m. Thicker than Water. Readings from outstanding novels that explore blood relations and complex, sometimes devastating, family dynamics. Featuring Elizabeth Nunez (Anna In-Between), Greg Ames (Buffalo Lockjaw) and Carolina de Robertis (The Invisible Mountain). Introduced by Malaika Adero.

4:00 p.m. Crime and Punishment. Readings from three of the most dangerous and compelling novels of 2009. Featuring Lou Manfredo (Rizzo's War), Liz Balmaseda (Sweet Mary) and Marlon James (The Book of Night Women).

5:00 p.m. The Cult of the Amateur. Three professional amateurs—a radio host, a book critic and a writer—talk about what they love best: the fine art of improvisation, following their noses, chasing their curiosities as increasingly erudite students of life and avoiding the traps of so-called "expertise." Featuring Leonard Lopate (The Leonard Lopate Show), Walton Muyumba (The Shadow and the Act) and Robert Sullivan (The Thoreau you Don't Know).

Main Stage (Borough Hall Plaza)

10:00 a.m. Ken Siegelman Tribute followed by Verbal Catalysts. A tribute to the late Brooklyn poet laureate Ken Siegelman, followed by Urban Word NYC, whose top teen poets present individual and group slams.



11:00 a.m. Poetry Society of America Presents. A reading organized by PSA, the nation's oldest poetry organization, featuring the country's best bards: Anne Carson, Sonia Sanchez, Philip Schultz and Arthur Sze. Introduced by Alice Quinn.

12:00 p.m. Name that Author: A Literary Contest presented by the National Book Critics Circle. Features defending champ Brigid Hughes (A Public Space) and challengers David Haglund (PEN America), authors Steven G. Kellman (Redemption), Maureen N. McLane (Same Life), Geeta Sharma Jensen, Martha Southgate (Third Girl From the Left) and Craig Morgan Teicher (Publishers Weekly). Moderated by John Reed, The Brooklyn Rail. Judged by NBCC president Jane Ciabattari and Critical Mass blog chair Eric Banks.

1:00 p.m. Only the Dead. Readings of Brooklyn's revered authors, from Walt Whitman to Frank McCourt, are performed by actors from Troupe.

2:00 p.m. Close to the Street. Three writers on urban life—its housing, its mass transit, its vibe—discuss how we make cities and how cities make us. Featuring Nelson George (City Kid), Alyssa Katz (Our Lot) and Tom Vanderbilt (Traffic). Moderated by Theodore Hamm, editor of The Brooklyn Rail.

3:00 p.m. Love: The Unstoppable Bestseller. A panel of romance authors discusses the longevity of the industry and how they keep readers coming back for more: Rochelle Alers (Man of Fate), Anna DePalo (The Billionaire in Penthouse B), Donna Hill (Temptation & Lies) and Sarah Wendell (Beyond Heaving Bosoms: The Smart Bitches' Guide to Romance Novels).

4:00 p.m. Obsessive Fun. Rabbis who write, gamers, comics and karaoke-ists. Authors Rabbi Simcha Weinstein (Shtick Shift: Jewish Humor in the 21st Century), Ethan Gilsdorf (Fantasy Freaks and Gaming Geeks), Brian Raftery (Don't Stop Believin') and Eddie Sarfaty (Mental) let their obsessions entertain you.

5:00 p.m. Happy Ending Reading Series. One of the city's most spirited and risk-taking reading series animates the Brooklyn Book Festival this year with Jonathan Ames (The Double Life is Twice as Good), David Cross (I Drink for a Reason) and Rakesh Satyal (Blue Boy). Hosted by Amanda Stern, music by Jonathan Coulton.



International Stage (Borough Hall Plaza)



11:00 a.m. The International Graphic Novel. Three acclaimed graphic novelists who tackle big social and political themes in their work discuss what the form can accomplish, from an international and domestic perspective. Featuring Guy Delisle (The Burma Chronicles), Peter Kuper (Diario de Oaxaca: A Sketchbook Journal of Two Years in Mexico) and Sarah Glidden (How To Understand Israel In 60 Days Or Less). Moderated by Matt Madden.

12:00 p.m. Mahmoud Darwish: A Conversation. Five distinguished authors, Russell Banks, Michael Palmer, Breyten Breytenbach, Sinan Antoon and Fady Joudah, remember and respond to the life and work of the celebrated Palestinian poet Mahmoud Darwish (1941-2008). Moderated by Breyten Breytenbach.

1:00 p.m. Rasskazy: New Fiction from a New Russia. Celebrate the literature of post-Soviet Russia with readings from Rasskazy, the Tin House anthology of new Russian fiction, featuring readings by Francine Prose (Goldengrove), Dale Peck (Sprout), Anya Ulinich (Petropolis) and Vadim Yarmolinets (Led Zeppelin 'Jericho 86-89'). Journalist Emily Gould will interview Rasskazy contributor Dmitry Danilov about Russia's continually flourishing literary world. Presented by Pen American Center.

2:00 p.m. The Naked City: Urban Realism and the Global City in Fiction & Non-Fiction. A discussion exploring the gritty urban realism of the contemporary global city as seen through recent works of fiction and non-fiction about Delhi, New York and Mexico City. Featuring David Lida (First Stop in the New World), Meera Nair (Video) and Hirsh Sawhney (editor, Delhi Noir). Moderated by Cheryl Harris Sharman (Nightshift NYC).

3:00 p.m. Secrets & Lies. Three leading international writers explore family secrets, identity crises and social connectedness in their works. With Rivka Galchen (Atmospheric Disturbances), Siri Hustvedt (The Sorrows of an American) and Valeria Parrella (For Grace Received, finalist for Italy's Strega Prize).

4:00 p.m. Africa in the Age of Obama. A conversation about the current spotlight on African writing and culture, with Binyavanga Wainaina (Kenyan author and Director of the Chinua Achebe Center), Mohammed Naseehu Ali (Ghanaian musician and author of The Prophet of Zongo Street) and Breyten Breytenbach (South African poet, painter, author). Moderated by Rob Spillman, editor of Gods and Soldiers: The Penguin Anthology of Contemporary African Writing.

5:00 p.m. Philip Gourevitch, Rawi Hage, and Claire Messud in Conversation. Philip Gourevitch, editor of The Paris Review, longtime staff writer for The New Yorker and author of The Ballad of Abu Ghraib; Claire Messud (The Emperor's Children); and Rawi Hage, Impac award-winning author of DeNiro's Game and Cockroach, engage in a wide ranging exchange on their works, the international scene and the literary life.



North Stage (Borough Hall Plaza)

10:00 a.m. Quotables. Join Troupe actors to test your knowledge of quotes and books in this interactive literary game with prizes for the audience.

11:00 a.m. The Truth About Parenting. Featuring Yvonne Bynoe (Who's Your Mama), Ben George (The Book of Dads) and Lenore Skenazy (Free-Range Kids). Moderated by Laura Sinagra.

12:00 p.m. Reading to Kids. In conjunction with the 100th anniversary edition of The Best Children's Books of the Year, Lisa Von Drasek, children's librarian at the Bank Street College of Education, leads a discussion about reading to children along with children's authors showcased in the Festival.

1:00 p.m. Feeding Love in NYC. Giulia Melucci (I Loved, I Lost, I Made Spaghetti), Michelle Maisto (The Gastronomy of Marriage) and Jonathon Deutsch (Gastropolis, Food & New York City) share culinary and romantic experiences.

2:00 p.m. Eye of the Book. Cynthia Maris Dantzic (100 New York Painters) and Jane Weissman (On the Wall: Four Decades of Community Murals in New York City) share their art books about NYC artists and murals.

2:30 p.m. Now and Then. Ellen Levitt (The Lost Synagogues of Brooklyn) and Elmer Sprague (Brooklyn Public Monuments) in discussion with borough historian Ron Schweiger.

3:00 p.m. American Food. Three writers discuss the past, present and future of what we eat. Featuring Mark Kurlansky (editor, The Food of a Younger Land), Jennifer 8. Lee (The Fortune Cookie Chronicles) and Liz Thorpe (The Cheese Chronicles). Moderated by "Serious Eats" blogger Ed Levine.

4:00 p.m. Sound Unbound: DJ Spooky and Toure. That Subliminal Kid (aka Paul D. Miller), the writer and composer whose work Terra Nova: Sinfonia Antarctica will be performed at BAM in December, will discuss the themes raised in his book Sound Unbound—about the concept of the remix in music, art, and literature—with Touré, writer, music journalist and television cultural correspondent.

5:00 p.m. Inside Music. From the Chicago avant garde to audiophile zealots to the New Weird America, three writers from across the musical spectrum explore how the world of music is connected to everything else: politics, ethnicity, technology, topography and culture. Featuring George E. Lewis (A Power Stronger Than Itself), Greg Milner (Perfecting Sound Forever) and Amanda Petrusich (It Still Moves). Moderated by Sukhdev Sandhu (Night Haunts).

Target Children's Area (Borough Hall Plaza)

The Target Children's Area provides day-long literary activities for children ages 2-9

10:00a.m. Troupe – Performs classic children's books

10:30a.m. Mo Willems

11:00a.m. Alison Joseph/MaureenSullivan

11:30a.m. Tom Tomorrow

12:00p.m. Sahar Simmons

12:30p.m. Victoria Kann

1:00p.m. Nick Bruel

1:30p.m. Judi Barrett

2:00p.m. Christopher Myers

2:30p.m. Randall & Peter de Seve

3:00p.m. Ayun Halliday

3:30p.m. Grace Lin

4:00p.m. Paul O. Zelinsky

4:30p.m. Troupe – Performs classic children's books


Youth Stoop (Borough Hall Plaza)

The Youth Stoop provides day-long literary activities for youth ages 10-18

10:00 a.m. Brooklyn Next Lit Match Awards. Come hear some of the most talented students writing in the borough who are the finalists in the "Brooklyn Next" borough-wide writing contest. Hosted by Jamie Hector of The Wire.

11:00 p.m. Fantastical Journeys. Join award-winning middle grade authors and illustrators Kate DiCamillo (The Magician's Elephant), Christopher Myers (Wings) and Michael Buckley (The Sisters Grimm) and step into a world of whimsical imagination where elephants guide, boys fly and humans and fairy-tale creatures live side by side.

12:00 p.m. Keeping it Honest. Coe Booth (Tyrell) and Matt de la Peña (Mexican White Boy) write books for teenagers that are smart and honest and never talk down to their audience. Join them as they talk about their work and about how they keep it real.

1:00 p.m. Breaking Through. Critically acclaimed authors Laurie Halse Anderson (Chains), Gayle Forman (If I Stay), and G.Neri (Surf Mules) discuss some of this year's most talked about novels featuring teens forced to make difficult decisions under extraordinary—and less than favorable—circumstances.

2:00 p.m. Love and Longing. How far will you go for love and how far will love go for you? Ned Vizzini (Be More Chill), Aimee Friedman (Sea Change) and Anna Godbersen (The Luxe) reveal very different approaches to succeeding in love as they read and discuss their books.

3:00 p.m. Love, War and Adventures in Babysitting…Transforming Stories into Comics. How does a comic artist take a favorite story and make it new? Three new stars in the literary comics cosmos shine the light on their process, adapting award-winning fiction, found historical materials and one of the most popular teen series of all time into graphic novels. Raina Telgmeier (The Babysitters Club graphic novel series), Danica Novgorodoff (Refresh, Refresh) and George O'Connor (Journey into Mohawk Country).

4:00 p.m. Adventures in the Past. Critically acclaimed authors M.T. Anderson (The Astonishing Life of Octavian Nothing), Marilyn Nelson (The Freedom Business) and Margaret Peterson Haddix (Shadow Children and Missing series) take us into a thrilling tour of the past where King Edward V lives, and the eighteenth century comes alive with adventure—giving us a new understanding of race then and now. Moderated by Stacey Barney.

NEW YORK COMIC CON AT THE BROOKLYN BOOK FESTIVAL

11:00 a.m. Fact vs. Fiction in Action-Adventure Comics. Comics artists and writers Matt Loux, Fred van Lente, Chris Giarruso, Kevin Pyle and Barry Lyga discuss how they are inspired by real events, scientific research and even math and physics to come up with action-packed adventure stories. They give a behind-the-scenes look at the process of creating comics. For kids of all ages. Moderated by Alex Simmons.

12:00 p.m. Sci Fi and Fantasy in NYC. Is there anything hotter than sci-fi and fantasy right now? We don't think so. Join authors S.C. Butler, Peter Brett, Anton Strout and Dave Roman as they discuss all that is paranormal in NYC.

1:00 p.m. Marvel Writers. How do they do it? Some of Marvel's hottest writers talk about their work on your favorite comics. Moderated by Jim McCann.

2:00 p.m. Spotlight on Tom DeFalco, Phil Jimenez and Dennis O'Neil. Veteran artists Tom DeFalco, Phil Jimenez and Dennis O'Neil gather to speak about their common influences, current projects and the trends that are shaping the future. Moderated by Danny Fingeroth.

3:00 The ACT-I-VATE Renaissance. There is a comic book renaissance happening in Gowanus, Brooklyn, and members from both DEEP6 and XOXOs Studios, featuring Dean Haspiel, Mike Cavallaro, Tim Hamilton, Joe Infurnari, Simon Fraser, Molly Crabapple and Mike Dawson (among others) will discuss the genesis of ACT-I-VATE, their premier webcomix collective, and sneak-peek their upcoming print anthology, THE ACT-I-VATE PRIMER. Moderated by Jeff Newelt, who will also announce two new members to ACT-I-VATE.

4:00 p.m. Hip Hop Hearts Anime. A conversation on the cross-pollination of urban culture in Japan and hip hop into popular anime. Our group of anime fanatics, hip hop artists, activists and social entrepreneurs will come together based on their love for anime culture to discuss the good, the bad and the ugly of this cultural exchange and how it will stay with our youth in the years to come.

5:00 p.m. Toon Books "Benny and Penny" Readers Theater for Children. See one of the Toon Books come alive with a performance by Geoffrey Hayes and Leigh Stein. Pirates and princesses, sweet mice and monsters next door in a staged reading of the Toon "Benny and Penny" books, author Geoffrey Hayes and actress Leigh Stein bring comics to life! For kids of all ages.