Janelle Monae at Bumbershoot (09/07/09)


Words and Photos: Drake LeLane
Please enjoy Drake's recap from the final day of Bumbershoot 2009 below:
After mostly holding back during Bumbershoot, the rain pretty much ruled the final day of the music and arts festival. With the ground already saturated from the late night-to-early-morning buckets from the prior two days, the last day was pretty dreary. There were still plenty of acts to be excited about, but my expectations were once again dampened going in, as far as live music was concerned. However… I did have one indoor activity planned for the middle of my day that I was excited about, and that was the Writers From Lost panel, featuring Executive Producer Carlton Cuse and hosted by EW's Doc Jensen.
The Minus 5 at the Mural Ampitheatre
Scott McCaughey doesn't play enough for his old city these days, so it's always a party when he graces us with his presence. And he's always bringing his (semi)famous friends along for the ride. There's always R.E.M.'s Peter Buck, and this time out, The Minus 5 players include Steve Wynn (Dream Syndicate) on guitar and Linda Pitmon (Zuzu's Petals, Golden Smog) on drums. While Minus 5 gets the marquee, it should be stated that this was also a The Baseball Project and The Steve Wynn IV show, as each got their turn. Besides the "contractually obligated by The Late Show with David Letterman" song "Past Time," they performed "Harvey Haddix," about the Pirates pitcher who took a perfect game into the 13th inning only to end up losing the game. Since they list all the pitchers who've thrown perfect games in the song, it was fitting that a 'Mark Buehrle' got thrown in for one of the choruses (sung like "Five Golden Rings"). Peter Buck even pulled out a 12-string for The Dream Syndicate's jangly hit "Tell Me When It's Over."
I was going to duck out a song early to check out Say Hi, but McCaughey & gang spoiled those plans with a blazing cover of the Sonics' "Strychnine." It was early and raining, so the crowd was a little thin, which is unfortunate as it just might have been my favorite set of the whole festival.
Janelle Monae at Fisher Green Stage
Monae's schtick is from another planet, quite literally. She's a true blue sci-fi diva, with robotic moves, crazy eyes, and with an amazingly tiny frame. She went on late (as was the case with many a Fisher Green Stage performer), so I only made it through one song before having to run off to the next set.
Akron/Family at Broad Street Lawn Stage
The freak folkers played during some of the wettest parts of a very wet day, but did not disappoint. Like Holy Fuck the night before, they had the crowd in trance, moving to the grooves they were providing. The rain ended up feeling more like a special effect than an act of God.
The Cave Singers at the Mural Ampitheatre
Seattle's latest buzz-y beard rockers, The Cave Singers can no longer be considered a collective, as even in the rain, the crowd gathered to see them seemed bigger than any of their respective acts (Pretty Girls Make Graves, Cobra High, Hint Hint) ever got at the festival.
Vieux Farka Toure at Fisher Green Stage
Being the son of Mali's greatest export means Vieux has big shoes to fill. Ali Farka Touré played Bumbershoot some 16 years ago when Vieux was just 12 years old, so it was fun seeing his son getting a similar ecstatic response from the crowd. While Vieux is a fine guitarist, his backing band was the attraction for me. The bass player, percussionist and even the drummer with dancing shoes made of shells all made the rain feel a lot less wet.
Soulsavers featuring Mark Lanegan at the Broad Street Lawn Stage
While it was great hearing Soulsavers revisit their 2007 album It's Not How Far You Fall, It's the Way You Land with Mark Lanegan on vocals, after a few songs, everything started to sound the same. And since nobody was moving on stage, it pretty much looked the same. Lanegan's voice always makes me want to drink, and so a beer garden was in order, with Lanegan's baritone singing of a "Kingdome of Rain" still following us in the distance.
More photos of The Minus 5, Janelle Monae, Akron/Family, The Cave Singers, Vieux Farka Toure and Soulsavers from Day of 2 Bumbershoot 2009 after the jump.
Last but not least, a huge thanks to "Sr. Bumbershoot Correspondent" Drake LeLane for his deep coverage of Bumbershoot this year, funny how going without kids frees you up a little.
The Minus 5 at Bumbershoot (09/07/09)

Janelle Monae at Bumbershoot (09/07/09)

Akron/Family at Bumbershoot (09/07/09)

The Cave Singers at Bumbershoot (09/07/09)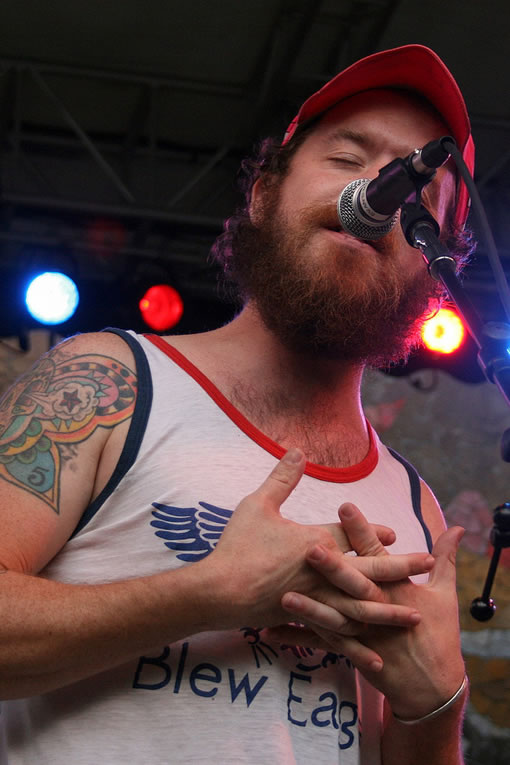 Vieux Farka Toure at Bumbershoot (09/07/09)

Soulsavers at Bumbershoot (09/07/09)